Opinion: It could be that Eric Cantor's problem was Cantor himself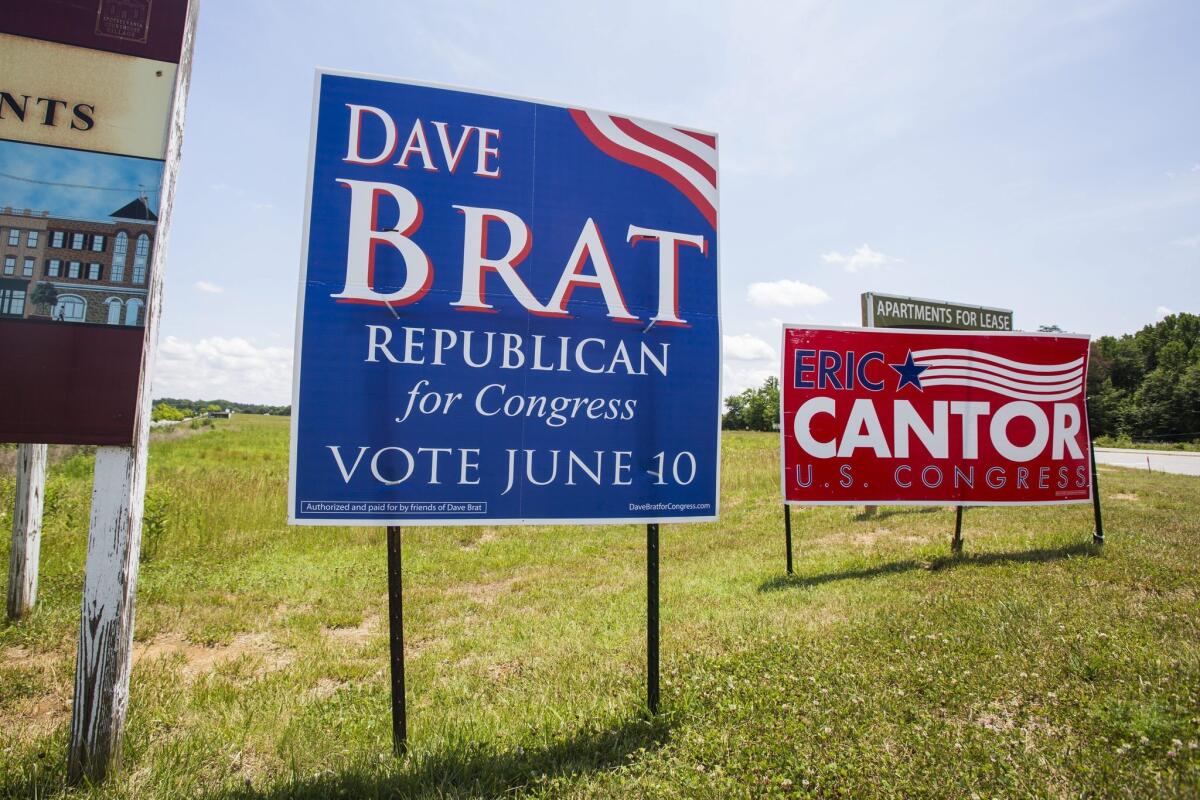 Eric Cantor's primary loss Tuesday in Virginia came as a huge surprise, particularly to Cantor. Immigration was the culprit, according to the early analysis. And though Cantor's defeat likely kills immigration reform for this year, it doesn't seem as though that was the issue that did him in among his district voters.
It turns out that Cantor's electoral problem may have been Cantor himself.
A poll by the Public Policy Polling group found that immigration reform is fairly popular in his district. But Cantor himself isn't. The poll has some fundamental problems — it was automated by phone, and commissioned by an activist organization, Americans United for Change — so should be viewed with some skepticism. But the arc of the findings is interesting.
Half of the Republicans polled disapproved of the job the Republican House leadership was doing, and about the same proportion disapproved of the job Cantor was doing. At the same time, 70% of Republicans in the poll said they supported some sort of immigration reform.
That rate dovetails somewhat with the findings last June in a Public Religion Research Institute poll that 62% of Americans supported a path to citizenship for illegal immigrants, a more specific question than supporting immigration reform (a broad question that could get a "yes" answer from people who think the laws should be stronger and the hurdles higher).
As my colleague Doyle McManus pointed out as the results were coming in Tuesday night, voter turnout was a factor, with about 65,000 people voting. In Cantor's last contested primary in 2012, turnout was lower, just over 47,000. But Cantor drew 37,369 of those votes. On Tuesday, he drew only 29,000 votes, suggesting that as the tea party was bringing out voters for David Brat, the challenger, Cantor's people were staying home. And low-turnout races are susceptible to upsets and surprises.
Unfortunately, it doesn't appear as though anyone did exit polling in the district, probably because nobody thought it would be a race worth examining. So it's unclear whether Brat's singular issue — opposing immigration reform — was what drove people to the polls or whether (and this seems more likely) tea party organizers outperformed whatever ground game Cantor's campaign put together.
It could well be that immigration was a galvanizing issue for the tea party voters, though that is but one issue popular with that set. But it was not the issue that moved the district at large.
Or, rather, that failed to move the district. If we can believe the Public Policy Polling group's numbers on unfavorable feelings for Cantor and the House leadership in general, then Cantor did himself in. The takeaway could well be that unless there is a change in congressional GOP attitudes and leadership style, more members could lose the support of their own people, handing more power to the tea party folks and exacerbating the Republican schism. Which makes it hard to envision a cohered and effective Republican White House campaign in 2016.
Follow Scott Martelle on Twitter @smartelle
A cure for the common opinion
Get thought-provoking perspectives with our weekly newsletter.
You may occasionally receive promotional content from the Los Angeles Times.