Opinion: A case or two of Ebola entering the U.S. isn't enough for travel bans
Sanitized gloves and boots hang to dry as a burial team collects Ebola victims from a Ministry of Health treatment center for cremation on Oct. 2 in Monrovia, Liberia.
(John Moore / Getty Images)
Medical personnel at the Ebola treatment center at Island hospital in Monrovia, Liberia, disinfect people who had brought patients suspected of having the Ebola virus on Oct. 2.
(Pascal Guyot / AFP/Getty Images)
A man transports a possible Ebola victim in a wheelbarrow on Oct. 2 at a treatment center at Island hospital in Monrovia, Liberia.
(Pascal Guyot / AFP/Getty Images)
A health worker attends to a girl at the Doctors Without Borders Ebola treatment unit in Monrovia, Liberia.
(Pascal Guyot / AFP/Getty Images)
Markers for the graves of Ebola victims await placement in Bong County, Liberia.
(Robyn Dixon / Los Angeles Times)
Nurses receive training from the World Health organization on how to use equipment to protect themselves from Ebola in the Sierra Leone capital, Freetown, on Sept. 18.
(Michael Duff / Associated Press)
A burial team, clad in protective gear, carries the body of a child at the International Medical Corps Ebola treatment unit in Bong County, Liberia. The girl, who watched her mother grow sick and die of the virus, died alone and terrified, workers said.
(Robyn Dixon / Los Angeles Times)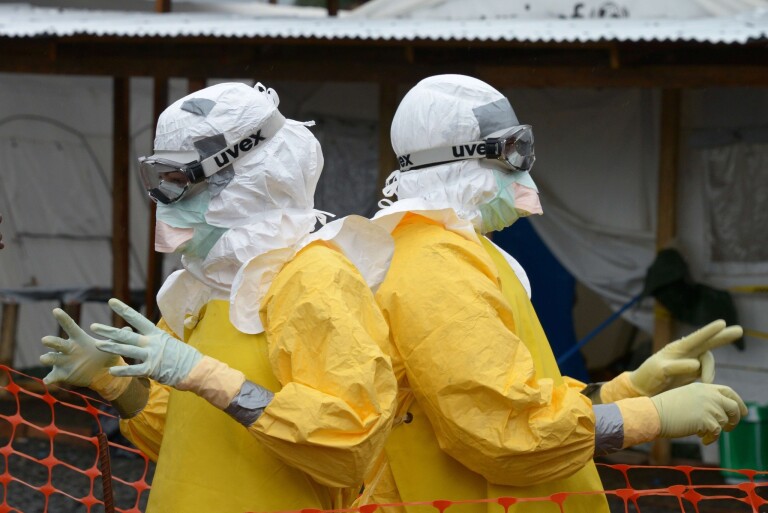 Medical staff members in protective suits work in the high-risk Ebola area of the ELWA Hospital in Monrovia, Liberia.
(Dominque Faget / AFP/Getty Images)
Traffic is stopped at a Guinean security force roadblock to screen people for symptoms of Ebola near the town of Forecariah, Guinea.
(Youssouf Bah / Associated Press)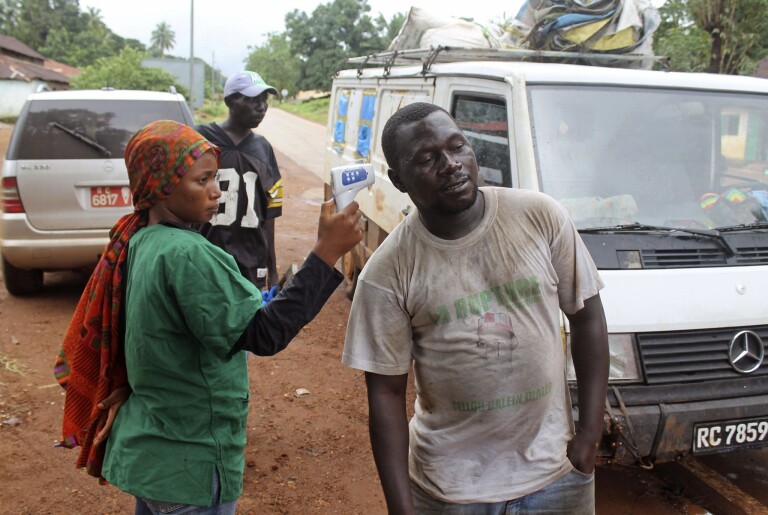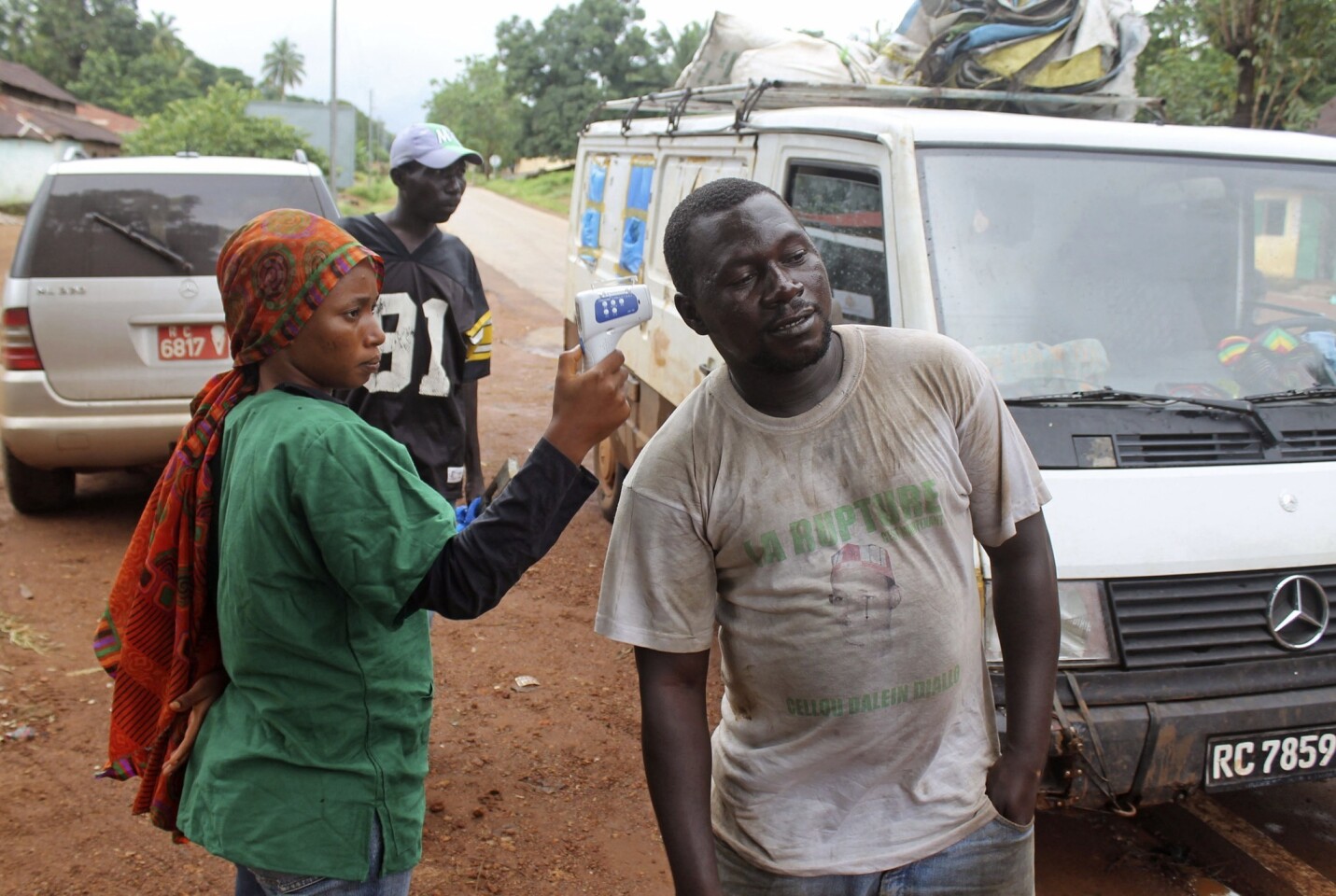 A health worker looking for signs of Ebola checks a man's temperature at a roadblock run by Guinean security forces outside the town of Forecariah, Guinea.
(Youssouf Bah / Associated Press)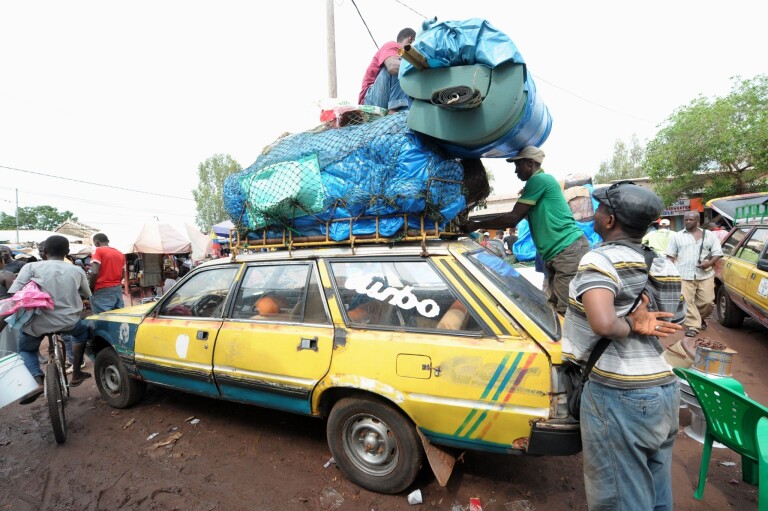 A vehicle loaded with household items pauses at the border town of Diaobe in Senegal's southern border region as people prepare to drive into Guinea. The Ebola epidemic is spreading in West Africa, spurring people to flee.
(Seyllou / AFP/Getty Images)
A worker in a protective suit empties possibly Ebola-contaminated waste in a high-risk quarantine zone of the John F. Kennedy Memorial Medical Center in Monrovia, Liberia.
(Dominque Faget / AFP/Getty Images)
A man who was showing symptoms of possible Ebola listens as UNICEF health workers speak about Ebola prevention in New Kru Town, Liberia.
(John Moore / Getty Images)
A resident checks on a very sick Saah Exco, 10, in a Monrovia alley. The Liberian boy was one of a number of patients pulled from a holding center for suspected Ebola patients when the facility was overrun by a mob. A local clinic refused to treat him, residents said.
(John Moore / Getty Images)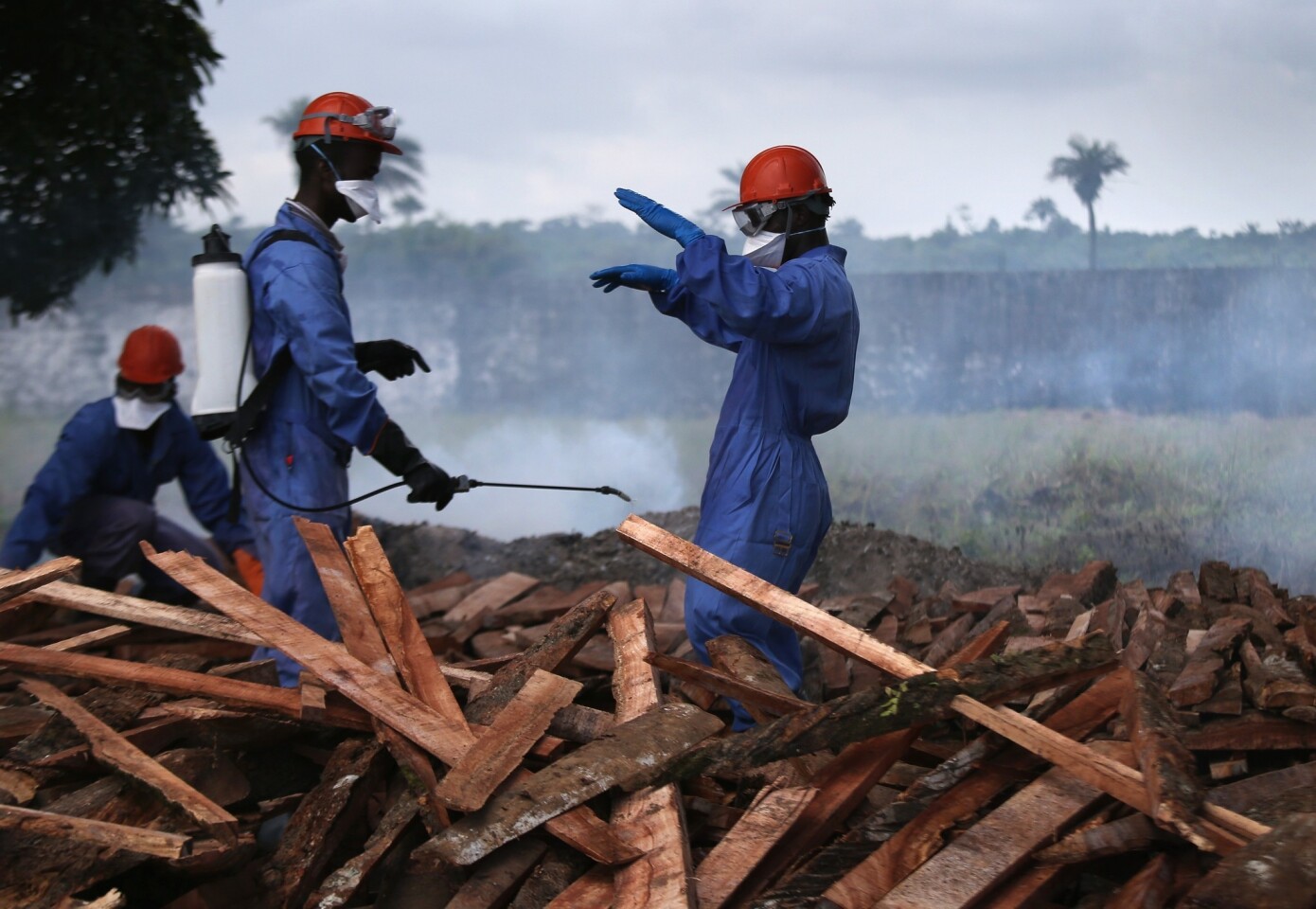 Workers from the Liberian Ministry of Health disinfect themselves before burning the bodies of Ebola victims at a crematorium in Marshall, Liberia.
(John Moore / Getty Images)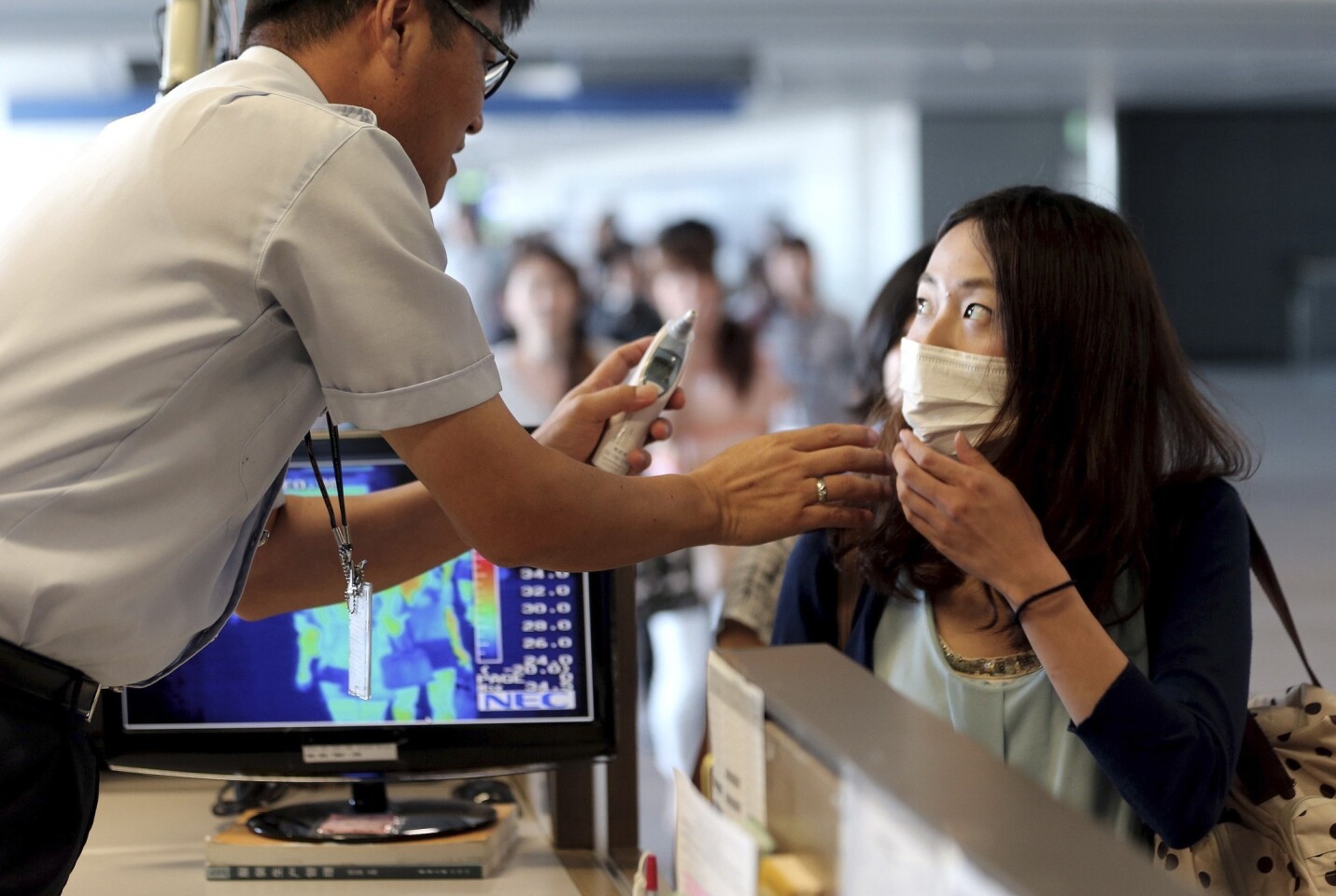 A quarantine officer checks the body temperature of a passenger as a precaution against the Ebola virus at the Incheon International Airport in South Korea. South Korea has stepped up monitoring of citizens returning from West Africa.
(Choe Jae-koo / Associated Press)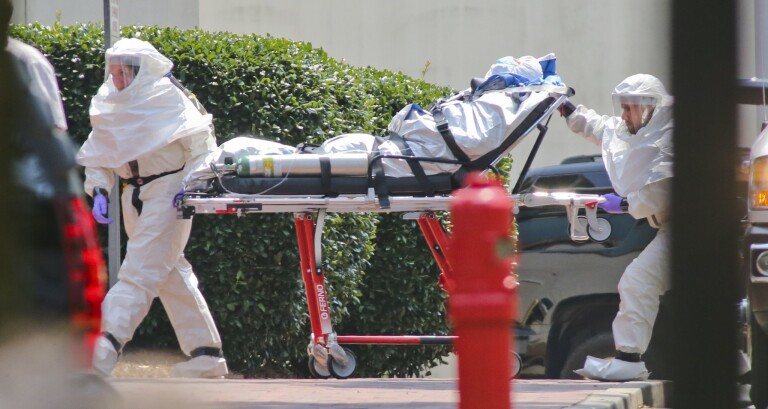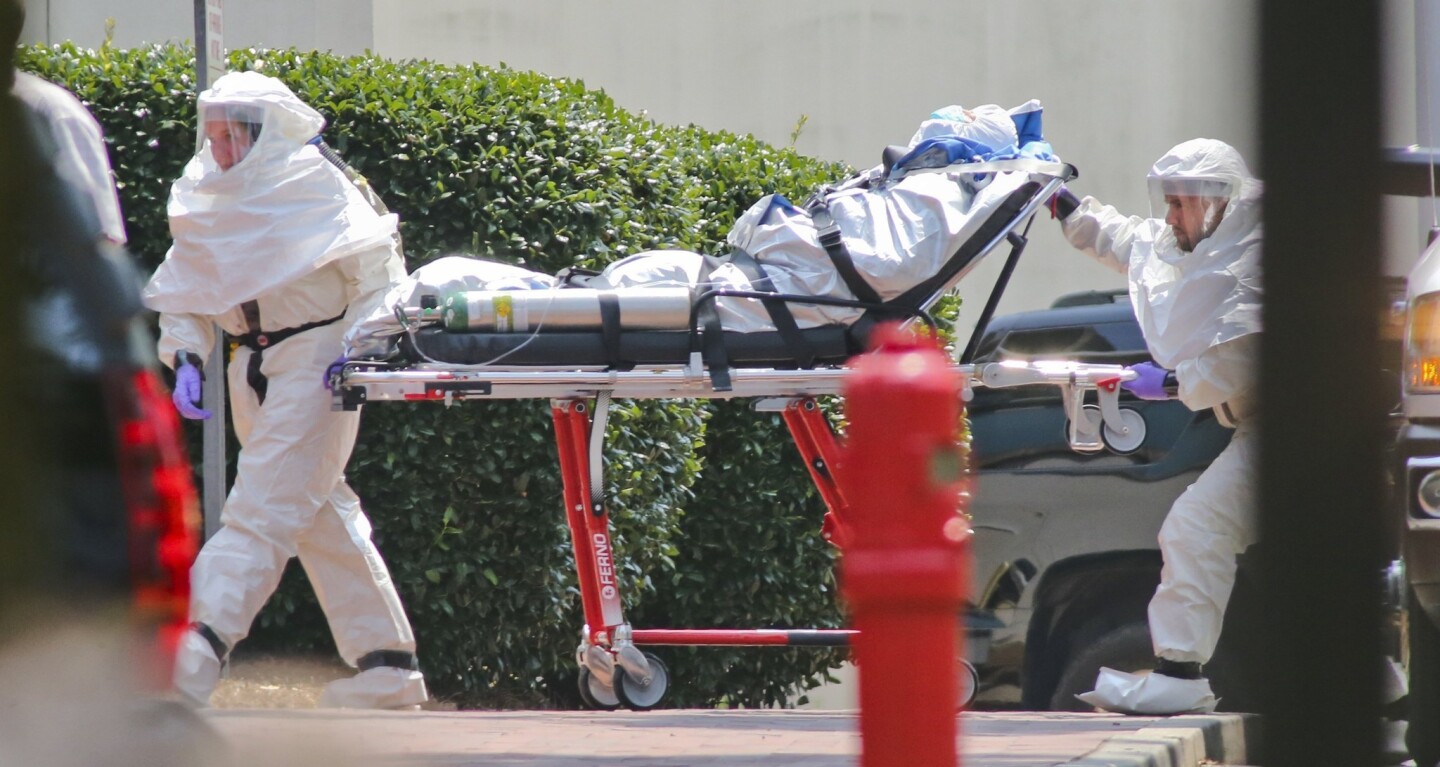 Ebola patient Nancy Writebol is wheeled into Emory University Hospital in Atlanta.
(John Spink /Atlanta Journal-Constitution / MCT)
A Nigerian crew waits to screen passengers for Ebola symptoms at the arrival hall of the international airport in Lagos.
(Sunday Alamba / Associated Press)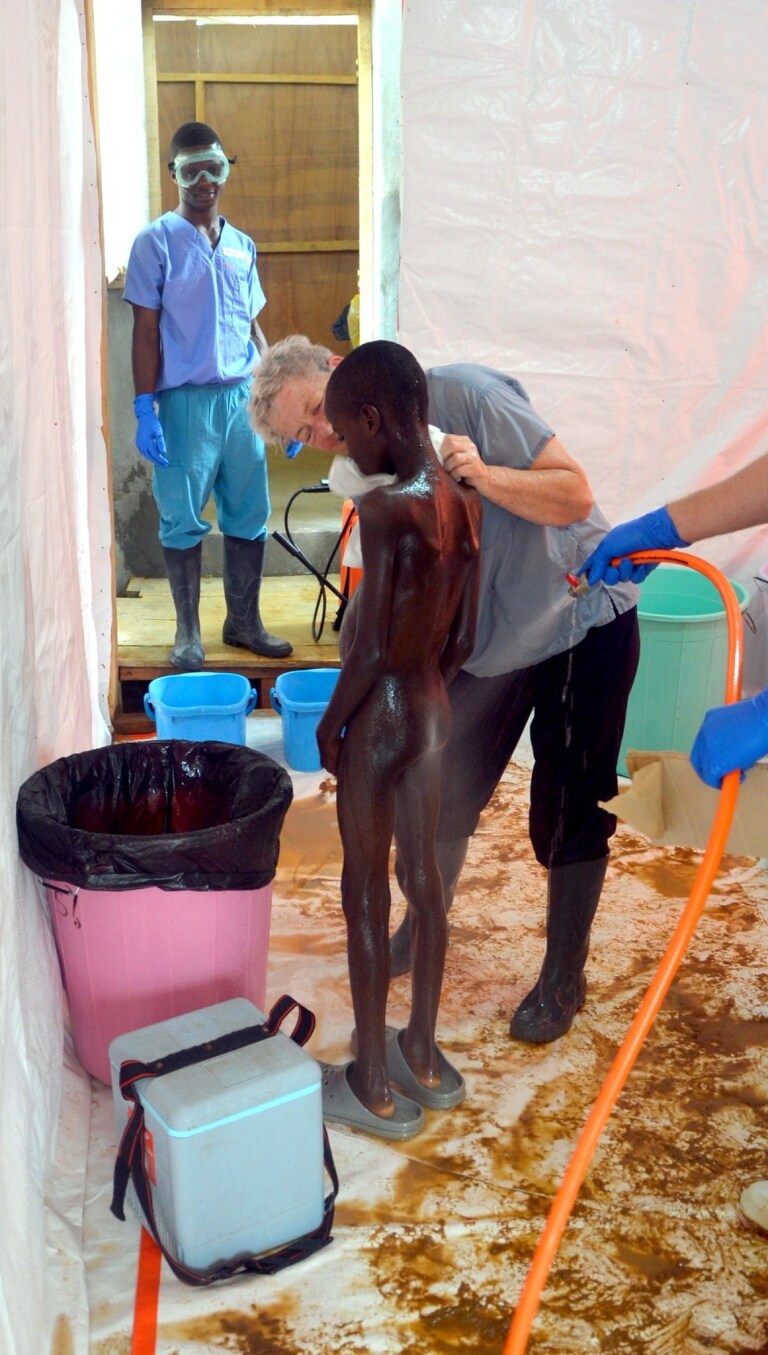 A 10-year-old boy is showered after being taken out of quarantine following his mother's death from the Ebola virus, at the Samaritan's Purse Ebola treatment center in Monrovia, Liberia.
(Zoom Dosso / AFP/Getty Images)
A nurse with Doctors Without Borders examines a patient at a center in Gueckedou, Guinea.
(Seyllou / AFP/Getty Images)
Social commentator Alfred Sirleaf, center rear, discusses the virus in Monrovia, Liberia.
(Jonathan Paye-Layleh / Associated Press)
As the editorial board of The Times pointed out, federal officials have not exactly filled a reservoir of trust with the American public over the issue of how best to keep the Ebola virus out of the country. It might actually be impossible to keep infected people from the three countries from coming in if they want to badly enough. Our borders are too porous for that.
The bigger issue for the feds is how they speak to the public. So far, it's tended to be in such soothing terms that they're almost condescending. "It's fine. We've got it all under control. We've done everything necessary to keep people from getting on planes and getting into our country." Except that didn't prove true. Officials are proving similarly bad at communicating with the public about why we shouldn't ban travelers from the three affected countries, Guinea, Liberia and Sierra Leone.
In an online survey by NBC News, 58% of the respondents said they favored a travel ban on flights from the three nations. But that doesn't necessarily reflect the views of Americans as a whole. Though NBC weighted the results to reflect population demographics, there's an underlying problem with online surveys as opposed to random polling: The people who will take the trouble to respond are the ones who came cross the opportunity to participate, and who had strong-enough feelings about the subject to do so. Those two factors alone can skew results.
What it does show is that the issue of travel bans is on people's minds to one extent or another. But for a couple of reasons, it would be a bad idea right now.
(By the way, there really isn't such a thing as banning flights from the afflicted countries. There are no direct flights from Liberia to the United States; passengers travel to one or more connection points and could be coming from anywhere. But the United States could conceivably refuse to admit travelers who have been in any of those countries during the past 21 days.)
Most of the travelers are obviously not infected or we would have seen a lot more cases by now. According to the U.S Centers for Disease Control and Prevention, 145 people entered the United States each day from those countries in 2013. The number is believed to be much smaller now, because many airlines have stopped flying from the affected areas, or have reduced the number of flights. We would be keeping out people who have business to conduct; impeding their ability to do that would make matters worse in their home country, which would only worsen the Ebola outbreak there. And anything that worsens the outbreak also presents a greater risk to the health of the rest of the world.
Other perfectly healthy people with legitimate reasons to visit would be stopped from doing so. And if the threat to the United States were grave, that might not matter. But one case, no matter how badly it was handled, or even two or three, is not a good enough reason for disrupting the travel plans of tens of thousands of people.
But government officials have come up with less plausible reasons for avoiding a travel ban: It would disrupt the flow of aid and aid workers to and from the affected countries, worsening the outbreak (and in turn, worsening the dangers for the United States and the rest of the world).
There are easy ways around that problem, though. We can send aid flights overseas without accepting travelers from the three countries here. We also can use military planes for returning aid workers to the United States.
It might be somewhat more inconvenient, and again, right now the disruption wouldn't be worth it. But if the number of Ebola-infected passengers should rise above a handful, some inconvenience in moving aid around would be worth it as long as the aid can get there. It's a conversation we don't need to have now, but if we do, the government needs to enter that discussion with real information about the pros and cons. Its current explanation, which doesn't square well with reality, only makes federal officials seem that much more out of touch with public concerns
Follow the Opinion section on Twitter @latimesopinion
---
Life is stressful. Our weekly mental wellness newsletter can help.
You may occasionally receive promotional content from the Los Angeles Times.