Opinion: GOP blames Obama for flaws in a law he vetoed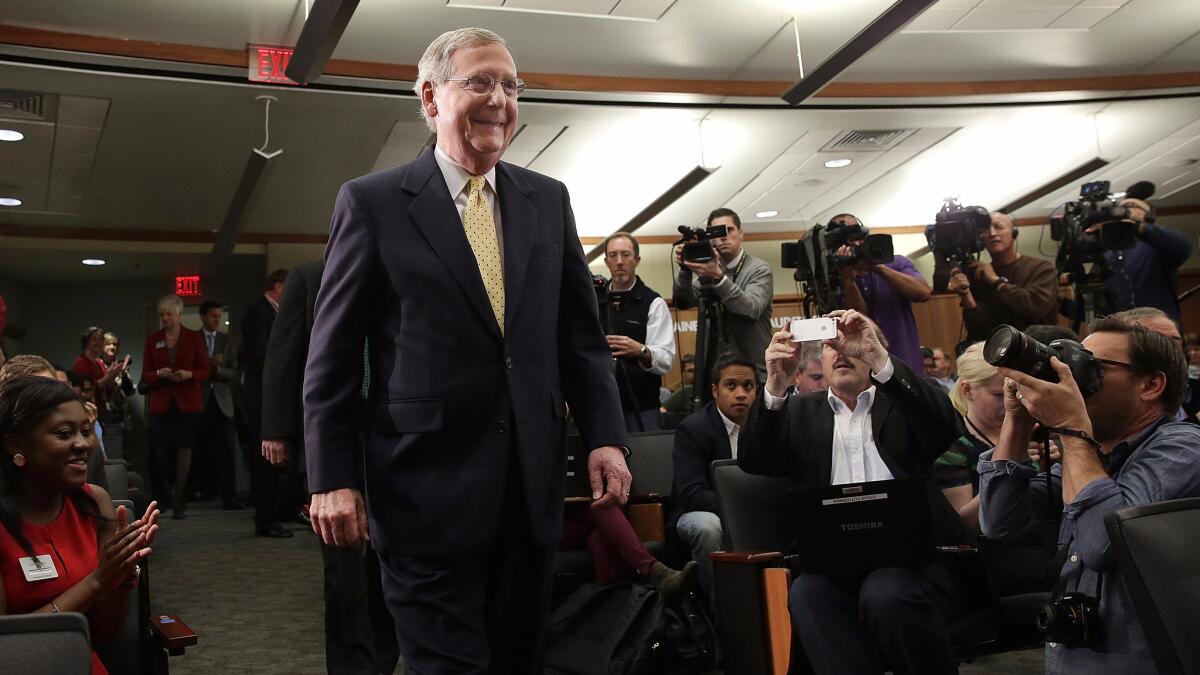 The classic example of chutzpah is the boy who kills his parents and then pleads for mercy at his trial because he's an orphan. But Senate Majority Leader Mitch McConnell (R-Ky.) has come close with his suggestion that President Obama is to blame for problems with an ill-considered bill that the president vehemently opposed only to see his veto overridden by Congress.
This week, after both houses had overridden Obama's veto of legislation that would allow 9/11 victims to sue the Kingdom of Saudi Arabia in U.S. courts — assuming responsibility could ever be established — McConnell acknowledged that the law might have "unintended ramifications." (McConnell voted for the override.)
But then McConnell shifted the blame, saying that he had told Obama that "this was an example of an issue that we should have talked about much earlier."
Speaker of the House Paul D. Ryan (R-Wis.) agreed that the legislation, which was approved in a bipartisan stampede, might have to be amended to protect U.S. service members from tit-for-tat lawsuits in other countries.
The problem is that the administration did warn Congress that the bill, which extended beyond the scenario of a lawsuit against Saudi Arabia, might lead to reprisals by other nations against Americans.
This is from the statement Obama issued on Sept. 23 when he vetoed the Justice Against Sponsors of Terrorism Act, or JASTA:
"JASTA would upset longstanding international principles regarding sovereign immunity, putting in place rules that, if applied globally, could have serious implications for U.S. national interests. The United States has a larger international presence, by far, than any other country, and sovereign immunity principles protect our nation and its Armed Forces, officials, and assistance professionals, from foreign court proceedings. These principles also protect U.S. Government assets from attempted seizure by private litigants abroad. Removing sovereign immunity in U.S. courts from foreign governments that are not designated as state sponsors of terrorism, based solely on allegations that such foreign governments' actions abroad had a connection to terrorism-related injuries on U.S. soil, threatens to undermine these longstanding principles that protect the United States, our forces, and our personnel."
And it's not as if these arguments were new. The objections to the legislation were familiar as long ago as April, when the Los Angeles Times editorialized against the legislation.
By pretending not to have been fully informed about problems with the legislation they have just enacted over a presidential veto, members of Congress may think they can have their cake and eat it too. They get to cast not one but two popular votes — who wants to disappoint the families of 9/11 victims? — and then quietly amend the legislation to make it less likely to provoke retaliation by foreign countries, perhaps by making it easier for the attorney general to obtain a stay of proceedings in federal court against a foreign country.
And if anyone asks why a redo was necessary, why, just blame Obama!
Follow the Opinion section on Twitter @latimesopinion and Facebook
A cure for the common opinion
Get thought-provoking perspectives with our weekly newsletter.
You may occasionally receive promotional content from the Los Angeles Times.