Opinion: How the city controller race led to revelations about DWP nonprofits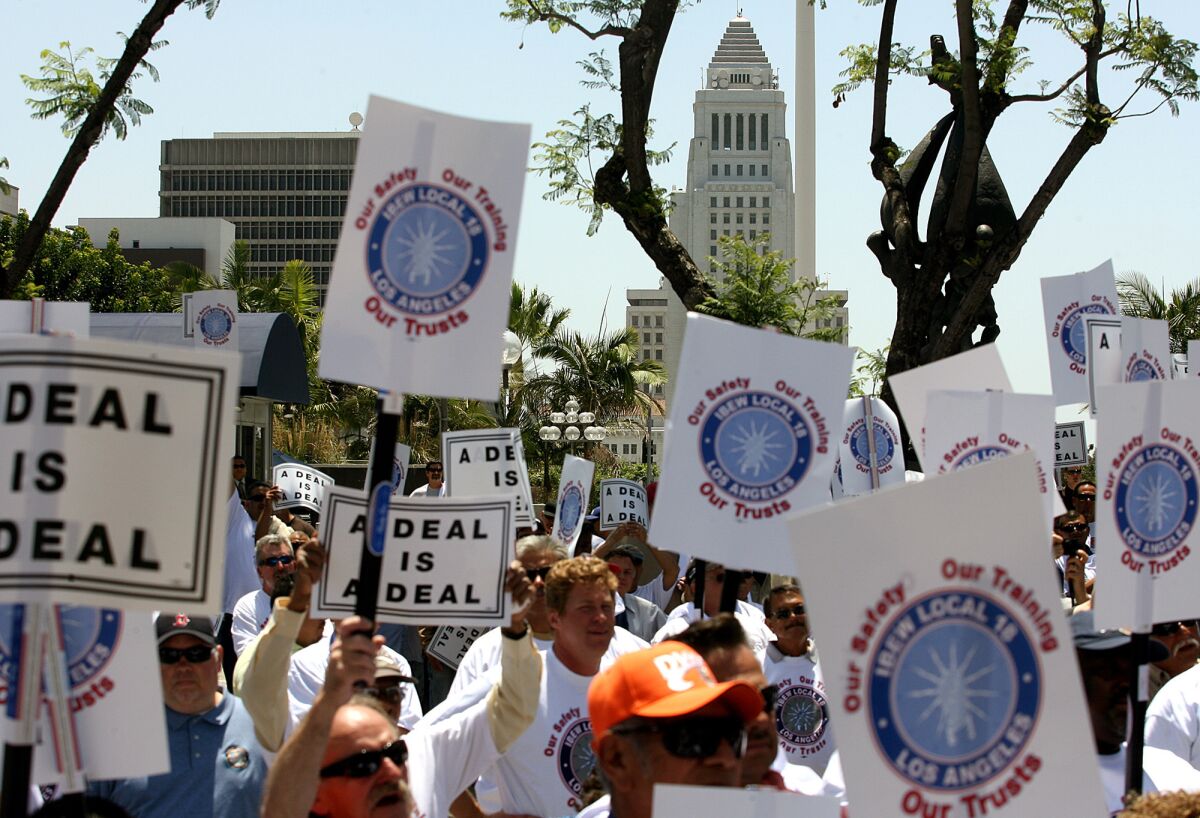 If you ever wonder whether elections really matter, here is an example of why they do. Last month, City Controller Ron Galperin released an audit detailing how employees of two nonprofit trusts associated with the Los Angeles Department of Water and Power were living large on ratepayer money.
There were no criminal misdeeds, but Galperin's audit found that trust employees are paid $220,000. They spent more than $660,000 with their publicly financed credit cards for steak dinners and trips to Las Vegas, Hawaii and New Orleans. One employee racked up thousands of dollars in gas purchases on top of a $500 monthly car allowance.
Galperin's report, along with one produced by City Administrative Officer Miguel Santana, made clear that there wasn't enough oversight, financial controls or accountability over how ratepayer dollars were being spent.
But reform won't happen without the cooperation of Brian D'Arcy, the business manager for the International Brotherhood of Electrical Workers, Local 18, the union that represents most of the DWP's workforce. He co-runs the Joint Training Institute and the Joint Safety Institute with the DWP general manager. D'Arcy filed lawsuits to block the audits and the release of the nonprofits' financial documents. And, based on a recent interview, he shows no sign of accepting recommended changes.
When CBS2 investigative reporter David Goldstein asked for a comment, D'Arcy called Galperin's audit "not very accurate" and he said he was coming out with his own report. Coincidentally, Goldstein found D'Arcy having lunch at Taylor's Steakhouse with former City Councilman and unsuccessful candidate for city controller Dennis Zine. So this next exchange is particularly telling.
D'Arcy questioned the motivation for the audit.
D'Arcy: "This is a specious political audit by somebody who's mad because I wouldn't support him for controller."
Goldstein: "And who is that?"
D'Arcy: "Mr. Galperin."
Goldstein: "And you think he's doing that as vindictive?"
D'Arcy: "Yes, I do. I very much do."
D'Arcy and his political action committee supported Zine in the race for controller. So, is D'Arcy suggesting that if his guy, Zine, has been elected there wouldn't have been an audit? Or it would have been a different audit? Would there be any calls for reform? (Actually, we have the answer. Zine wrote a lengthy criticism of Galperin's audit for CityWatch on Friday, calling the report "grandstanding" and a waste of taxpayer dollars. Zine, however, did not mention in the article that he ran for controller or that IBEW's PAC had supported him in the race.)
The DWP is an agency that merits more oversight and more scrutiny, not less. But ratepayers already know that, and that's probably one reason why voters picked Galperin over Zine.
The next time a local election rolls around, and you're wondering whether it's worth your time to cast a ballot, think of D'Arcy and Zine and what might have been.
For more opinions, follow me @kerrycavan
---
Life is stressful. Our weekly mental wellness newsletter can help.
You may occasionally receive promotional content from the Los Angeles Times.