Opinion: Partisanship in Pennsylvania isn't confined to its congressional map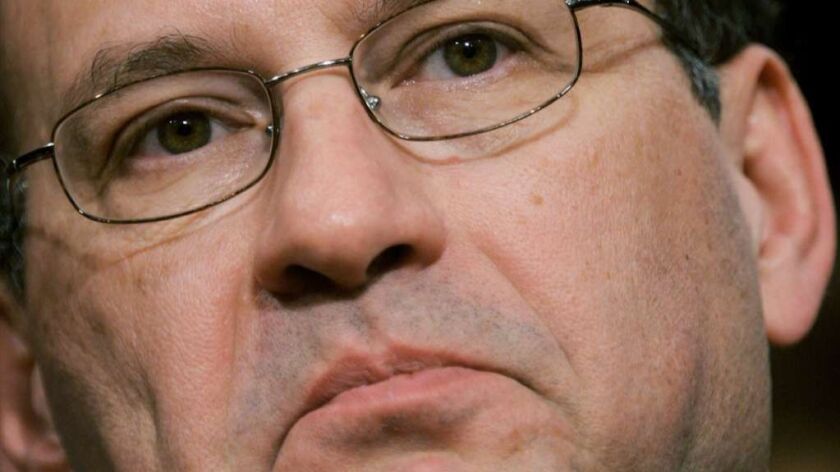 Critics of partisan gerrymandering are rightly celebrating the U.S. Supreme Court's refusal to throw a lifeline to Pennsylvania Republicans trying to preserve a congressional map that gives them an unfair advantage.
On Monday Justice Samuel A. Alito Jr. rejected an emergency request by Republican legislative leaders for a stay of a Jan. 22 Pennsylvania Supreme Court decision striking down a map of congressional districts drawn by the GOP-controlled Legislature. In 2016, that map resulted in a House delegation of 13 Republicans and five Democrats.
The Republicans' request for a stay was something of a Hail Mary pass, because the Pennsylvania Supreme Court decision was based on the Pennsylvania Constitution. (Considering a challenge brought under the U.S. Constitution, a three-judge federal court on Jan.10 upheld the Pennsylvania map.)
The Republicans argued that the U.S. Constitution was involved because it says that the times, places and manner of congressional elections "shall be prescribed in each state by the Legislature thereof" — not the state supreme court. Alito apparently wasn't impressed.
The U.S. Supreme Court is expected to rule in its current term on two partisan gerrymandering challenges brought under the U.S. Constitution. Last October, the justices heard oral arguments in a challenge to a Republican-friendly map for the Wisconsin Assembly. On March 28 they will hear arguments in a 1st Amendment-based challenge to a map that allowed Democrats to capture a historically Republican seat in Maryland's congressional delegation.
In 1986 the Supreme Court said that partisan gerrymandering could violate the 14th Amendment's Equal Protection Clause if it intentionally and effectively discriminated against an identifiable political group. But the court in that case didn't find such a violation, and it has never agreed on a clear standard for invalidating partisan gerrymanders. It's possible that the justices will fail again this term to rise to that challenge.
In that event, the Pennsylvania Supreme Court decision offers another avenue for reform: state supreme court decisions interpreting state constitutions to invalidate partisan congressional maps. But, as someone who spent most of his career in Pennsylvania, let me point to a cloud in the silver lining.
In Pennsylvania, Supreme Court justices are chosen in partisan elections. Moreover, under the state constitution, justices have an explicit role in redistricting — not of Congress but of the state Legislature. After every census, a five-member reapportionment commission is formed comprising the majority and minority leaders of the Senate and House and a chairman selected by those four members. If the two Democrats and two Republicans can't agree on a chairman, one is chosen by a majority of the Supreme Court.
The possibility that the configuration of state House and Senate districts might depend on which party controls the state Supreme Court looms large in the consciousness of Pennsylvania political strategists, or at least it did when I worked in the state. And if the idea that justices would break down on party lines on a redistricting issue strikes you as far-fetched, you haven't read the ruling that the U.S. Supreme Court on Monday declined to block.
The Pennsylvania Supreme Court's holding that the district lines "clearly, plainly and palpably" violated the Pennsylvania Constitution was 5 to 2. All five justices in the majority were elected as Democrats. Both dissenters were elected as Republicans (although one of the dissenters, Justice Sallie Mundy, had been appointed earlier to a temporary vacancy by Democratic Gov. Tom Wolf to replace a Republican justice who had resigned).
Even if you assume that each of the justices decided this case on his or her view of the law, with no consideration of political implications, the partisan split doesn't exactly inspire public confidence. A map drawn up by Republican legislators to benefit Republicans running for Congress has been thrown out by judges who ran for the Supreme Court as Democrats.
Ending gerrymandering in Pennsylvania is probably worth the cynicism that the partisan division on the court will inspire. But there is another way to end gerrymandering that doesn't depend on a judicial finding that a map violates either the U.S. Constitution or the constitution of a particular state. A state can follow California's example and entrust congressional redistricting to a citizen commission, an approach the Supreme Court upheld in 2015 in an Arizona case.
Gerrymandering is a blot on democracy, but not all solutions have to come in court.
Follow the Opinion section on Twitter @latimesopinion and Facebook
---
A cure for the common opinion
Get thought-provoking perspectives with our weekly newsletter.
You may occasionally receive promotional content from the Los Angeles Times.