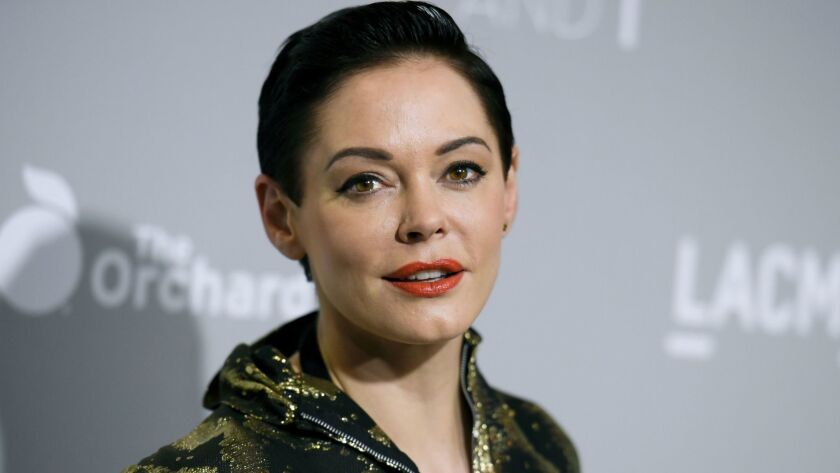 Harvey Weinstein is clearly the villain of the hottest Hollywood drama at the moment. But you can't have a good tale of evil without the balance of a hero. In this story, that role has been filled in the unconventional form of Rose McGowan.
The actress is one of the many women who have come forward in the last week to accuse the movie producer of sexual wrongdoings after a story in the New York Times. But McGowan didn't just add her name to the growing list of accusers and leave it at that. She unleashed a social media campaign against Hollywood's "rape culture" so fierce it got her Twitter account temporarily frozen.
Twitter's official explanation is that McGowan's account was suspended because of a tweet that violated terms of sevice because it included a personal phone number. (The account has since been restored, but not before it set off a one-day boycott: #WomenBoycottTwitter.) Ok, but it sure was interesting timing. McGowan had been trolling Hollywood's elite hard, and no doubt making a lot of people very uncomfortable with her pointed, angry and often profanity-laced commentary.
For example, she called out actor Ben Affleck for saying he was saddened and angry about the reports even though he knew, she said, that Weinstein was a harasser.
She called out Amazon chief Jeff Bezos.
4) @jeffbezos I am calling on you to stop funding rapists, alleged pedos and sexual harassers. I love @amazon but there is rot in Hollywood

— rose mcgowan (@rosemcgowan) October 12, 2017
She called on all men, in effect, not just to condemn harassment but to do something about it.
McGowan has not been polite in her crusade. She has not pulled punches or backed down. She's been a bit of a loudmouth. Good for her. As the feminist saying goes, "Well-behaved women seldom make history."
McGowan is right that the accusations against Weinstein are not an aberration in this deeply sexist industry. The movie business has been objectifying and exploiting women for so long that it will take more than the exposure of one producer to change its culture. It needs more heroes — people like McGowan who will not shut up and be nice, but keep taking names and calling out injustice.
Follow me @marielgarzaLAT
---