Opinion: Opening federal waters to more drilling is a stupid idea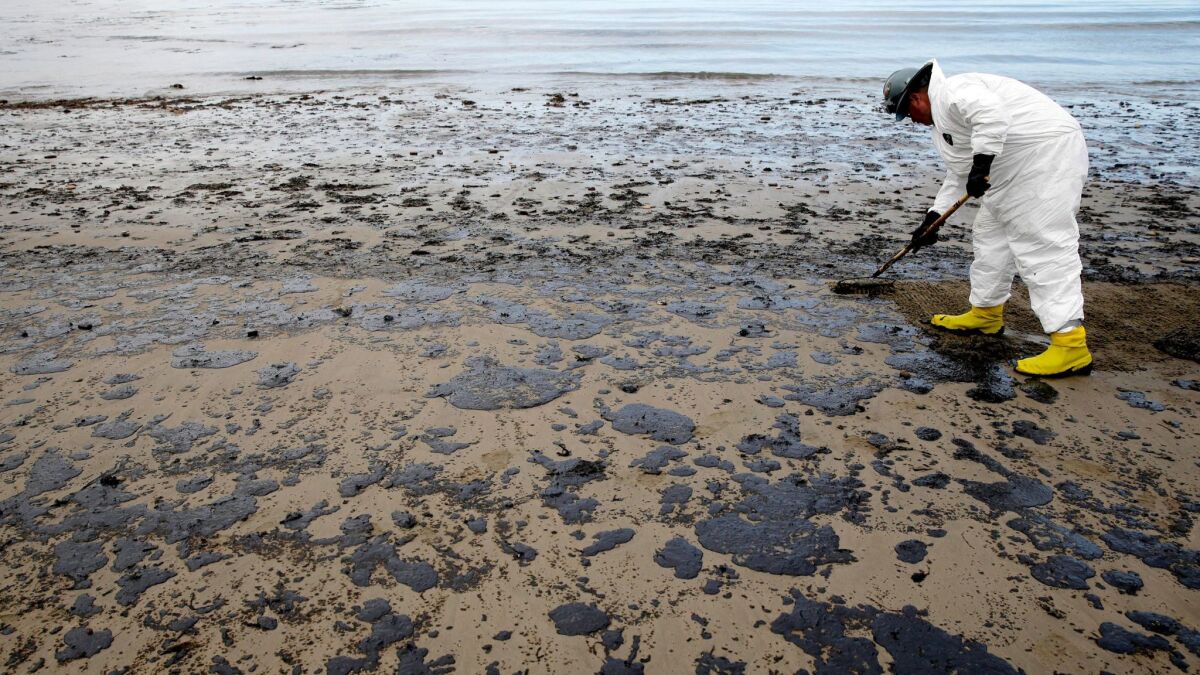 The Trump administration's announced plan to open up nearly all of the federal outer continental shelf waters to oil drilling is flabbergastingly stupid and shortsighted. Which, of course, is why this administration thinks this is a good idea.
The details come in Interior Secretary Ryan Zinke's proposed National Outer Continental Shelf Program for 2019-2024, which would allow 90% of those federal waters to be exploited for oil drilling — including much of the California coast (this does not affect state waters, which extend three miles from shore).
In a news release, Zinke proudly differentiates his plan from that of President Obama's Interior Department, which had ruled 94% of the same waters off limits to drilling. He proposed to open two leases in each of three regions in California, northern, central and southern.
Nationwide, he wants to sell 47 leases, adding to oil drilling platforms off nearly every coastline in the country.
Opening the oceans to drilling is part of President Trump's boneheaded desire to ride fossil fuels to achieve global "energy dominance," which means returning to more burning of coal, slashing regulations governing emissions from fossil-fired plants, and expanded mining and drilling operations.
The problem is he wants to make the U.S. the dominant player in a sector the rest of the world is trying to move rapidly away from.
That the Trump administration disregards the science on climate change does nothing to affect its reality, and while Trump crows bout bringing to market more of the fuels that make the world increasingly inhospitable, other nations are moving to true energy dominance by focusing on the future of energy — renewables such as solar and wind power.
That the Trump administration disregards the science on climate change does nothing to affect its reality.
The proposed opening of oceans to oil leasing isn't a done deal. The public and environmental groups will have a chance to weigh in during the public comments process, and lawsuits are as certain as the sunrise.
Even if it goes into effect unchanged in 2019, the government still would need buyers for the leases — oil companies that see a way to profit from drilling that face protracted lawsuits, an uncertain global market for oil, and state regulators who will undoubtedly make it very difficult for the new leases to move their oil ashore.
So it's not only a bad idea for the environment; it's not a very good idea for the oil drillers. But Trump won't see it that way.
Follow my posts and re-tweets at @smartelle on Twitter
Our six-week newsletter will help you make the right decision for you and your property.
You may occasionally receive promotional content from the Los Angeles Times.