Readers React: The U.S. has not been a kind neighbor to Mexico. It deserves Andrés Manuel López Obrador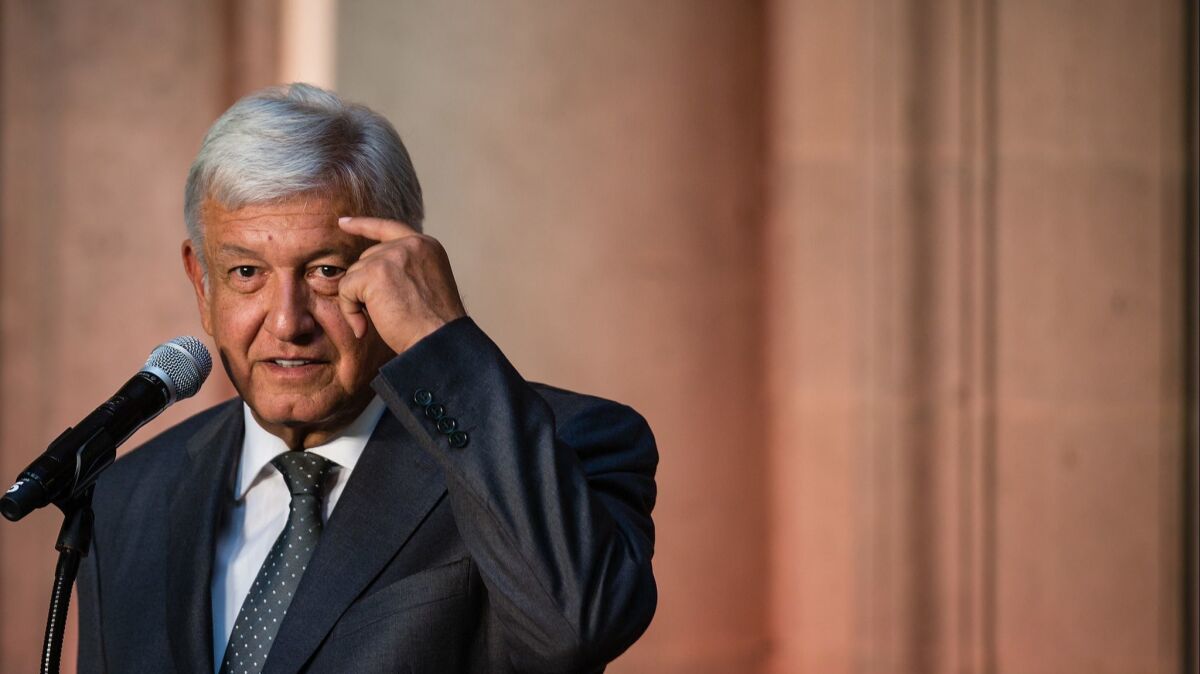 To the editor: Newspaper headlines — a form of sub-literature, like President Trump's tweets — attempt to pack as much sensationalism as possible into very few words (not all of which always work, syntactically or semantically).
In one front-page headline in the July 3 print edition, you highlight the U.S. "bond" with Mexico. What bond? We've incarcerated people traveling through that country seeking asylum in the United States, including toddler-age children. Residents of Mexican heritage have been arrested and deported by U.S. Immigration and Customs Enforcement.
Odd "bond."
The subheadline tells us that Mexican President-elect Andrés Manuel López Obrador is "less afraid" of "riling" the White House than "recent leaders" (presumably his predecessor, Enrique Peña Nieto). Only properly trained U.S. citizens could read without blinking the statement that a foreign leader will "test" a "bond" with the U.S. by not being fearful enough of U.S. imperial power.
Apparently López Obrador's "read on history" has "rattled" Washington "observers." How long will the U.S. let him rule?
Leigh Clark, Granada Hills
..
To the editor: I couldn't help but note the irony in the Los Angeles Times' reporting of the election of López Obrador as Mexico's next president: "López Obrador, who easily won the presidency in Sunday's election and will take office in December, has rattled observers in Washington who are unsure about how he will conduct himself and Mexico's foreign affairs."
I'd say turnabout is fair play.
Scott McCarty, Ventura
Follow the Opinion section on Twitter @latimesopinion and Facebook
---
Life is stressful. Our weekly mental wellness newsletter can help.
You may occasionally receive promotional content from the Los Angeles Times.