Readers React: How badly is Boyle Heights poisoned by lead? Use L.A.'s elite universities to find out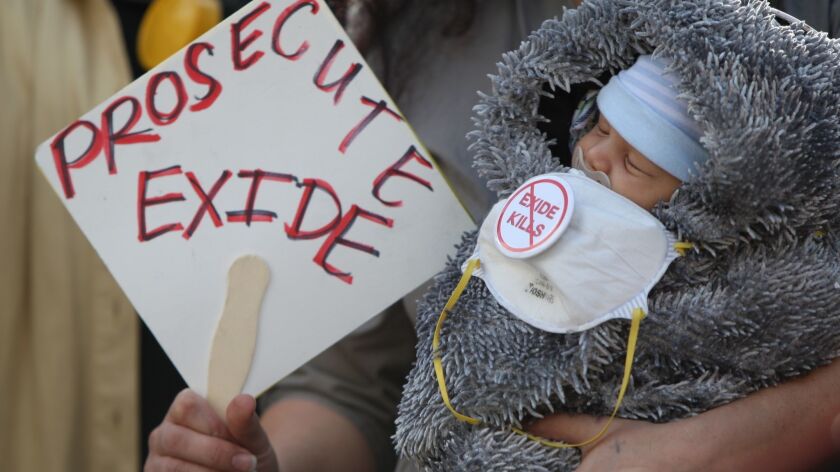 To the editor: There is reason to believe that the lead contamination in and around Boyle Heights — because of both the use of lead-based paint and the close proximity of a closed battery plant — is far more widespread than currently believed, and lead does not become less toxic over time. We need to map the full extent of the pollution before we begin cleaning it up.
The L.A. Times details the bureaucratic bungling and jurisdictional wrangling over the five years we've known there's a problem. What we truly need is an independent, foundation-funded, scientific and academic authority dedicated to identifying the full extent of the pollution, identifying the populations at risk, and applying the fastest, most scientifically accurate and most effective ways of mitigating the toxic effects in our communities.
We have multiple universities and schools of medicine nearby. They and other institutions should study and guide what may be a decades-long effort to clean up the mess. It's a question of health, and it's a question of environmental justice.
Dr. Brian Johnston, Culver City
..
To the editor: Local politicians have been very good about uniting to resist the president and his policies, in particular ones that affect immigrants, whose protection they are constantly advocating for on TV and social media.
The residents of Boyle Heights, many of whom are American citizens, have been poisoned by the Exide battery plant in Vernon for several decades. They were also exposed to lead paint in their homes.
Where was the outcry from these politicians when safety standards were not met at this plant? Where is the responsibility from these politicians as cleanup money is foolishly squandered because of bureaucratic mistakes?
These politicians promised to protect their constituents, and now it is time for them to do their job. I really hope they can stop the finger-pointing and implement a well-run program.
Kenneth Walsh, Los Angeles
Follow the Opinion section on Twitter @latimesopinion and Facebook.
---
A cure for the common opinion
Get thought-provoking perspectives with our weekly newsletter.
You may occasionally receive promotional content from the Los Angeles Times.