Readers React: Just because we've spent billions on the bullet train doesn't mean we should spend more to finish it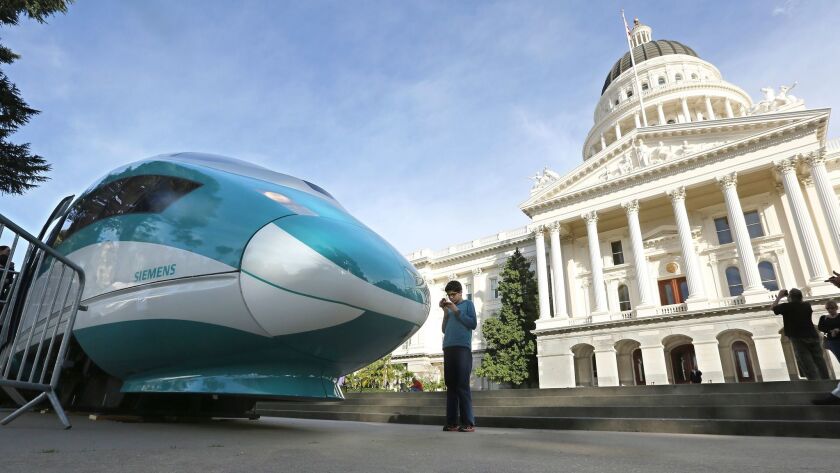 To the editor: Cost estimates for California's high-speed train will continue to climb. ("Cost for California bullet train system rises to $77.3 billion," March 9)
The good news is that we need not finish the project. The money we have already spent is gone — we cannot get it back. This should have no bearing on whether we should spend more. All that matters is what we can expect to achieve for the huge costs that remain.
The train cannot operate without a subsidy, which Proposition 1A, passed in 2008, prohibits. Public resources are needed for much better projects.
We should stop work on the train now, even if we must repay the $3 billion given to California by the U.S. Department of Transportation for the project. The sooner we stop spending, the less money we will squander, and the better off Californians will be.
James E. Moore II, Los Angeles
The writer is director of USC's transportation engineering program.
..
To the editor: The bullet train project reminds of how those of us who live in the west San Fernando Valley were sold on the Red Line subway.
I was told that I would be able to commute from my home to downtown L.A. Instead, over the years I watched a rail line open between downtown and Culver City, which was later extended to Santa Monica. In the Valley, all we got was the Orange Line busway, which makes the trip to the North Hollywood station slower than I can drive there in my car.
The bullet train is following the same course as the Red Line: Promises are being made that can never be kept.
Miles Hodge, West Hills
..
To the editor: I went to Japan 35 years ago, and it was amazing to see the bullet trains as I had only read about them, but had never seen or ridden one.
On my bullet train ride from Tokyo to Kyoto, I remember thinking to myself, "The United States will have this very, very soon for routes from Los Angeles to Las Vegas and San Francisco, and from New York to Boston."
Was I ever wrong!
Steve Shaevel, Woodland Hills
Follow the Opinion section on Twitter @latimesopinion and Facebook
---
A cure for the common opinion
Get thought-provoking perspectives with our weekly newsletter.
You may occasionally receive promotional content from the Los Angeles Times.