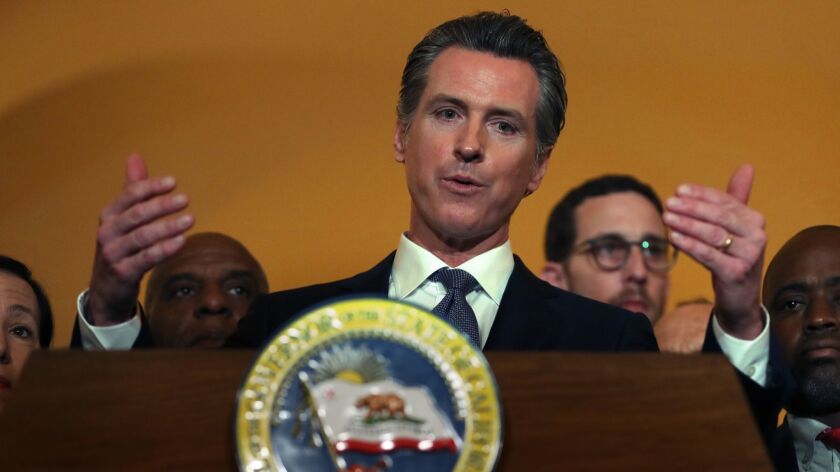 To the editor: A Public Policy Institute of California poll finds that people would rather have life without parole than the death penalty imposed as the punishment for first-degree murder. The "polls" also predicted that Hilary Clinton would be president — how did that work out?
Here's an idea: Let's actually put the question to the voters. Oh wait, we already did that — twice in 2016. The results for one ballot measure affirmed the voters' wish to retain capital punishment, and on another initiative voters elected to speed up the appeals process.
The arrogance of Gov. Gavin Newsom to blatantly disregard the will of the voters is a slap in the face to not only the voters but the legislative process.
This is the same thing he has railed against the Trump administration for doing. I guess it's OK when you feel you are the only one on the side of righteousness.
Jim Toomey, Reseda
..
To the editor: California voters have too often gotten past initiatives wrong (Proposition 8 in 2008 should ring a bell). Even Proposition 66, which asked voters if they wanted to speed up the appeals process, was neutered by our courts.
Let Newsom and our professional legislators do their jobs. I recall plenty of columns by George Skelton, who opposes Newsom's moratorium, lamenting the constant barrage of initiatives lengthening our already bloated general elections ballots.
Jerry Kong, Wildomar, Calif.
..
To the editor: The death penalty represents government participation in a blood vendetta on behalf of the victim of a murder. I strongly object to my government involving me in another person's revenge.
Similarly, if a loved one of mine were murdered, I would not ask strangers to be involved in exacting revenge on my behalf.
David E. Ross, Oak Park
Follow the Opinion section on Twitter @latimesopinion and Facebook
---