Readers React: Once again, the United States is the world's last, best hope for stable global democracy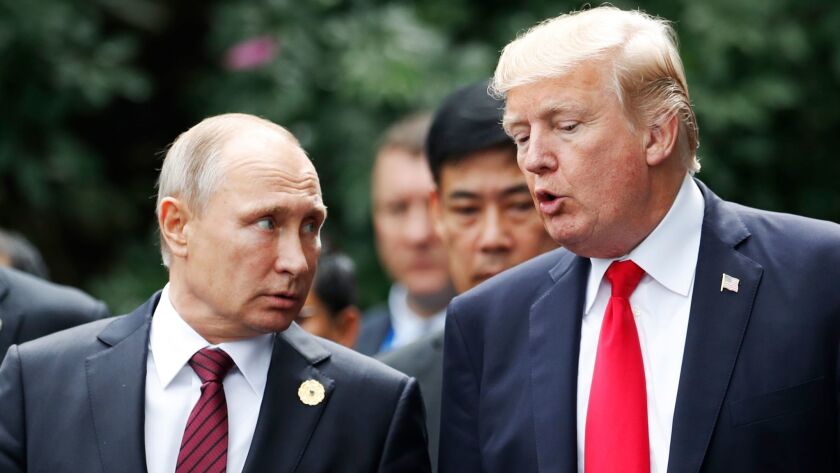 To the editor: Stein Ringen's article on the collapse of democracy globally is depressing beyond words. ("Who in the world will defend democracy?" Opinion, March 13)
There are too many people without opportunities. International corporations are more powerful than state governments. Environmental destruction endangers our world. Social media steals our privacy.
Our modern world has created a democracy of terror. A single person can trade his life for a message to the world using powerful rapid-fire guns, a truck bomb or even a commercial airplane. How long until the weapon of choice becomes a nuclear bomb or lethal bio-organisms? Smartphones spread messages around the world almost instantaneously, creating a constant supply of terrorists.
Ignorance has become truth, and oppression has become stability. People are afraid, and they are willing to trade their freedoms for security.
"Who in the world will defend democracy?" No matter how scary, it has to be us.
Phil Beauchamp, Chino Hills
..
To the editor: The tacit assumption made by Ringen is that the United States is a democratic country.
As Justice Louis Brandeis of the Supreme Court observed many years ago: "We can have a democratic society or we can have the concentration of great wealth in the hands of a few. We cannot have both."
I'll leave it up to you to draw your own conclusions.
Jerry Schaefer, Long Beach
..
To the editor: China's Xi Jinping, Russia's Vladimir Putin and America's Donald Trump certainly won't come to democracy's rescue. Seeing their faces on the same page — figuratively and literally — brings George Orwell's "1984" to mind.
The three world superpowers — Oceania, Eurasia and Eastasia — cooperate behind the scenes to control their own populations with arranged "wars," universal surveillance, adulation of the leader by thoroughly propagandized masses, and five-minute "hates" for the enemy of the day.
Did I omit anything?
Chuck Almdale, North Hills
Follow the Opinion section on Twitter @latimesopinion and Facebook.
---
A cure for the common opinion
Get thought-provoking perspectives with our weekly newsletter.
You may occasionally receive promotional content from the Los Angeles Times.