Readers React: Does Trump know that the White House counsel is not his personal attorney?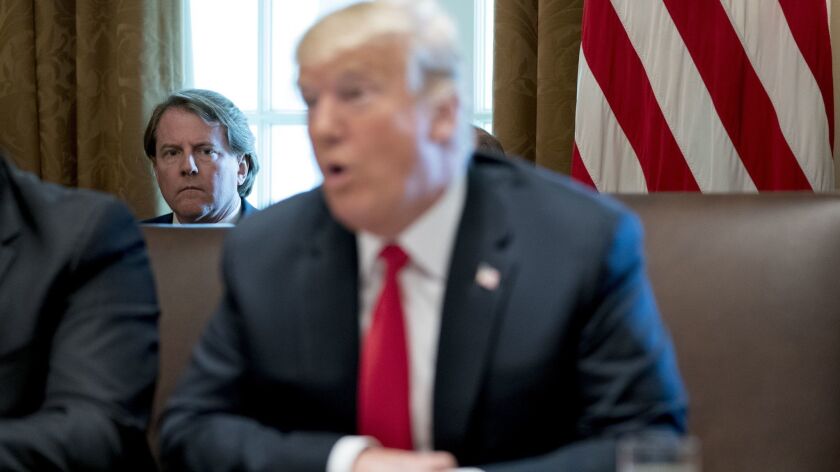 To the editor: In responding to claims that White House Counsel Donald McGahn is speaking to and cooperating with Special Counsel Robert S. Mueller III, President Trump tweeted that McGahn would never rat him out like John Dean did to President Nixon during the Watergate scandal.
The implications of this statement are perhaps the most frightening of anything Trump has said or tweeted during his presidency. He appears to believe that it would be the job of White House counsel, who represents the office of the presidency as opposed to the president himself, to cover up criminal and unethical activity.
Allowing this statement to go unchallenged will sadly demonstrate that we have learned nothing from Watergate.
Alan Abajian, Alta Loma
..
To the editor: An ex-aide to the president reveals that Trump is indeed a racist, a former CIA director is stripped of his security clearance, the president's lawyer asserts that "truth isn't truth," and the president whose mentor was Roy Cohn calls the Mueller investigation McCarthyism.
What's next? Two and two equals five, I suppose.
We've gotten on the bus to Crazy Town. Will someone please pull the signal cord? I want to get off.
Joseph Gius, Los Angeles
Follow the Opinion section on Twitter @latimesopinion and Facebook
---
Life is stressful. Our weekly mental wellness newsletter can help.
You may occasionally receive promotional content from the Los Angeles Times.