Opinion: To evangelical Christian right, the biggest sin is having a 'D' next to your name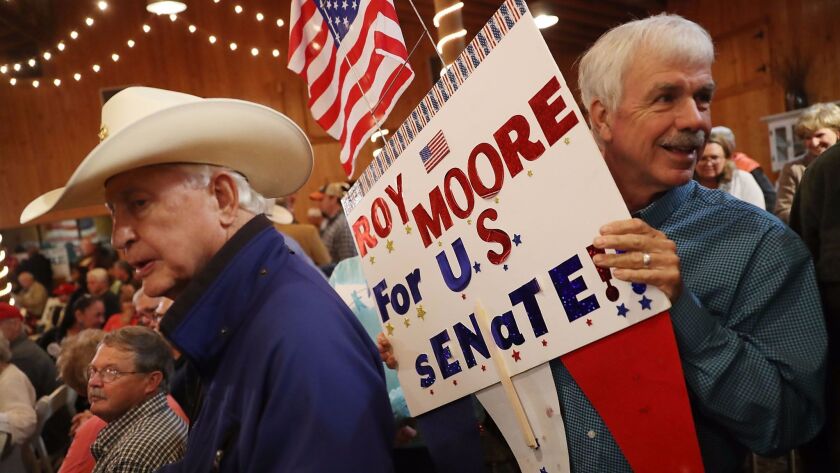 To the editor: Randall Balmer chronicles evangelical Christians' steady slide to lock-step support for morally compromised candidates. Indeed, since evangelicals' counterintuitive backing of Ronald Reagan, the GOP has done its utmost to secure that huge, manipulable voting bloc. ("The evangelical slippery slope, from Ronald Reagan to Roy Moore," Opinion, Dec. 11)
That's why conservatives reliably disparage any viable Democratic presidential candidate's display of faith. More than 10 years ago, when Hillary Clinton began wearing a pendant with a cross, some right-wing pundits branded her an opportunistic heretic. Even after President Obama took office, many on the right strove to link him with Islam; some even dubbed him the anti-Christ.
Conservatives pride themselves on being "strict constructionists," as if the Constitution does not explicitly prohibit imposing any religious test for public office. Evangelicals' hypocritical alliance with the GOP strikes me as downright diabolical.
Robin Groves, Pacific Palisades
..
To the editor: Balmer is right to point out that evangelical Christians have allowed politics to outweigh religious principles. But evidently, he is not aware how dangerous many of these right-wing ministers are.
Trump has an advisory council of theocratic evangelical ministers who have his ear. One of them, Robert Jeffress, has said God has given Trump authorization to take out North Korean leader Kim Jong Un. Another, Ralph Drollinger, opined that our country is in such bad shape that a "benevolent dictatorship" may be necessary.
This is music to the ears of our authoritarian president.
Lloyd Wright, Cypress
..
To the editor: Just when I thought Republicans had reached the bottom of the toxic barrel, I was appalled to read that evangelicals endorse Roy Moore, an accused child molester, for the United States Senate.
Billy Graham must be spinning in his grave.
Bunny Landis, Oceanside
Follow the Opinion section on Twitter @latimesopinion and Facebook
---
A cure for the common opinion
Get thought-provoking perspectives with our weekly newsletter.
You may occasionally receive promotional content from the Los Angeles Times.