Readers React: Stop bringing patriotism into the debate on gun control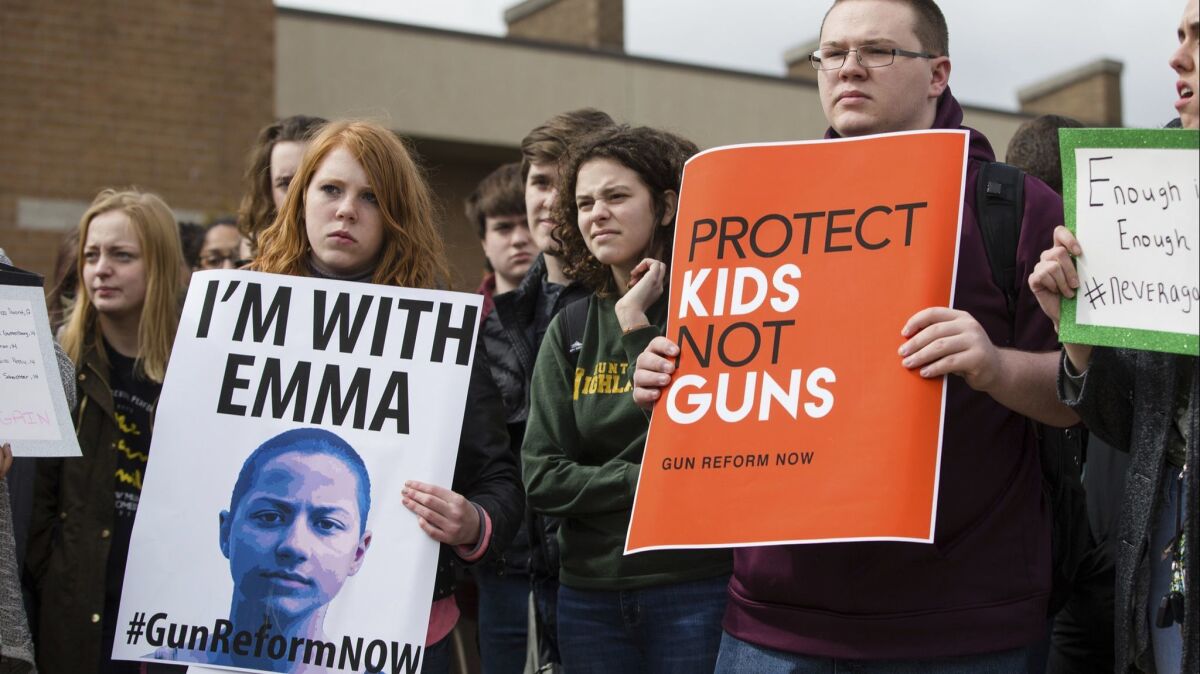 To the editor: I appreciate the passion of the social sciences teacher who praised the students who did not walk out of their classes on March 14 in support of more gun control. But this is a practical issue, not an issue of patriotism.
This issue is about a specific product, not the right to own a gun. The majority of Americans support common-sense gun laws, including banning assault rifles, setting higher age limits and requiring mental health checks. They believe that gun ownership should at least have the same regulation attached as obtaining a driver's license.
And who is tilting at windmills? The students dealing with real fear and death wrought by the insanity of these frequent mass shootings? Or those who think they need to own semiautomatic military-style assault rifles to fight the government that's coming to crush their liberties?
Kathy McGrath, Los Angeles
..
To the editor: One letter writer believes the "last line of defense against an abusive government" is the right to own guns. I disagree.
The best defense against an "abusive government" lies with the rule of law, an independent judiciary and law enforcement, the free press, civil disobedience against injustice, voting by all members of our communities without voter suppression, religious freedom and tolerance, and respect for life, liberty and the pursuit of happiness for all who make their home in our country.
The myth that a gun guarantees freedom has to be shattered once and for all.
I hope the letter writer's students engage in a robust discussion of this issue, perhaps even inviting surviving students and their parents from Columbine, Parkland and Sandy Hook, to name just a few.
Linda Allderdice, Los Angeles
Follow the Opinion section on Twitter @latimesopinion and Facebook
Life is stressful. Our weekly mental wellness newsletter can help.
You may occasionally receive promotional content from the Los Angeles Times.