Readers React: Votes matter a lot more than a student walkout over gun violence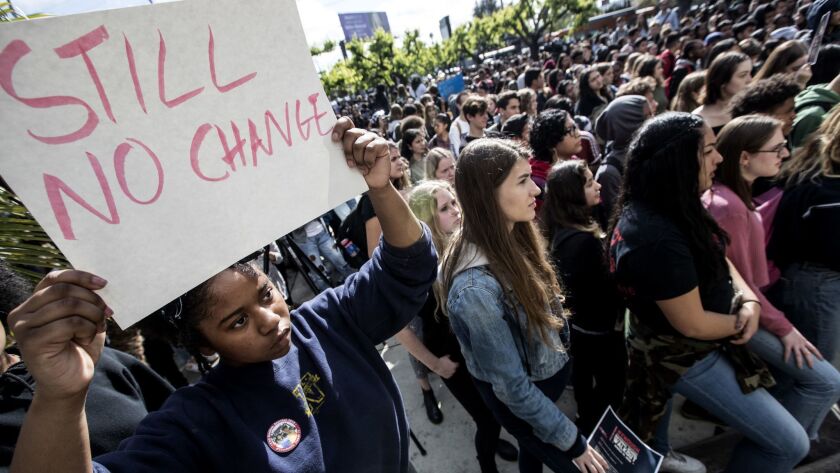 To the editor: If the students who walked out of the classes on Wednesday really want to make a difference regarding gun violence, they should spend their time encouraging their older siblings and neighbors — and their parents — to vote. And when the students reach 18, they should vote too. ("L.A. students join nationwide walkouts and actions to remember Parkland victims, push gun control," March 14)
Young adults are less likely to cast their ballots than older voters. Public awareness campaigns regarding gun control are great, but every deadly shooting captures the public's attention.
The problem is that there are too many legislators who are beholden to the gun lobby. Electing different legislators is the only effective action.
Every soon-to-be American voter can play a role in our electoral process. As adults, we should be encouraging the students to participate in electing gun-sensible legislators.
Andrew Caster, Los Angeles
..
To the editor: Who speaks for the students who did not walk out — those who either felt they didn't know enough to protest, or those who knew enough to realize not walking out was the statement they wished to make?
Who speaks for them? Certainly not anyone swimming in the mainstream of the here and now.
Who speaks for those with traditional values? For the patriotic whose patriotism has been somehow diminished in the eyes of their peers? Who speaks for those who understand that the biggest fear of our Founding Fathers was a centralized government capable of crushing liberty?
Who speaks for the student who knows that the 2nd Amendment is our last line of defense against an abusive government?
Here's to those students who remained quietly in their classrooms while their peers walked out to tilt at windmills.
Steve Beck, Glendora
The writer is a social science teacher.
..
To the editor: It is with great enthusiasm and support that I observe the emerging activism of our Generation Z. I wholeheartedly support those young people's engagement and "get on their feet" participation.
I was a teenager in the 1960s and always felt there was much left to be done in this great social experiment. It is my fervent hope that this younger generation brings to fruition what its initial efforts portend.
Thomas Saiza, Santa Monica
..
To the editor: Students walked out on Wednesday to remember their peers who died in school shootings and to push for common-sense gun control for all of us.
Common sense will tell you that the only way to stop mass shootings is to eliminate the weapons and accessories that are capable of firing mass quantities of bullets. No other solution, or combination of solutions, will achieve that goal.
Wayne Widner, San Pedro
Follow the Opinion section on Twitter @latimesopinion and Facebook
---
A cure for the common opinion
Get thought-provoking perspectives with our weekly newsletter.
You may occasionally receive promotional content from the Los Angeles Times.