Opinion: Iran just held an election. So why is the theocratic monarchy Saudi Arabia our friend?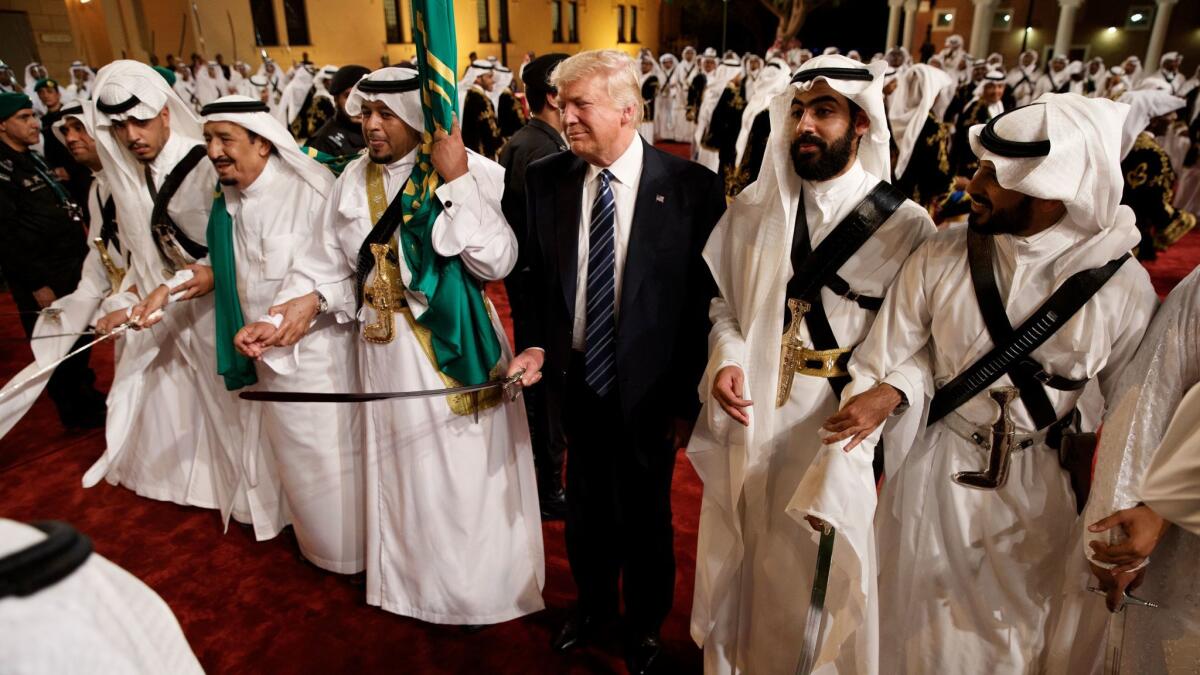 To the editor: Iranians easily reelected Hassan Rouhani as president. Three-fourths of eligible voters cast their ballots, a better turnout than in our own election. ("Leaving his troubles at home, Trump gets a royal welcome in Saudi Arabia," May 20)
We refer to Iran as our enemy, and yet Rouhani is considered a moderate, and in last year's parliamentary elections, moderates and reformers had their strongest showing ever in Iran.
This weekend, President Trump visited Saudi Arabia, where no national elections are held. That country is governed by a royal family. Islam is the state religion, and the puritanical Wahhabi Islamic movement that dominates Saudi Arabia controls many aspects of life.
Saudi Arabia is our friend, and yet we go around the world selling and evangelizing equality, freedom of choice, free elections, self-determination and democracy. How can we look at ourselves in the mirror without seeing two faces?
Rogelio Peña, Montebello
..
To the editor: Saudi Arabia is an absolute monarchy, while Iran just held a presidential election. The Saudis ban the Bible, while Christians and Jews have reserved seats in the Iranian parliament. Saudi money financed the Sept. 11 attacks, while no terrorist attack in the U.S. has been linked to Iran. More than half of all Iranian university students are women, and in Saudi Arabia, women are not even allowed to drive.
Can someone explain exactly why we ally with Saudi Arabia against Iran?
Chris Norby, Fullerton
..
To the editor: Trump seemed truly happy in Saudi Arabia. He was welcomed as a king and his children as royal heirs. He is comfortable among his royal hosts, away from the dissenters at home who fail to show proper respect.
And why? For one, Trump urges a greater fight against terrorism, but he fails to point out that most of the Sept. 11 attackers were from Saudi Arabia. For another, he lashes out against extremism, but he ignores that Al Qaeda and Islamic State have derived much of their strength from Wahhabism, which is supported by the Saudi royals.
Trump should enjoy being royalty, but he should not bring it home with him.
Peter Langenberg, South Pasadena
Follow the Opinion section on Twitter @latimesopinion and Facebook
A cure for the common opinion
Get thought-provoking perspectives with our weekly newsletter.
You may occasionally receive promotional content from the Los Angeles Times.