Readers React: LACMA satellites are a great idea — but a museum's building is almost as important as its art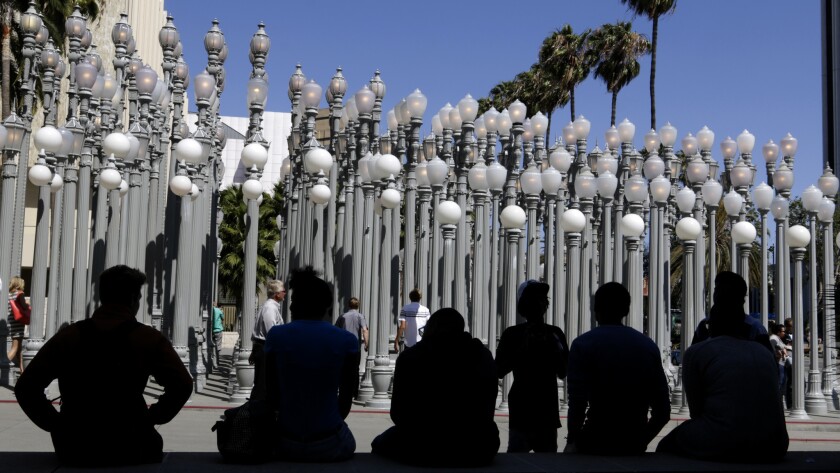 To the editor: Bringing art into the community, as the Los Angeles County Museum of Art proposes to do by opening several satellite locations, is never a bad idea. The emphasis should be on how we share art with the community, not where we share it.
However, part of the experience of viewing art is in the place where it is viewed. Getting people to visit LACMA is an important part of why there are museums.
Having just returned from a European trip where I visited several museums that are in amazing buildings, I realized the importance of why I love going to art museums — not to mention that all of them were free of charge. Maybe free admission can be part of new incentives to bring more people from "outlining communities" to this beautiful art museum.
Sherry Davis, Playa Vista
..
To the editor: It's ironic that, while most of America's cultural history is heavily indebted to the contributions of low-income Americans and African Americans, so little of their contributions are allowed in the galleries and museums organized by elites. If The Times Editorial Board's endorsement of LACMA's plan for campuses in South L.A. reflects a disavowal of that history, so much the better.
But the bitterest irony can't be as easily cast aside: A LACMA campus in South L.A., without robust tenant protections and affordable housing attached, would ultimately displace the community it would be trying to serve.
Any advocacy for such a campus without this consideration in mind is irresponsible and out of touch.
Stephano Medina, Los Angeles
..
To the editor: Why doesn't LACMA take advantage of huge retail spaces in malls that are not fully occupied?
Use one of the empty "anchor" stores as the museum and a cluster of smaller stores providing arts and craft supplies (and maybe workshops), coffee-table books and other art reproductions. Maybe even include a food court where a museum-goer is more likely to find a croque madame than a hamburger.
You can leverage existing parking, customer traffic and security. The building itself may not be state-of-the-art, but what is the overriding purpose of establishing these satellites to begin with?
Christian Volz, Redondo Beach
Follow the Opinion section on Twitter @latimesopinion and Facebook
---
A cure for the common opinion
Get thought-provoking perspectives with our weekly newsletter.
You may occasionally receive promotional content from the Los Angeles Times.