Opinion: If Metro wants more transit riders, it should make bus and rail trips free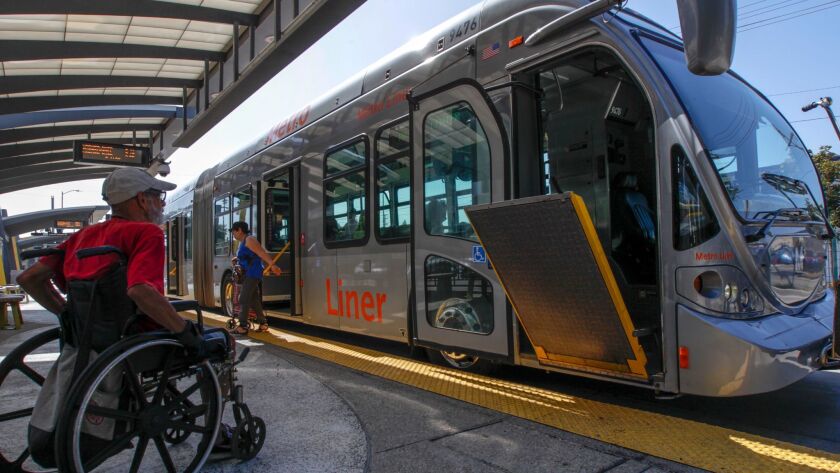 To the editor: Everyone loses when our buses and trains are not used to their maximum capacity. We feel the pain of increased traffic from more people choosing to drive alone in cars; there's also reduced economic activity when people no longer make trips to work or elsewhere. ("Ridership on Metro fell to the lowest level in more than a decade last year," Jan. 25)
A proposed solution: Eliminate all fares and make rides on buses and trains free. Use the savings from not having all the infrastructure needed for fare collection to improve safety. Furthermore, add a small tax on gas to pay for other expenses.
We all benefit when everyone can get around and do it safely, quickly and at a low cost. Our transit experts seem not to know what to do, so it's time to take more drastic action to get ridership up again.
Ben Tenn, Northridge
..
To the editor: Why is Metro ridership so low?
A typical ride on the Red Line and other trains consists of witnessing many people squeezing through the turnstiles without paying any fares and watching sleeping people take up several seats for themselves and their stuff.
Riders who do pay and who do mind the rules are confronted by persons who are selling candy bars or are just begging for money. And what about mentally ill people causing alarm with their vocal outbursts?
All of this makes for what feels like an unsafe experience. And what happens when you need law enforcement? Most of the time, they're nowhere to be found, but often when they are available, they are reluctant to act.
Stricter enforcement of the rules on fare payment, eating, drinking, solicitation and using trains and buses as day-and-night shelters could improve the public's confidence in Metro.
Morley J. Helfand, Arcadia
..
To the editor: I don't understand the reluctance to use public transportation. It's cheap and convenient.
I'm a retired senior who travels from Azusa to the beach during off-peak times using the Gold, Red and Expo lines. The 82-mile round trip costs me a total of 70 cents, which is less than a penny a mile. If I drove, the gas would cost $10 and the parking $12, and that doesn't take into consideration the wear and tear on my car.
Yes, it's slow, but I can digest my L.A. Times on the way out and my New Yorker coming home because I'm not driving through exasperating traffic.
Ron Garber, Duarte
Follow the Opinion section on Twitter @latimesopinion and Facebook
---
A cure for the common opinion
Get thought-provoking perspectives with our weekly newsletter.
You may occasionally receive promotional content from the Los Angeles Times.