Readers React: Netanyahu does a disservice to Israel by hitching his wagon to the GOP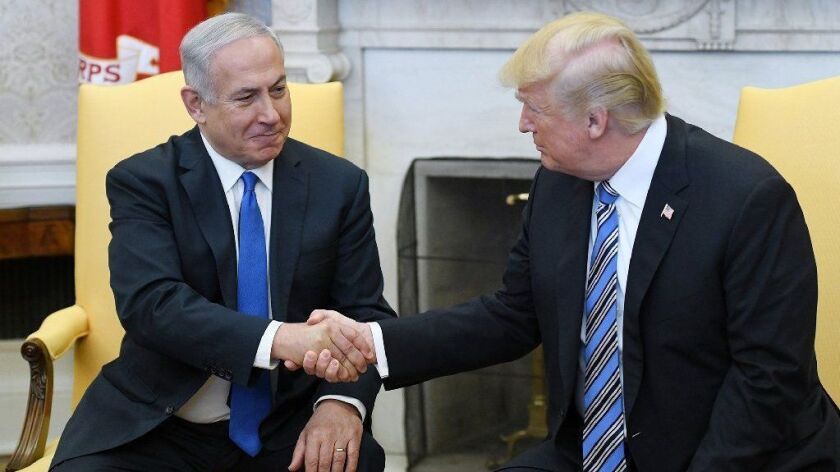 To the editor: Thank you for publishing Israeli columnist and political activist Mika Almog's op-ed article criticizing Prime Minister Benjamin Netanyahu. By welcoming the far-right Otzma Yehudit into his fold, Netanyahu has made it clear that his priority is himself and not Israel.
One area of danger that Almog did not mention is the effect of the prime minister's ham-handed policies on Israel's relationship with the United States. Whether by design or incompetence, Netanyahu has tied the two countries' relationship to the Republican Party in general and the Christian right in particular.
Netanyahu has failed to take into account the changing demographics of the United States. By hitching his and ultimately Israel's fate to the right wing of the GOP, the prime minister has sided with a party that commands the loyalty of only a quarter of the population.
He has failed miserably to reach out to the Jewish and non-Jewish liberals in the United States. In attacking them and by mainstreaming Israel's Otzma Yehudit, Netanyahu is giving fodder to those on the left who are anti-Israel and anti-Semitic.
Like President Trump, Netanyahu takes criticism of his policies personally. He needs to stop that.
Andrew C. Sigal, Van Nuys
..
To the editor: Alan Dershowitz's effort to discredit the prosecution's case against Netanyahu proves unpersuasive. As he has done in his defense of Trump, he attempts to normalize Netanyahu's misconduct.
Dershowitz argues that Netanyahu's quid pro quo arrangements in two media cases are not unusual among politicians seeking favorable media coverage. Dershowitz dismisses the indictment as arbitrary and contrived. He claims that this unethical and, according to Israeli law, illegal behavior is normal among politicians.
Dershowitz's argument does a disservice to the principle that in a democratic society no one is above the law.
Nor does he help his case when he questions the attorney general's authority to prosecute Netanyahu on the grounds that the decision to do so might thwart the will of the voters. As Dershowitz knows, that is not a viable defense against criminal charges.
Andrew Spathis, Los Angeles
..
To the editor: Many thanks to Dershowitz for his clear thinking on Netanyahu's legal troubles. The charges against the prime minister are similar to the allegations against our own President Trump.
It appears we live in a world gone mad with this new liberalism. I believe Dershowitz always stands tall when seeking the truth.
So, isn't it time that he stops the charade and joins the political party that apparently reflects his true values — the Republican Party?
Carl Rosenfeld, Indio
Follow the Opinion section on Twitter @latimesopinion and Facebook
---
A cure for the common opinion
Get thought-provoking perspectives with our weekly newsletter.
You may occasionally receive promotional content from the Los Angeles Times.