Readers React: Enough with the DMV bashing — the problem is unprepared customers, not the DMV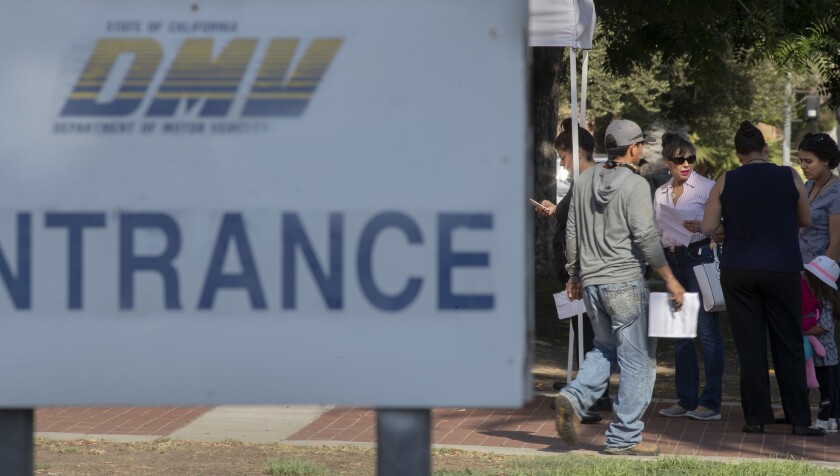 On most topics, the mix of reader opinions in letters to the editor stays the same over time. Examples include climate change (most letter writers want more government action against it) and President Trump (is it really necessary for me to state what many of our readers think of him?).
For a select few topics, the prevailing reader opinion swings like a pendulum, often in response to other published letters that fall on one side of an issue. One example is gun control: Usually after a high-profile shooting, we'll get inundated with submissions calling for new laws, after which gun-rights proponents reply to those letters.
Add to the second column another topic: the Department of Motor Vehicles. When there was a burst of news coverage recently of DMV customers waiting in line up to six hours, most of our letter writers complained of the lethargic bureaucracy they endured just to renew a driver's license. Now, most of our DMV commentators are sharing tales of hardworking staff and easy, in-and-out appointments.
The takeaway? If a morning or afternoon at the DMV can put letter writers in a good mood, maybe there's hope for humanity.
Temecula resident Steve Ross uses the word "beautiful" after his DMV experience:
The DMV is functioning just fine. All one really has to do is follow directions.
My visit there on Sept. 12 was to obtain a Real ID driver's license. I followed the directions on the DMV website, which has three lists of documents; drivers are required to present an example from each list to obtain a Real ID license. Like the website says, it's as easy as 1-2-3.
Yes, I spent two hours there, but it was great to see parents assisting their children in obtaining their driving privilege for the first time. Our beautiful California has a lot of people — we are blessed.
Jeanette Barcroft of Camarillo clocks her recent visit at less than an hour:
On Monday, I got a Real ID license. When I got my renewal notice, I went to the DMV website and looked up everything I needed.
I went in on my appointed day with all the required documentation at the ready and filled out an application at a computer there. Then I stood in the appointments-only line for about five minutes and was served right away by a series of helpful, hardworking people. Paperwork, vision test, knowledge test and photo all followed quickly, and I was done.
The whole process took 40 minutes. That was because I had an appointment and came prepared with everything I needed. However, the building was packed with people who did not do their homework. As I left I thanked the staff and praised their efforts, but I know their efficiency was partly due to mine.
Mickey Rivers of Lakewood says check-in is the DMV's choke point:
I recently made an appointment at the Long Beach DMV to get a Real ID license. I got in the appointments queue and was the 11th person in line. Problem was, there was only one employee checking in both appointments and non-appointments, so it took me 55 minutes just to check in. This is an obvious flaw.
Once checked in, I was called within five minutes to have my documents verified. I was then directed to another window, where there was no wait to take a picture. I was then required to take both the motor vehicle and motorcycle written tests, for which I didn't study in advance but passed in short order.
Once I checked in, everything took 20 minutes, and I was out the door with my temporary license.
It seems the DMV needs to speed up its check-in process, especially for customers with appointments. It would also help if everyone went to the DMV website and verified what documents they needed before showing up.
Follow the Opinion section on Twitter @latimesopinion and Facebook
---
A cure for the common opinion
Get thought-provoking perspectives with our weekly newsletter.
You may occasionally receive promotional content from the Los Angeles Times.