Opinion: Salvadorans who have lived in the U.S. for 17 years cannot be considered 'temporary' residents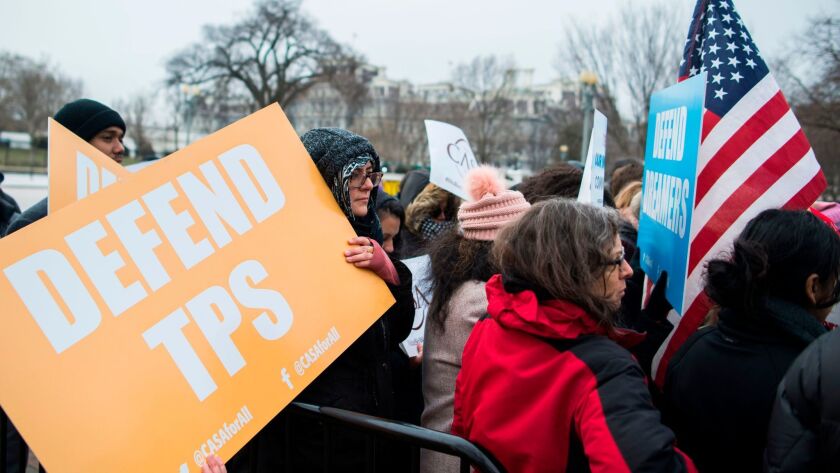 To the editor: Thank you for the informative article about temporary protected status. ("With their fate in the Trump administration's hands, 260,000 Salvadoran immigrants wait and worry," Jan. 7)
As a researcher who has studied immigration from Central America to the United States, I note at least two flaws in the Trump administration's argument that the "T" in "TPS" is supposed to mean "temporary."
First, as was recognized by the Republican and Democratic presidents that renewed Salvadorans' eligibility for TPS since 2001, the country conditions that led to TPS eligibility have been anything but temporary. Second, it is unfair to retroactively impose "temporariness" on people who have been permitted to remain in the U.S. with documentation for 17 years. In 1997, the high level of integration afforded by such documentation was a rationale for passing the Nicaraguan Adjustment and Central American Relief Act.
Now, the Trump administration should rethink its decision not to extend Salvadorans' TPS while promoting legislation that would grant residency to TPS recipients.
Susan Bibler Coutin, Long Beach
The writer is a professor of criminology, law and society at UC Irvine.
..
To the editor: TPS is granted on a strictly temporary basis with no path to permanent residence. But due to the imprecision of the term "temporary" and the liberal tide that has swept across American immigration discourses, the United States is facing a potentially irresolvable paradox.
Those thousands of Salvadorans who have lived in this country since 2001 have, understandably, built significant ties here that now give them a certain entitlement to remain in their adopted country. It is naive to expect that the socioeconomic conditions of El Salvador will remarkably improve soon enough to send them home.
But what is the rationale for these selective expulsions? Regardless of what happen with the Salvadorans or Haitians in this country "temporarily," we have an excellent opportunity to revise the laws that have created our current chaotic mess.
Berta Graciano-Buchman, Beverly Hills
Follow the Opinion section on Twitter @latimesopinion and Facebook
---
A cure for the common opinion
Get thought-provoking perspectives with our weekly newsletter.
You may occasionally receive promotional content from the Los Angeles Times.