Readers React: Tim Draper should use his billions to end the electoral college, not break up California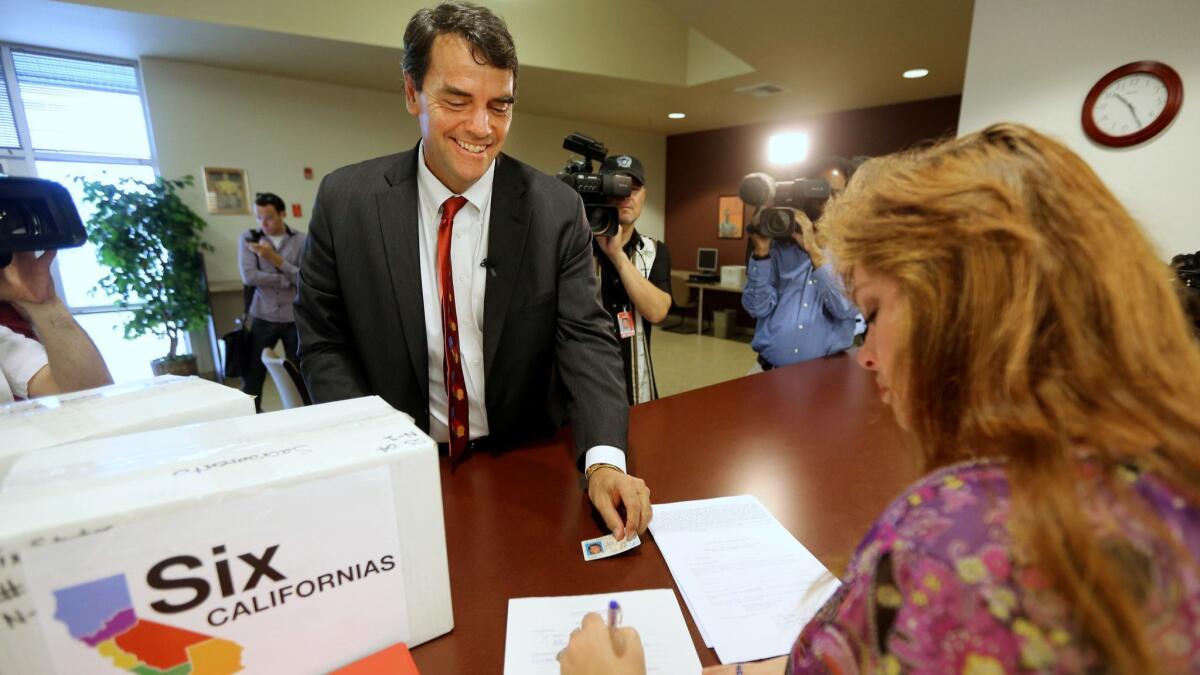 To the editor: Silicon Valley venture capitalist Tim Draper seems to like to tilt at windmills and spend his money on fantasies, like splitting California into three states (this time) or six states (in 2014). This would be interesting and has a variety of political, economic and environmental implications, but it's really just a fun mind game for a bored billionaire to play.
If Draper wants to do something really interesting and good, he should work on getting rid of the electoral college. Since we no longer have slave states with nonvoting populations that must be counted differently, the electoral college is really obsolete.
Also, getting rid of it would make Russia have to work harder to sway the vote, as it could no longer concentrate on the economically depressed in a few swing states. It would have to work out appropriate false messaging for every state and the dissatisfied anarchists therein.
Barbara Snider, Huntington Beach
..
To the editor: Columnist George Skelton rightly points out that a post-breakup "Southern California" would not only be the poor runt of the litter, but a likely Republican runt at that.
He neglects to point out that new state would also inherit the old California's entire border with Mexico.
Voters throughout the state need to understand that Draper's initiative, if successful, would end California's resistance to the inhumane immigration policies of President Trump.
George Kopp, Palm Springs
Follow the Opinion section on Twitter @latimesopinion and Facebook
A cure for the common opinion
Get thought-provoking perspectives with our weekly newsletter.
You may occasionally receive promotional content from the Los Angeles Times.