Readers React: Plant some trees to help Los Angeles fight the effects of climate change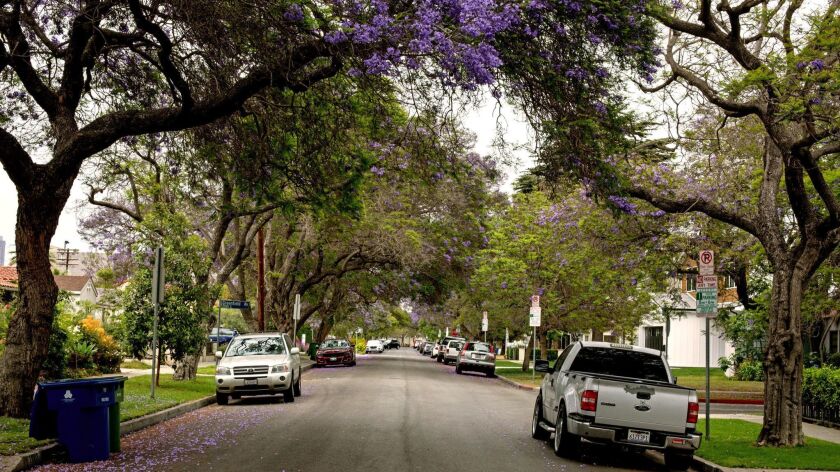 To the editor: David L. Ulin is correct: There is too little shade in Los Angeles. What are we going to do about it?
I support Tree People. I took an urban tree planting course with that group many years ago. It was fun and educational, and we were able to pass the knowledge onto parents and students at the school where I volunteered.
It is almost too late to repair the damage to Los Angeles' urban forest, and climate change will make life so much more miserable if we don't get busy, fast. Street trees of every size are needed, and not deciduous ones; native trees and plants do the work so much more efficiently.
So, if you don't like the heat, plant trees. Plant more trees than you think you need to. Triple up on the parkway in front of your house if you can. I planted a coast live oak in front of my home 25 years ago, and now it provides lots of shade and lots of life for pollinators.
Cactus and succulents simply add to the urban desert. We need trees!
Deborah Ford, Santa Monica
..
To the editor: In Westlake Village, about 20 minutes' drive inland from Malibu, our trees are suffering, especially pines (turning brown in areas), birches (dying) and some sycamores. Our garden plants suffer too.
My homeowners association is moving slowly toward more desert landscape. Other than a few types such as olive and pepper trees, which do not need much water, the future of our urban forest does not seem good.
To provide shade, I think that roof overhangs, shaded verandahs and covered walkways would succeed better than putting in more of the trees that are dying. Going lighter in roof color and on our streets might help also. Using cobblestones, like in old Europe, might also work, allowing what little rain falls here to seep into the ground.
Maybe no one wants any of this, but in general, our region needs to make changes.
Virginia Prcic, Westlake Village
..
To the editor: I am a walker who often has to run to the shady side of the street, so I know we desperately need trees.
I have been told by three different solar companies that all I need do to have a system installed for my home is to cut down some trees. What a ridiculous solution. Trees not only give shade but more importantly in this desperate age of climate change, they absorb carbon dioxide.
Martha Stevens, Studio City
Follow the Opinion section on Twitter @latimesopinion and Facebook
---
A cure for the common opinion
Get thought-provoking perspectives with our weekly newsletter.
You may occasionally receive promotional content from the Los Angeles Times.