Readers React: Americans should be embarrassed by Trump's behavior at the NATO summit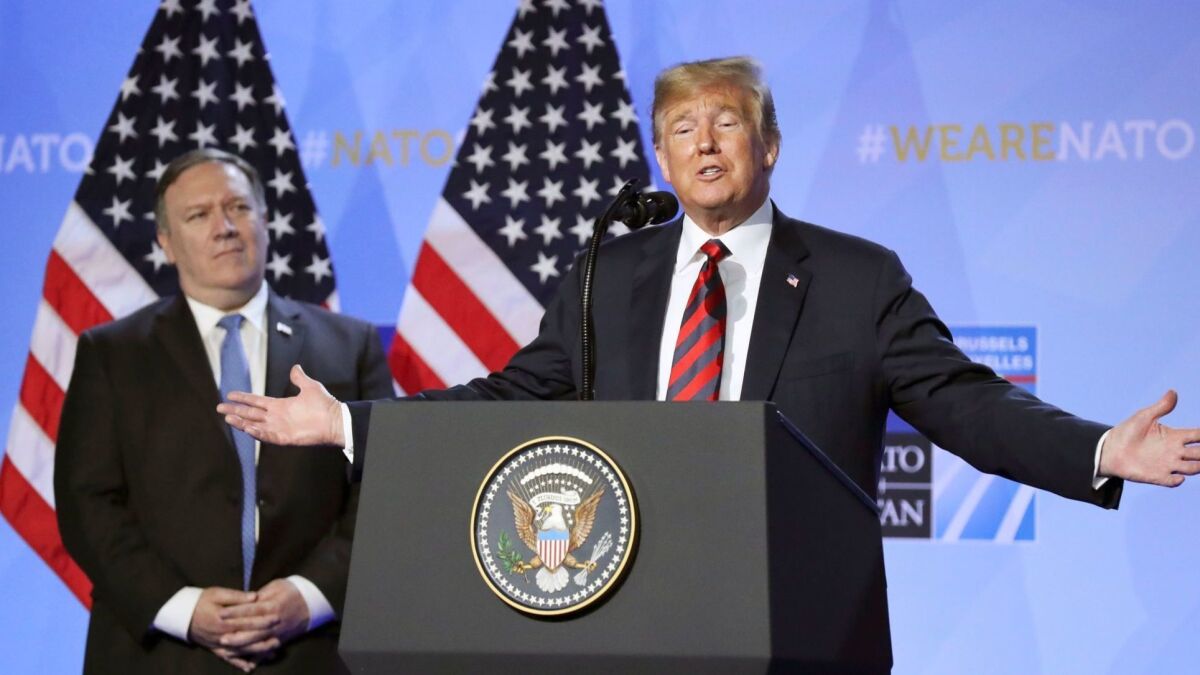 To the editor: Haven't Americans been embarrassed enough by our president? Besides the swamp-like political environment he has created in Washington, President Trump has overseen an administration that has torn immigrant children from their parents' arms.
More recently, he traveled to Brussels, Belgium, for the 2018 North Atlantic Treaty Organization summit as our representative, and in his gross, immature way, he accused Germany, our loyal ally, of being controlled by Russia.
Who does he think he is? The leaders of Germany and the United States are equal partners. Trump could have expressed his concern in a private, personal, diplomatic manner like a mature adult, but he instead acted immaturely and slammed Germany very publicly. What an embarrassment to America.
I, for one, want our leaders to put a stop to Trump's childish, emotional outbursts. My question is, where is our Congress, and where are our fellow Americans?
Richard A. French, Pasadena
..
To the editor: Of course Trump breathed fire toward Germany as the NATO summit meeting began. But he was a wounded dragon.
Only days earlier German Chancellor Angela Merkel had taken a snub sword to him by making a trade arrangement with China and praising that nation for opening foreign markets. Trump had to realize that if other NATO leaders followed Merkel's lead with China, they could doom his tariff strategy.
Some of the world now fears Trump may find friendly solace in his meeting Monday with Vladimir Putin in Finland. Just think of it. Trump looks into the Russian president's eyes and sees Siberia, while Putin looks into the U.S. president's eyes and sees ICE.
Made for each other? Helsinki may freeze over in July, even amid the dragon breath.
Reid Grosky, Los Angeles
..
To the editor: If Trump's logic is accurate and Germany is "totally controlled" by Russia because of a natural gas pipeline, then how does one view the amount of U.S. debt held by China?
With the huge deficits generated by the new tax bill, we will be even more beholden to China in the future.
Greg Wallace, Culver City
..
To the editor: Perhaps Trump is operating under the old adage, "Keep your friends close but your enemies closer."
John Snyder, Newbury Park
Follow the Opinion section on Twitter @latimesopinion and Facebook
---
Life is stressful. Our weekly mental wellness newsletter can help.
You may occasionally receive promotional content from the Los Angeles Times.