Readers React: The USC president's action plan comes a few scandals too late. It's time for him to go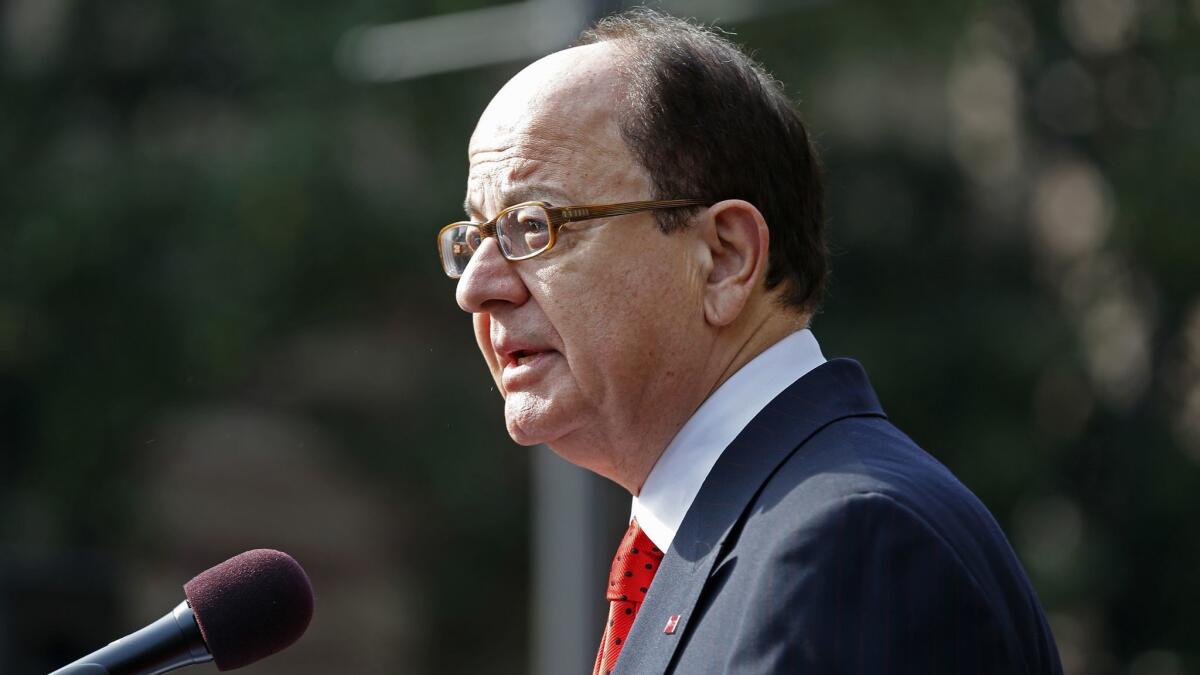 To the editor: The response by USC faculty and staff to the revelation that gynecologist Dr. George Tyndall practiced on campus for 26 years despite multiple complaints of inappropriate conduct with patients has been heartening yet indicative of the vast divide between them and the university administration.
In a university climate that has become increasingly focused on development and advancement, only those with direct contact with students — ostensibly the core of any great university — would see how bad this problem truly is. USC President C.L. Max Nikias's action plan, supported by the Board of Trustees, has been released a few scandals too late and lays bare the disconnect his fundraising apparatus has with the Trojan community. His time is up.
USC prides itself as the Trojan family, but what kind of family allows neglect to continue, incident after incident? As a 2007 almnus and member of the university's Ten Year Reunion Committee, I will no longer support my alma mater until more serious action is taken.
Donesh Olyaie, Los Angeles
..
To the editor: As the founding director of the University Counseling Center at USC in 1972 and associate director of Student Health and Counseling Services until 1981, I am horrified by the response of the university to the complaints about Tyndall.
A key to a successful clinic is grounded in the ethical behavior and professionalism of its staff. Women have understandably been reluctant to report sexual assault owing to the consequences of testifying and reliving such a trauma. When the alleged perpetrator is a physician, few female students would have the courage or knowledge to confront him about a painful and embarrassing examination.
The only thing that might persuade those students to come forward is an administration that takes complaints seriously, publicly fires that physician and reports him to the Medical Board and the police. To secretly "resolve" the situation alters the student's view of herself and betrays her nascent trust in college heathcare.
If USC's alumni are horrified about the scandals at their university, I suggest they vote with their checkbooks.
— Sue Kamm, Los Angeles
This inexcusable act should never happen at an institution that purports to educate and foster well-being in young women.
Anita B. Siegman, Los Angeles
The writer is a licensed psychologist.
..
To the editor: I am tired of reading articles that blame Nikias for USC's problems. USC has more than 27,000 employees. How can one man keep track of this many employees? He depends on others to do their jobs, and they did not.
Nikias has done a lot for USC and has plans to do more. He has increased the stature of USC among universities considerably. A few employees failed to uphold the trust that USC gave them.
Nikias has instituted changes at USC to prevent future problems like these. Keep him as university president — USC needs him.
Ron Miller, Arcadia
..
To the editor: USC making headlines worldwide for all the wrong reasons could lead one to conclude that the university has no problem management system.
Given that the Board of Trustees seems married to the current administration, it should at minimum task that administration to rapidly develop a best-in-practice problem management system in which all reports are tracked through the administration hierarchy and reach a final disposition.
Hopefully, those problem reports that could cause USC major damage will end up on the president's desk for appropriate action, in keeping with Harry S. Truman's "buck stops here" methodology.
Eddie Dawes, Hacienda Heights
..
To the editor: The trustees at USC are as ethically vacant as Tyndall and Nikias in the board's blind support of an administration that lost its way long ago. Why would parents knowingly send their child to an institution with no moral compass?
Paul Perencevic, Long Beach
..
To the editor: If USC's alumni are horrified about the scandals at their university, I suggest they vote with their checkbooks. Withhold donations — especially large ones — until the university cleans up its act.
Sue Kamm, Los Angeles
Follow the Opinion section on Twitter @latimesopinion and Facebook
A cure for the common opinion
Get thought-provoking perspectives with our weekly newsletter.
You may occasionally receive promotional content from the Los Angeles Times.