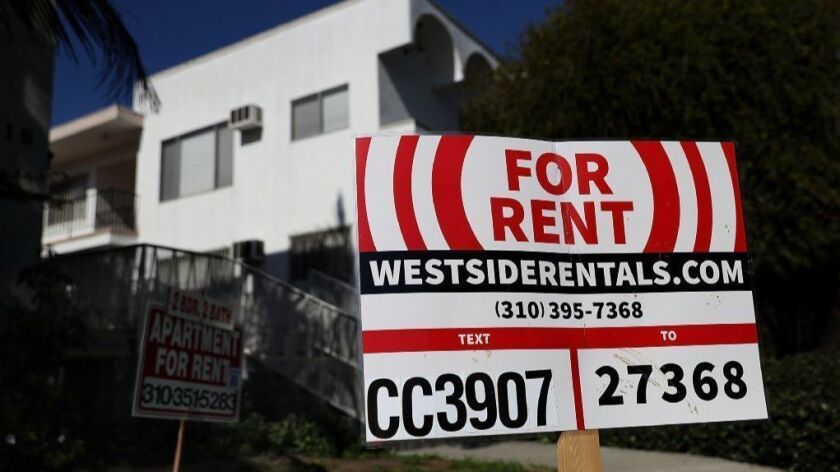 To the editor: The recent revelation that the homeless population in the city increased by 16% last year puts our focus on the lack of progress made by City Hall. To provide cover for themselves, city leaders are targeting property owners who have vacant units.
This crisis is in no way attributable to vacant units. Furthermore, taxing the owners is not even a partial solution to homelessness. Vacancies are a normal part of any real estate market, as people move, get married or change jobs. Owners have every financial incentive to rent vacant units to increase occupancy.
Either the City Council is clueless on market dynamics or just trying to avoid culpability by blaming property owners. I think we all know the answer here.
Roger Mallory, North Hollywood
..
To the editor: Opponents of a vacancy tax argue that it encroaches on historically sacred individual property rights, constitutes an unreasonable restraint of trade, and serves as de facto rent control.
However, the case can be made that property owners have responsibilities that extend to the social, economic, health and safety aspects of a community.
Aside from shrinking available housing, long-term vacancies create blight, become nuisances, contribute to public health risks and lead to increased crime and structural fires. These conditions diminish property values and negatively affect quality of life.
Instead of a vacancy tax, I favor tax reforms that eliminate benefits for properties held in a vacant state for extended periods.
Mark Weinberg, Agoura Hills
..
To the editor: Sure, penalize us for keeping our housing vacant. Take more of the "private" out of private property. Further discourage mom-and-pop investors like me from providing rentals.
My feeling is that each time I rent, I am incurring a liability in terms of possibly getting a tenant who will be troublesome and difficult to evict. Make it easier for us to evict bad tenants, and we would be more willing to rent faster.
The city's micro-tuning additions to tenant protections will contribute nothing to the housing stock. Our leaders have failed in their efforts to predict housing needs and encouraging investors and developers to build.
Steve Engel, Pacific Palisades
Follow the Opinion section on Twitter @latimesopinion and Facebook
---