Two GOP-held House seats in California fall to Democrats, Dana Rohrabacher in peril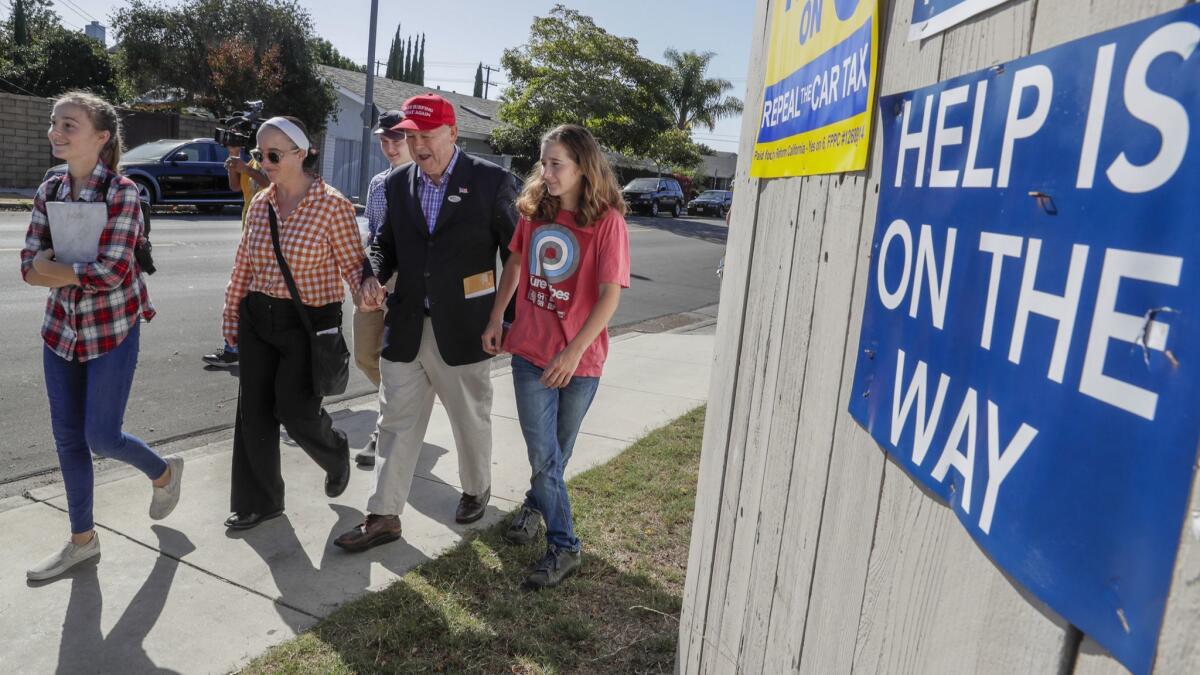 Republican Rep. Steve Knight of Palmdale conceded defeat Wednesday in his bid for reelection and preliminary returns showed another GOP congressman, Dana Rohrabacher of Costa Mesa, losing his seat too.
Rep. Jeff Denham (R-Turlock) held a narrow early lead over his Democratic challenger, but also appeared in danger as late ballots are counted.
A fourth California Republican, Rep. Mimi Walters of Laguna Beach, held a wider advantage over her Democratic opponent, but that too could be challenging to sustain. In California, late-arriving ballots tend to skew Democratic.
In another loss for the GOP in California, Democrat Mike Levin defeated Diane Harkey in the 49th Congressional District straddling the coastline of northern San Diego and southern Orange counties. Levin will succeed retiring GOP Rep. Darrell Issa of Vista in the once-solid Republican district.
With the victories of Levin and Knight's opponent, Katie Hill, Democrats will control at least 41 of the state's 53 seats in Congress.
"The voters have spoken, and they want a new congressman — or congresswoman — for this district," Knight told KCBS-TV on Wednesday. "We wish her the best."
With tens of thousands of ballots still to be counted in the four races that are too close to call, final results could be days or weeks away.
The midterm vote had given California, a blue-state afterthought in recent presidential contests, a rare shot at returning to relevance in a national election. In the end, though, television networks declared Democrats had already won control of the House by the time polls closed on the West Coast.
Full 2018 midterm election results »
The first wave of returns confirmed the easy reelection of the more entrenched incumbents, Democratic and Republican. That included Republicans Devin Nunes of Tulare, who will lose his perch as House Intelligence Committee chairman when Democrats take control of the chamber, and Tom McClintock of Elk Grove.
Rep. David Valadao, one of the state's seven GOP incumbents whose districts Donald Trump lost in the 2016 presidential race, defeated his Democratic rival in the Central Valley's 21st Congressional District.
Rep. Duncan Hunter, a Republican under indictment on charges of misspending of campaign funds on personal expenses, held a solid lead over Democratic opponent Ammar Campa-Najjar in the 50th Congressional District in inland San Diego and Riverside counties.
Sheriff Jim McDonnell, center, enjoys a laugh with Kim Evans, left, of Signal Hill, and Jesse Johnson, of Los Angeles, on election night at the JW Marriott Los Angeles L.A. LIVE.
(Gary Coronado / Los Angeles Times)
Democrat Harley Rouda hugs a supporter at an election party at the Marriott Hotel in Newport Beach.
(Wally Skalij / Los Angeles Times)
Democrat Harley Rouda speaks to supporters at the Marriott Hotel in Newport Beach.
(Wally Skalij / Los Angeles Times)
Congressional candidate Katie Hill waves goodbye after speaking to supporters at campaign night party at The Canyon in Santa Clarita.
(Brian van der Brug / Los Angeles Times)
Young Kim, the Republican candidate for California's 39th congressional district, hugs a supporter at the STC Center in Rowland Heights.
(Genaro Molina / Los Angeles Times)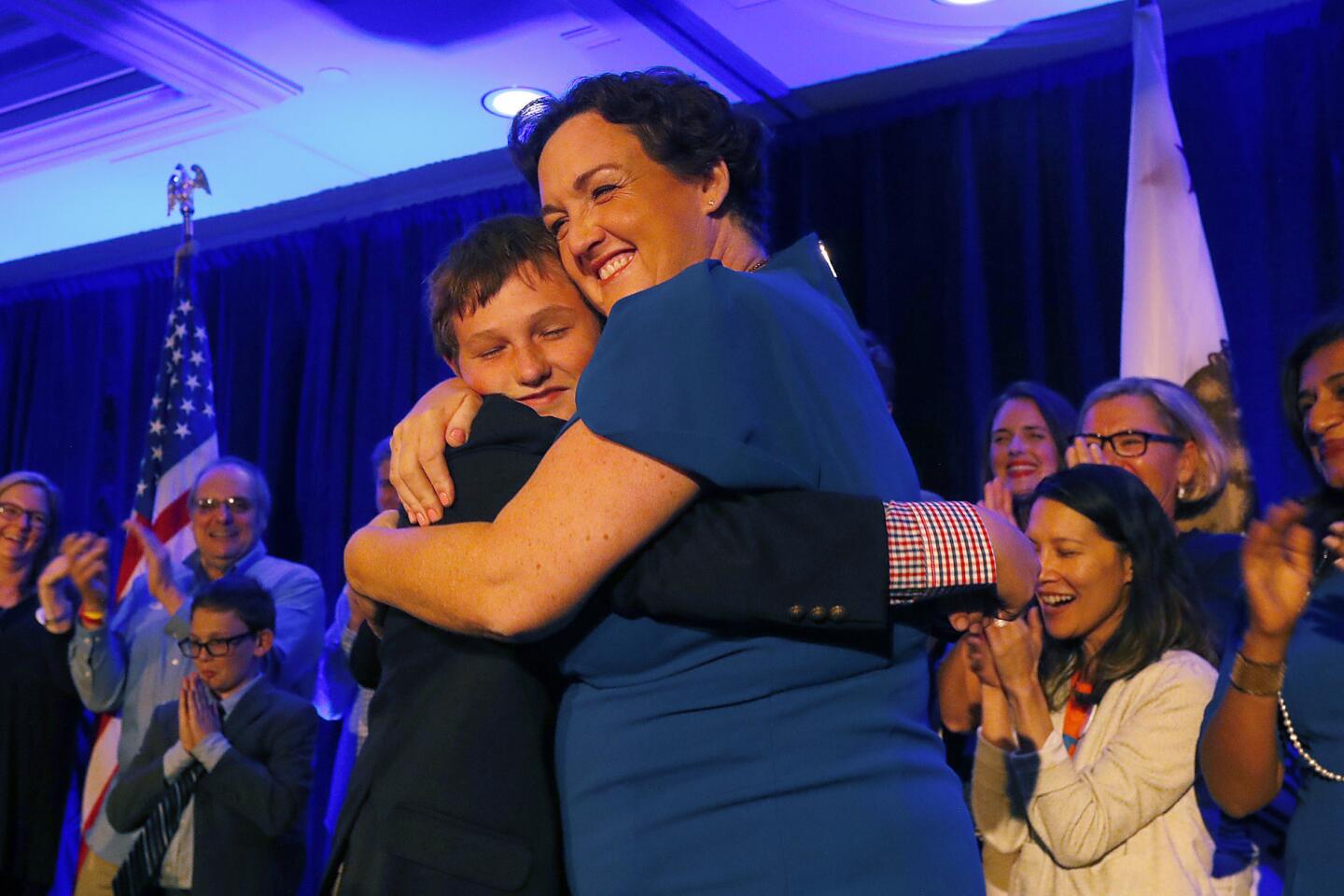 Congressional candidate Katie Porter hugs her son before thanking supporters at a campaign party in the Irvine Hilton.
(Luis Sinco / Los Angeles Times)
Congressional candidate Katie Porter waves to supporters after giving a speech at a campaign party in the Irvine Hilton.
(Luis Sinco / Los Angeles Times)
Gil Cisneros speaks to his supporters as results come in for California's 39th Congressional district race during his watch party at the Casa Bonita Event Center in Fullerton.
(Nick Agro / Los Angeles Times)
Dana Rohrbacher speaks to members of the media at his HQ above Skosh Monahan's Bar in Newport Beach, Calif.
(Kent Nishimura / Los Angeles Times)
Gavin Newsom with his wife, Jennifer Siebel Newsom and family, celebrate after winning the California gubernatorial race.
(Jay L. Clendenin / Los Angeles TImes)
Young Kim, the Republican candidate in California's 39th Congressional District, with husband Charles at her election night party in Rowland Heights.
(Genaro Molina / Los Angeles Times)
GOP Rep. Mimi Walters greets supporters at her Irvine campaign headquarters as early election returns come in.
(Luis Sinco / Los Angeles Times)
Democratic congressional candidate Katie Porter poses with supporters at an election night gathering at the Irvine Hilton hotel.
(Luis Sinco / Los Angeles Times)
GOP Rep. Mimi Walters speaks with supporters at her Irvine campaign headquarters.
(Luis Sinco / Los Angeles Times)
Republican congressional candidate Young Kim greets supporters. At right is the retiring GOP incumbent, Rep. Ed Royce.
(Genaro Molina / Los Angeles Times)
GOP Rep. Jeff Denham speaks to supporters as early returns show a very close race.
(Tomas Ovalle / For The Times )
Supporters of Democratic congressional candidate Harley Rouda watch a speech on TV by House Democratic leader Nancy Pelosi.
(Wally Skalij / Los Angeles Times)
But other Republicans were clearly caught in a California backlash against the president. In coastal Orange County's 48th Congressional District, Rohrabacher was more than 6,000 votes behind his Democratic challenger Harley Rouda. The tally Wednesday morning had Rouda leading, 50.7% to 49.3%.
Rohrabacher, who faced the toughest reelection battle of his 30 years in Congress, told supporters late Tuesday night at Skosh Monahan's pub in Costa Mesa that it was a night of mixed messages.
"I can't say I'm pleased with the outcome in the rest of the country," he said, standing before a surfboard inscribed "Give me Liberty or Give me Surf." "We did lose control of the House. That has to be balanced by the fact we're going to be a lot stronger in the U.S. Senate."
Rohrabacher, whose friendly posture toward Russia had drawn years of foul headlines, was far outspent by his opponent. Rouda and his Democratic allies pounded Rohrabacher for weeks in attack ads that, on the main television broadcast stations, went entirely unanswered.
Knight, who represents Simi Valley, Santa Clarita and the Antelope Valley in the 25th Congressional District, was also vastly outspent by Hill.
In a year when record numbers of women ran for public office, Hill described the midterm election as a big step toward equal representation.
"What we're showing now, with the women's march, what's continued with the #MeToo movement, is an awakening of women," she said. "Women are standing up and saying we will not sit on the sideline any more. That has to continue."
Related: Trump ignores House loss and celebrates Senate pickups. But he now faces a tougher reality »
Also in potential danger as the ballot count continues in the days ahead is Denham in the 10th Congressional District. He was barely ahead of Democrat Josh Harder, 50.6% to 49.4%.
The lone Republican incumbent who showed decent prospects for survival was Walters, who was leading her Democratic opponent, Katie Porter, 51.7% to 48.3% in the 45th Congressional District that includes the Irvine area.
"You guys, we're looking good," she told supporters at a late-night gathering in Irvine. "I really think it's going to be tough for her to beat me at this point."
Another Republican in relatively good shape was Young Kim, the Republican vying for the seat of retiring Rep. Ed Royce of Fullerton in the 39th Congressional District. She held a lead over Democrat Gil Cisneros, 51.3% to 48.7%.
Farther south, before his victory was projected, Levin celebrated at an election-night party in Del Mar.
"I am confident that, thanks to you, when all the votes are counted we will have won," he told the crowd.
From the start of the campaign, Issa's increasingly diverse district looked like the toughest in California for Republicans to keep in their grasp. Issa squeaked to a ninth term in 2016 after years of tormenting President Obama as the House's point man for investigations.
Issa and Royce, whose districts chose Hillary Clinton over Trump, had announced their retirements in time to avoid daunting reelection fights.
Republican leaders, under pressure to steer limited resources into races that appeared winnable, gave up on Issa's district, declining to spend anything to help Harkey in a tough election climate for the party.
Levin, 40, is an environmental attorney and former executive director of the Orange County Democratic Party.
Levin was one of the nation's few Democratic congressional candidates to advertise his support for action to fight climate change. He backs single-payer healthcare, a $15 federal minimum wage, an assault-weapons ban and free tuition at community colleges.
All of the Republicans were badly outspent by Democrats, who benefited from a surge of support from donors hostile to Trump. Some were hobbled by their party's combative, racially tinged politics under Trump, which plays well in some conservative states but can destroy Republican candidacies in the moderate suburbs of California.
"The fact of the matter is the elected leaders who control Washington speak to issues that resonate in a lot of places in the country," said Jim Brulte, chairman of the California Republican Party. "They don't particularly resonate in New York or California or New Jersey or Illinois."
Republicans' declining fortunes in California, he added, are tied directly to the growing populations of Latinos and Asian Americans over the last few decades in the state that vaulted Richard Nixon and Ronald Reagan to the presidency. Just 24% of California voters are now Republican.
"The decline in Republican registration, which began 22 years ago, has been steady, and it's paralleled exactly the decline in the white population," Brulte said.
In the fiercely contested race to succeed Royce in a district that includes Fullerton, Yorba Linda and Diamond Bar, Kim, a former state assemblywoman, was counting on strong support from Asian Americans.
"I don't take any community for granted, especially if this election is going to be decided by a few votes," Kim, a South Korean immigrant, said on one of her last door-knocking excursions in a heavily Korean neighborhood of Fullerton.
Nearly a third of the district's residents are Asian American; a third are Latino.
Kim's rival, Cisneros, is an education philanthropist who was a manager at Frito-Lay when he and his wife hit a $266-million lottery jackpot in 2010.
Like other Democrats vying for California congressional seats held by Republicans, Cisneros tried to appeal to moderates, in his case by emphasizing his Navy service. In northern suburbs of Los Angeles, Knight's Democratic challenger, Katie Hill, called for tax cuts and tougher border security.
In their onslaught of attack ads, Democrats hammered some of the Republicans, most visibly Kim and Walters, for backing Trump's agenda on taxes and healthcare.
Democrats avoided talk of Trump in other districts, like Knight's in the northern L.A. suburbs, lest they offend blue-collar voters who support the president.
Republicans, in turn, warned Californians that the Democrats would back a government takeover of healthcare and pass astronomical tax hikes that could tank the economy.
Republicans tried to brave the foul election climate in California by pushing Proposition 6, which would repeal a new state tax increase on gasoline. Kim, Harkey and Walters all attended anti-gas-tax rallies over the last few days. The proposition was defeated.
Times staff writers Christine Mai-Duc, Maya Sweedler, Jazmine Ulloa and Ralph Vartabedian contributed to this report.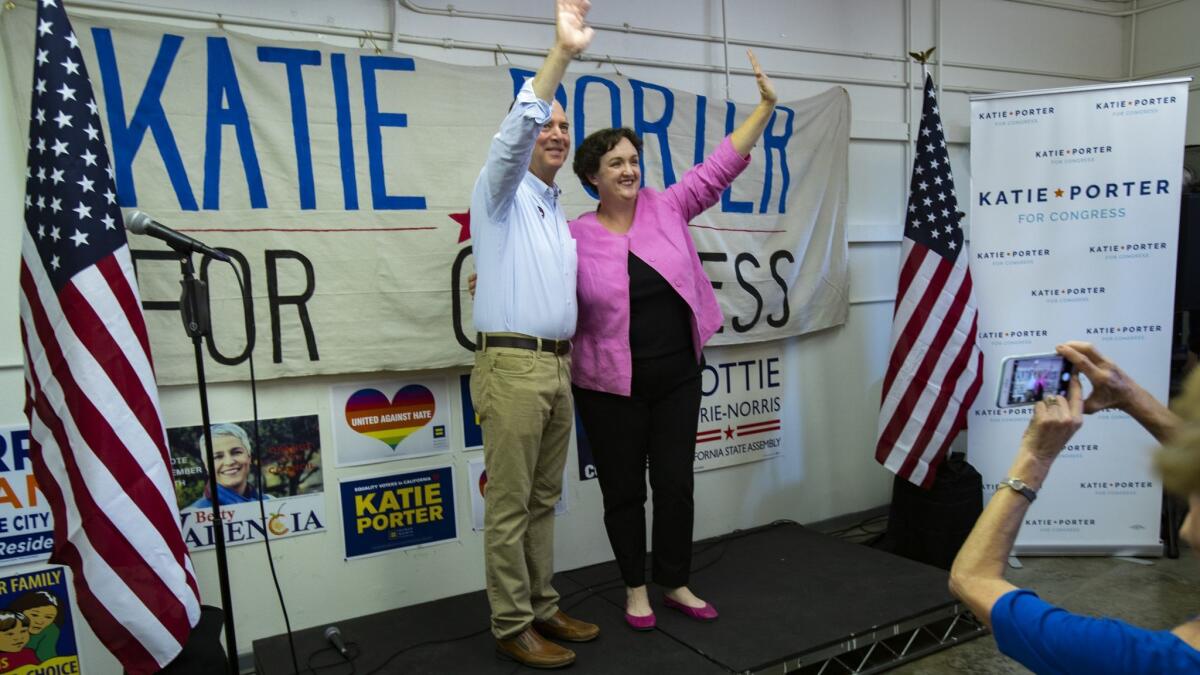 How many women won? We tracked the midterm results »
Markets move higher after midterm election signals gridlock — something businesses won't mind »
Follow the latest from the 2018 midterm election »
Twitter: @finneganLAT
---
UPDATES:
1:55 p.m.: This article was updated with comments from Katie Hill.
1:15 p.m.: This article has been updated with Rep. Steve Knight's concession.
7:05 a.m.: This story was updated with the latest election tallies in each House race.
3:40 a.m.: This story was updated with incumbent Republican Dana Rohrabacher losing, and Jeff Denham and Mimi Walters apparently winning their races.
1:15 a.m.: This story was updated with additional races called.
10:25 p.m.: This article was updated to include the reelection of Rep. Devin Nunes (R-Tulare).
This article was originally published at 10 p.m.
Get our Essential Politics newsletter
The latest news, analysis and insights from our politics team.
You may occasionally receive promotional content from the Los Angeles Times.