Love or hate Trump, he's made California a hive of midterm election activity
Actress Kristen Bell speaks to volunteers for Democratic congressional candidate Katie Hill on Sunday in Simi Valley.
(Michael Finnegan / Los Angeles Times)
Congressman Dana Rohrabacher, center, poses for a photo with supporters Emma Macias, left, and husband Humberto Macias, right during a thank-you event for campaign volunteers.
(Brian van der Brug / Los Angeles Times)
Inglewood Mayor James T. Butts makes his last pitch to the city's largest black congregation Sunday on why they should reelect him.
(Maria Alejandra Cardona / Los Angeles Times)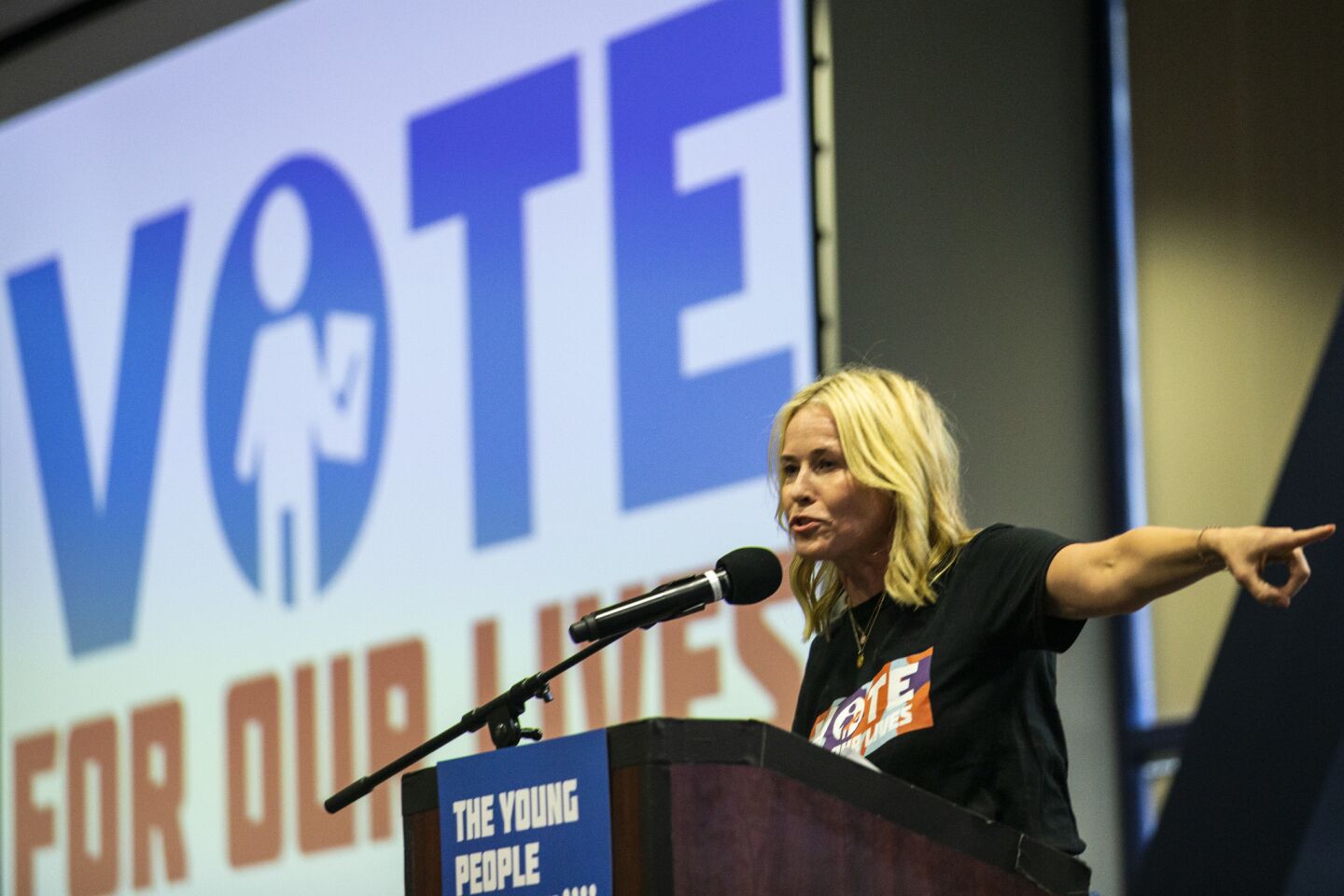 Comedian Chelsea Handler speaks during a Vote for Our Lives rally at the UC Irvine Student Center on Sunday.
(Kent Nishimura / Los Angeles Times)
Democratic gubernatorial candidate Gavin Newsom joined more than 100 members of over a dozen local unions — including, nurses, janitors, grocery store workers and security officers — at a get-out-the-vote rally Sunday.
(Maria Alejandra Cardona / Los Angeles Times)
Michele Reed, left, cheers for Democratic gubernatorial candidate Gavin Newsom at a Sunday get-out-the-vote rally in Los Angeles attended by more than 100 members of over a dozen local unions.
(Maria Alejandra Cardona / Los Angeles Times)
Supporters of Congressional candidate Katie Porter cheer at a rally attended by Sen. Kamala Harris and Chelsea Handler.
(Jay L. Clendenin / Los Angeles Times)
Congressional candidate Young Kim, left, attends rally with gubernatorial candidate John Coxin Rowland Heights.
(Irfan Khan / Los Angeles Times)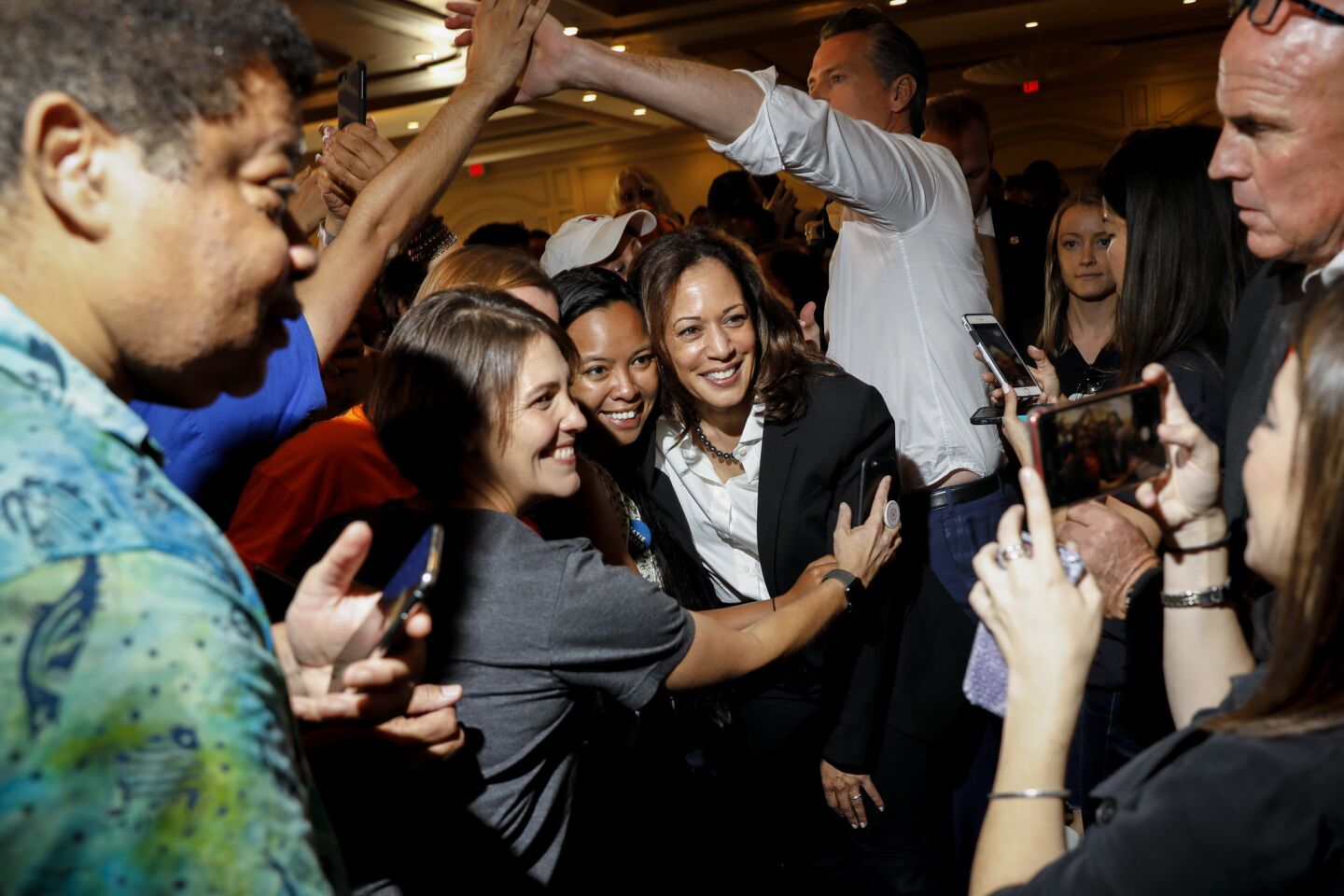 Sen. Kamala Harris attends a rally for congressional candidate Katie Porter.
(Jay L. Clendenin / Los Angeles Times)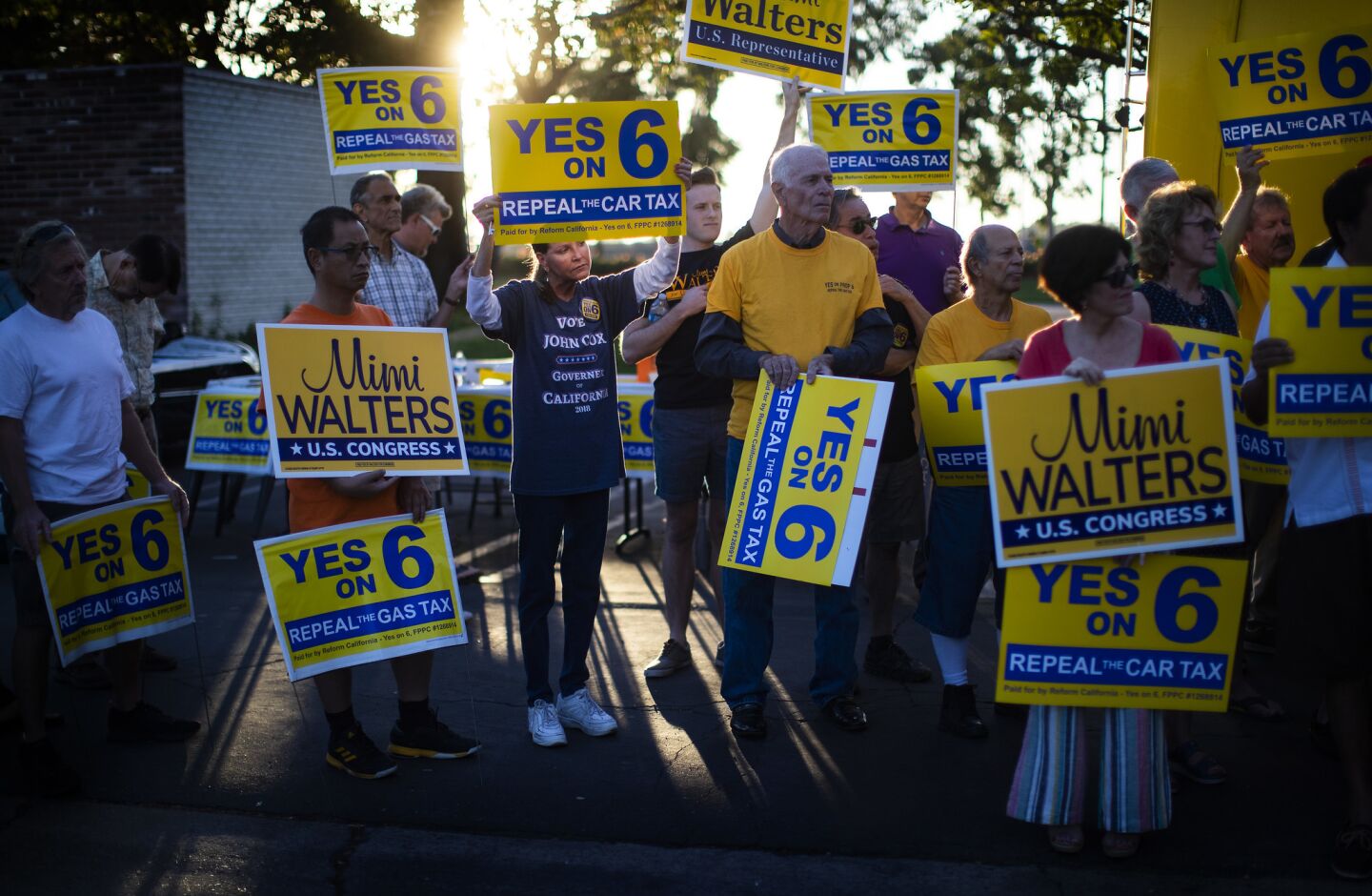 Supporters of Proposition 6, which would repeal the gas tax increase, rally outside GOP Rep. Mimi Walters' campaign headquarters in Irvine.
(Gina Ferazzi / Los Angeles Times)
Sen. Kamala Harris, left, and Lt. Gov. Gavin Newsom bring pizzas to the campaign office of Democratic congressional candidate Harley Rouda and greet his wife, Kaira Rouda.
(Jay L. Clendenin / Los Angeles Times)
Ione Kauser of La Habra campaigns for gubernatorial candidate John Cox, who stopped in Rowland Heights on his statewide bus tour for a rally with congressional candidate Young Kim.
(Irfan Khan / Los Angeles Times)
Supporters attend a rally for Democratic congressional candidate Gil Cisneros.
(Jay L. Clendenin / Los Angeles Times)
Rep. Mimi Walters (R-Laguna Beach) mingles with volunteers working the phones at her campaign office in Newport Beach.
(Irfan Khan / Los Angeles Times)
Democratic congressional candidate Katie Hill greets supporters as she arrives at the Newhall Family Theatre in Santa Clarita for a rally.
(Jay L. Clendenin / Los Angeles Times)
For many Californians, Saturday was a sunny gift of a fall day, a chance to stroll the beach, rake leaves, visit a park or take in a child's soccer game.
For Cristina Escobedo, it was a time to save her daughter from possible deportation. For Marylee Sanders, an opportunity to stand up for Brett Kavanaugh. For Paul Samuels, a chance to learn some newfangled technology and feel as though he was making a difference.
California, which is key to control of the House in Tuesday's midterm election, was a hive of political activity in the final weekend of the long campaign, a rarity for a state that is more accustomed to watching voters elsewhere hold sway over Washington and its policymakers.
Love or hate him — and there are plenty of people on both sides — President Trump has almost single-handedly turned political slackers into political activists.
"This election is different," said Samuels, 66, a semi-retired business attorney. "It really matters."
Britta Lindgren, who did not want to give her age other than to say she was in the last quadrant of her life, drove 90 minutes from her home in West Los Angeles to volunteer for Democrat Katie Porter, a first-time candidate challenging Republican Rep. Mimi Walters in an Orange County district that has never sent a Democrat to Congress.
"I remember Hitler and Mussolini," Lindgren said. "I don't want to be alarmist, but it feels the same."
Not everyone was captivated by the election or its stakes or, most especially, its associated clamor. In a state with 20-million registered voters — many of whom are likely to sit out Tuesday's election — it was not hard to find some, like Jason Gates, who were exceedingly indifferent.
His mailbox has been stuffed daily with campaign mailers — his three young kids sometimes draw on them before they go into the trash — and ads barrage him daily on social media. (Gates, 40, who works in information technology, doesn't have a TV at home.)
No matter. He's skipping this election, like all others.
"It seems really polarized lately. It used to be a bit more of a pleasant discourse," Gates said as he walked out of an Irvine hardware store with painter's tape. "It now seems to be my side versus your side."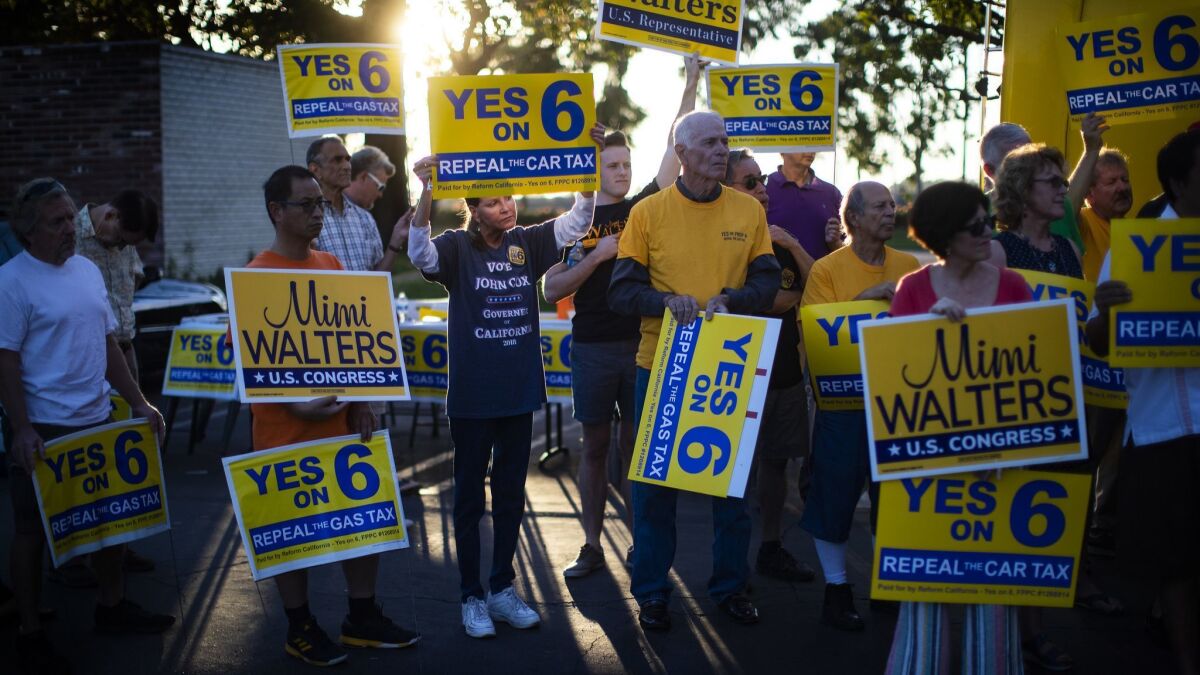 Kyra Kirkwood, 47, could not be more different.
The community college journalism professor studied her choices — on every issue, every candidate, every local ballot measure — more carefully than usual before tilting Democratic on the ballot she plans to mail in.
Still, the constant phone calls, text messages and campaign advertisement and door-knockers were finally getting to her, Kirkwood said as she walked through a farmer's market in Buena Park with a basket of cauliflower and kale.
"It makes me actually angry because all that money and effort and resources, it's just going in the tra--," Kirkwood began before catching herself and saying, "recycling bin."
For others, though, Tuesday's election, if not exactly a life-or-death-matter, is nevertheless a matter of some urgency.
Wearing a red United Farm Workers T-shirt, Escobedo, 41, hit the streets of the Central Valley Saturday morning while it was still chilly, going door-to-door in one of California's hottest congressional races, pitting incumbent Rep. Jeff Denham (R-Turlock) against Democrat Josh Harder.
Escobedo has harvested almonds and grapes for two decades and fought for farmworkers' rights for five years. This election, she said, her efforts are all in the name of her daughter, Fabiola, 23, whose fate hangs in the balance after Trump, with support from Republicans in Congress, rescinded protections for immigrants brought to the country illegally as children.
"There are still a lot of undecided voters, and people are getting flooded and confused by the ads," Escobedo said. "We have to explain to them what Harder is really about."
About 350 miles to the south, in a corporate low-rise in Irvine, Marylee Sanders and her husband, Grayson, were dialing their way through a list of telephone numbers, working to reelect Walters and ensure the House stays in Republican hands.
It's been years since either of them volunteered in a political campaign. She worked for George W. Bush. He passed out "I like Ike" signs for Dwight D. Eisenhower back in the 1950s.
Marylee, 74, said she was motivated after watching Kavanaugh's emotionally wrought Supreme Court confirmation hearing, feeling he was treated unfairly.
Grayson, 78, echoed his wife and said he liked Trump's "policy rather than his personality." A lifelong Republican, he said the stakes Tuesday were high enough to get to him to volunteer for the first time in half a century.
"What made this society great is enterprise, federalism and individual freedom," said Grayson, who runs a real estate investment firm. "We have a lot of really great momentum going on from the last two years."
Samuels was another drawn from the sidelines by Trump, though he's hardly a fan. "I get sick watching the news," he said. "I'm sick of the lies."
He last knocked on doors in 1964, Samuels said, as a precocious 13-year-old in Winnetka, Ill., working to reelect President Lyndon B. Johnson.
Much has changed in the five decades since he last canvassed, Samuels observed as be stood outside Porter's campaign headquarters in a Tustin office park. He had to return twice to learn how to use the smartphone app that instructed which doors he should knock on.
Once he got that figured out, talking to voters wouldn't be a problem, the semi-retired attorney said — he's good with juries.
Times staff writers Mark Z. Barabak, Michael Finnegan, Christine Mai-Duc, Maya Sweedler and Phil Willon contributed to this report.
---
Life is stressful. Our weekly mental wellness newsletter can help.
You may occasionally receive promotional content from the Los Angeles Times.