California's long-overlooked Central Valley holds new allure for 2020 candidates
Reporting from Fresno —
At first glance, retired farmworker Humberto M. Gomez appeared to have little in common with Pete Buttigieg, the boyish Midwestern mayor.
But when Gomez buttonholed the presidential hopeful in a Fresno parking lot to vent about poverty and contaminated water in the San Joaquin Valley, the two men quickly bonded over a mutual sense of neglect.
"Our communities are forgotten," Buttigieg, 37, said in Spanish after a Monday morning campaign stop.
"Totally forgotten," Gomez, 70, said with a nod.
An underdog mentality is baked into the psyche of the vast Central Valley. The region that produces much of the country's agricultural bounty rarely gets serious attention from presidential candidates. Residents still talk about when Robert F. Kennedy campaigned here, more than 50 years ago.
But these days, California's interior is a destination, not a pass-through. Three Democrats — Buttigieg, former Texas Rep. Beto O'Rourke and former U.S. Housing Secretary Julián Castro — have campaigned in the valley so far, leaving some residents giddy at the unusual attention.
Looking for an edge in a field of nearly two dozen, Democratic hopefuls are strategizing that early jaunts here could yield valuable delegates for California's March 3 primary, particularly with new party rules that increase those delegates' clout.
Success here also carries symbolic heft, projecting strength with key constituencies: working-class minority voters and political moderates.
"You can find the whole country here — in politics, ideology, color," said former Fresno County Supervisor Henry R. Perea.
He said Fresno — home to more than 500,000 people — was a popular testing ground for companies wanting to try out products or marketing strategies. "I would argue it's the same thing for those [candidates] at the national level."
The rest of the country may caricature California as a bastion of out-of-touch liberals, but the Central Valley defies that stereotype. Extending from Redding to Bakersfield, it has served as a conservative counterweight to the more progressive urban coast. But with its increasingly diverse population and burgeoning cities, the region's politics are now trending a moderate shade of blue.
So far, 2020 contenders have focused their travels on the San Joaquin Valley, which accounts for the lower two-thirds of the Central Valley and is home to roughly 4 million residents. About 1 in 5 live below the poverty line. Six of its eight counties are majority Latino. Political engagement has typically lagged, although a surge of Democratic activism in 2018 helped unseat two House Republicans.
In his Monday morning town hall at a Fresno banquet room filled with a few hundred people, Buttigieg fielded questions largely focused on national issues, such as abortion rights and support for organized labor. But he made a point of acknowledging the valley's struggles with poverty and inequality, equating them to those of his city, South Bend, Ind., which has been ravaged by decades of industrial decline.
"I feel completely at home here in Fresno," he said.
Gomez, who helped organize farmworkers during the 1960s, was gratified to see the presidential campaign in his hometown.
"We want the political people to come here and see our problems and to talk to us," Gomez said after the event as fellow Democrats queued up for lunch at a nearby taco truck. "Not just the rich people."
Paying attention to overlooked voters can burnish a politician's Everyman appeal, said former Los Angeles Mayor Antonio Villaraigosa, who focused much of his unsuccessful 2018 gubernatorial bid on courting Latino voters in the region.
"When you go to the Central Valley, what you're saying is everyone in this state is important," Villaraigosa said — not just people who live on the coasts, but also "people who work with their hands, work in the fields, put the food on the table."
Candidate visits to the valley evoke the inevitable parallels to Kennedy, for whom the region played an outsize role in his 1968 presidential campaign.
Kennedy came to Delano that March to lend his support as United Farm Workers leader Cesar E. Chavez ended his hunger strike. It was on the flight to see Chavez, a close ally who helped cement Kennedy's popularity with Latino farmworkers, that he told aides he had decided to run for president. Kennedy also embarked on a six-stop train tour from Fresno to Sacramento a week before the June 4 California primary, which he won just before his assassination.
How young immigrant 'Dreamers' made flipping control of the House a personal quest »
"Bobby Kennedy went to the valley. Why? The same exact reason that Buttigieg and Beto will show up now," said Mike Madrid, a Republican political consultant based in Sacramento. "It's the symbolism of talking to poor minorities in blue-collar areas, the lowest rung of the economic ladder."
The three Democratic candidates who have visited so far have demonstrated their eagerness to venture into often-ignored territory.
O'Rourke, during an April stop in Modesto, toured irrigation ditches on the campus of the local junior college and dutifully took notes as farmers complained about arduous environmental regulations.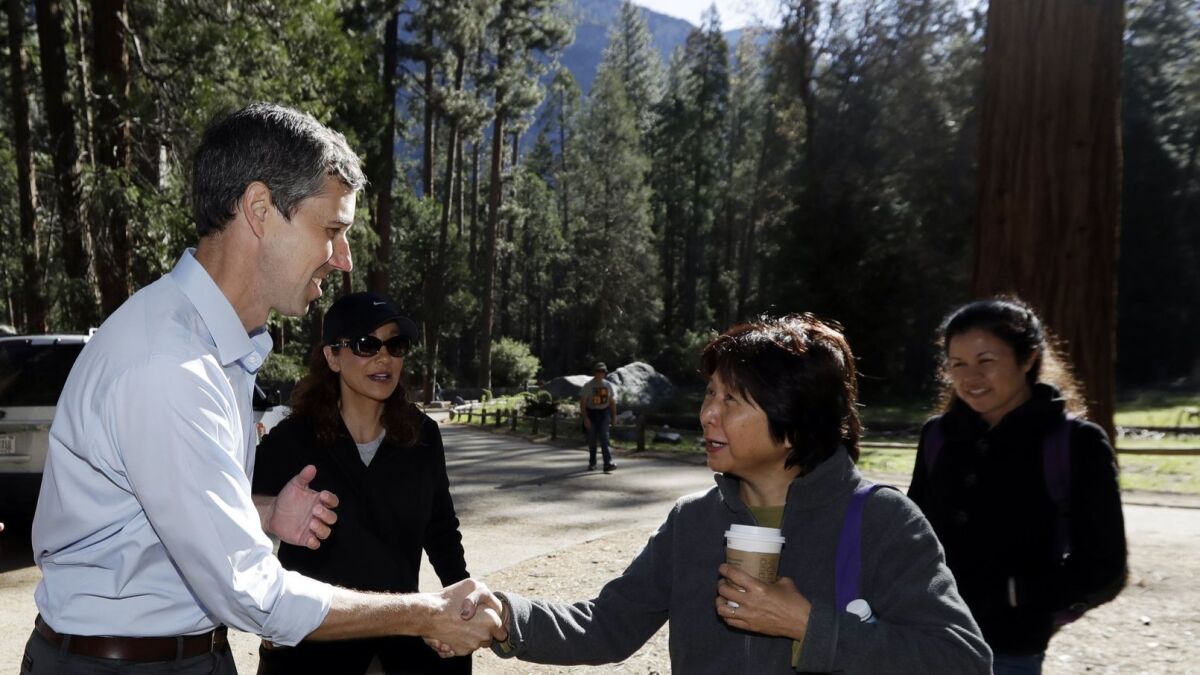 Castro, in a dinner with a Democratic club in Fresno in early May, focused on water, a paramount issue in a region deeply scarred by drought and the enduring crisis of toxic drinking water. The former San Antonio mayor said he knew well the angst of water shortage, having grown up relying on an underground aquifer.
"Every night I watched the evening news to see what the level of the aquifer was. And there was more and more anxiety as it went lower and lower," he said in an interview. "So I understand the concerns in places like Fresno that rely tremendously for their economy and their basic survival on whether they have enough water."
Buttigieg got to broadcast his Central Valley bona fides on national television, appearing at a Fresno State town hall hosted by MSNBC on Monday evening.
(Another Democratic presidential candidate, Sen. Kamala Harris, also made inroads by appearing in Sacramento at an April dinner for labor unions. The state capital is in the Central Valley but does not share its sense of political neglect.)
Popularity in the region does not guarantee a win in the state, as Villaraigosa's unsuccessful run demonstrates. His game plan fell short when it became clear there were too few votes to overcome fellow Democrat Gavin Newsom's strength along the coast.
In the presidential campaign, raw vote totals matter less than making a solid showing throughout the state. Most of the 495 delegates up for grabs in the primary will be doled out on a proportional basis by congressional district to any candidate who gets at least 15% of the vote.
More liberal districts, such as the deep blue pockets of the Bay Area, get more primary delegates than those with conservative leanings, but in a tight nominating contest, every delegate counts. That is especially so because of new Democratic Party rules that have diluted the influence of party insiders known as superdelegates, making the delegates scooped up in each congressional district all the more important.
A small investment of time or money by a candidate will have more impact in inland California than in the crowded media markets of Los Angeles or San Francisco, where coverage of campaign events is often drowned out by competing news and television ads can be prohibitively expensive.
"Whenever you do something in the Central Valley, you get on TV, you get in the newspaper," said Paul Mitchell, vice president of Political Data, a voter data firm that specializes in California elections. "It's a lot easier for you to get eyeballs and attention when you're having a burger at Harris Ranch or showing up to a community college in Fresno."
Central Valley campaigning is not particularly efficient. The lack of major Democratic donors in the area makes it a hard place to raise money. And with no major airports nearby, a stopover in Fresno or Merced often means hours on the road, limiting the number of campaign stops a candidate can squeeze in.
"When you're trying to put a schedule together, it's just logistically hard to travel there," said Amanda Renteria, a Tulare County native who was the national political director for Hillary Clinton's 2016 campaign. "But that is the experience of touching people in rural parts of America. That's why we appreciate it so much when someone does come to the Central Valley, because we know it's a little extra to get there."
---
Life is stressful. Our weekly mental wellness newsletter can help.
You may occasionally receive promotional content from the Los Angeles Times.