California Rep. Duncan Hunter used campaign funds for extramarital affairs, prosecutors say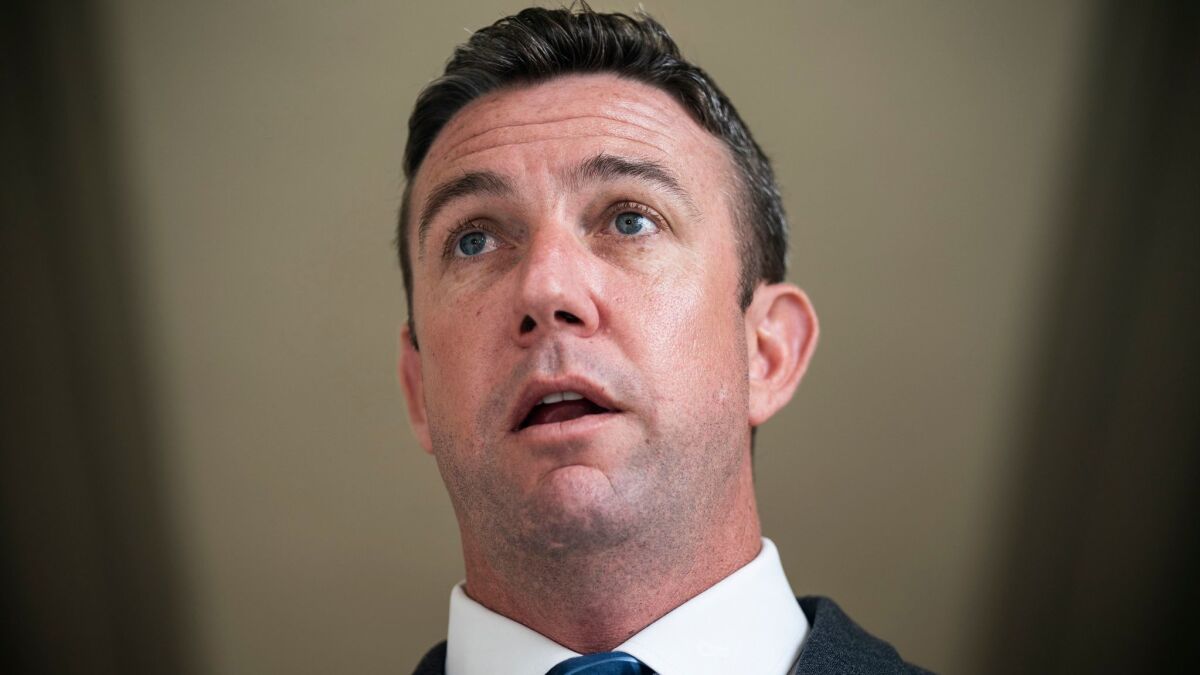 Reporting from Washington —
Rep. Duncan Hunter (R-Alpine) used campaign money to fund a series of extramarital affairs with congressional staffers and lobbyists, federal prosecutors allege in a new court filing in his corruption case.
Prosecutors say Hunter improperly diverted funds "to pursue these romances wholly unrelated to either his congressional campaigns or his official duties as a member of Congress."
The filing comes less than two weeks after Hunter's wife and former campaign manager, Margaret Hunter, pleaded guilty of conspiring to misuse campaign funds.
In August, a federal grand jury indicted the couple, alleging they illegally financed a lavish lifestyle of travel, gifts, fine dining and other expenses with campaign money, then submitted false reports to the Federal Election Commission to cover it up.
In total, prosecutors said, the Hunters spent more than $250,000 on personal expenses — including dental care and their children's tuition — that they listed as campaign-related gifts, donations and travel.
In Monday's motion, prosecutors asked a federal judge for permission to present evidence about the extramarital affairs as part of their case.
Hunter declined Tuesday to respond to the allegations and gave no sign that he would seek a deal with prosecutors to settle the case.
"I'm going to trial on this, right? So I'm not going to give you a statement on their allegations," he told reporters outside the House chamber.
He accused Justice Department prosecutors of engaging in a "personal smear campaign."
The trial is due to begin in September in federal court for the Southern District of California.
Prosecutors approached Hunter about making a deal "that would eliminate the need to introduce this potentially sensitive evidence at trial," they wrote in the filing. Hunter's attorney declined.
Margaret Hunter's surprise guilty plea on June 13 has complicated the congressman's defense, legal experts say.
Former prosecutor and San Diego attorney Jason A. Forge said it is likely prosecutors will call Hunter to testify against her husband in return for a lighter prison sentence.
"They clearly have testimony from his mistresses, testimony from his campaign manager, testimony from other witnesses," Forge said. "Despite all of that, they've recommended a substantial [sentencing] reduction for her. I don't know of any other benefit the government could get from her without her testimony."
He said that during her testimony, lawyers would probably ask her to confirm that "she and her husband knew what they were doing" and intended to "use campaign funds to finance their lifestyle."
Duncan Hunter — an outspoken supporter of President Trump who won reelection in November despite facing the criminal charges — alleged that prosecutors were targeting him for his political beliefs. In a filing Sunday, his lawyer argued that the prosecutors had backed Hillary Clinton in her 2016 presidential bid and said the case should be dismissed.
The Justice Department responded by asking the court to exclude allegations of political bias against the government's lawyers.
Prosecutors included highly detailed descriptions of Hunter's alleged affairs with five women — none identified by name.
The filing describes one Lake Tahoe ski trip in 2009 that Hunter allegedly paid for entirely with campaign money, including a $351 car rental, $180 plane ticket and a $1,008 hotel tab. Prosecutors described the spending down to a $7 beer he purchased in the resort bar.
Alleged expenditures on other women included drinks, dinners and Uber rides. One woman, identified as "Individual 17," is described as a lobbyist who organized fundraisers for the congressman.
According to the filing's description of a January 2015 encounter, "[t]hat night, however, was not about business: at around 11:00 pm, Hunter and I-17 departed the Hamilton [Hotel] together for her home, where they engaged in intimate personal activities unrelated to Hunter's congressional campaign or duties as a member of Congress. Hunter left her house at 1:23 a.m. Although this was a strictly personal encounter, Hunter used campaign funds to pay the $42 in Uber fares."
Prosecutors also suggested there are more damaging details to come. "Hunter improperly used campaign funds to pursue other clearly non-work related activity during get-togethers with his close personal friends," the filing reads.
The filing didn't specify what the activity was, but prosecutors said that publicly disclosing it "runs the risk of improperly tainting the jury pool before the trial begins."
They said they are discussing with Hunter the possibility of a stipulation that will mean they won't have to submit evidence about this activity to the court. They asked the judge whether they could file the evidence under seal that if that didn't work.
Forge said that if Hunter is considering a stipulation and prosecutors are asking to file evidence under seal, they must think "this other category of information is way more inflammatory than using campaign funds to finance his affairs."
"I have to think it's some sort of bombshell," he said.
Times staff writer Jennifer Haberkorn in Washington contributed to this report.
Life is stressful. Our weekly mental wellness newsletter can help.
You may occasionally receive promotional content from the Los Angeles Times.