When Cohen calls Trump a racist, a GOP lawmaker enlists a black character witness
Rep. Mark Meadows (R-N.C.), a close ally of Donald Trump, sought to defend the president against Michael Cohen's accusation of racism in a congressional hearing Wednesday.
Meadows introduced a character witness — Lynne Patton, a former Trump family event planner who is now an official at the Department of Housing and Urban Development.
Patton, who is African American, did not testify but stood just over Meadows' shoulder as the lawmaker said she disagreed with Cohen's statements and pressed the former lawyer for proof of his assertion that Trump was a racist who had made derogatory comments about African Americans.
"She says that as the daughter of a man born in Birmingham, Ala., that she would never work for an individual who was a racist," Meadows asserted.
Michael Cohen describes a culture of criminality around Trump »
"As neither should I have, as a son of a Holocaust survivor," Cohen replied.
Meadows said he had talked to Trump more than 300 times and had never heard him make a racist comment. He asked whether Cohen had documentation or tape recordings that would back up his allegations. Cohen said he didn't but pointed out that the Trump Organization did not have any high-level black employees.
"Ask Ms. Patton how many people who are black are executives at the Trump Organization, and the answer is zero," he said.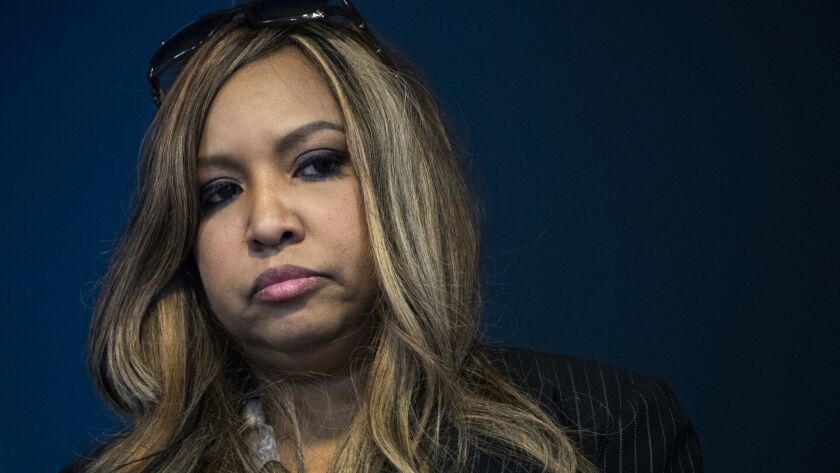 Patton had at least some previous experience of allegations that Trump made racist statements. In August, CBS published a tape recording released by Trump's former aide Omarosa Manigault Newman in which she, Katrina Pearson and Patton discussed Trump's use of the N-word.
In Cohen's hearing, Republicans pursued a repeated line of attack: Blast his credibility. Again and again, they raised his convictions on bank and tax fraud charges and lying to Congress. And they pressed him to admit that some of his crimes were not committed on behalf of Trump.
"Mr. Cohen, you called Donald Trump a cheat in your opening testimony. What would you call yourself?" asked Rep. James Comer, a Republican from Kentucky.
"A fool," Cohen said.
"No comment on that," the lawmaker replied, before adding that he didn't think "Michael Cohen is capable of telling the truth."
"If we have the opportunity to subpoena witnesses, we should subpoena witnesses who are not recently disbarred, not a convicted felon and witnesses who have not committed bank fraud and tax fraud," he said.
---
Get our Essential Politics newsletter
The latest news, analysis and insights from our bureau chiefs in Sacramento and D.C.
You may occasionally receive promotional content from the Los Angeles Times.