Trump calls on Sessions to stop Mueller's Russia probe, raising specter of attempted obstruction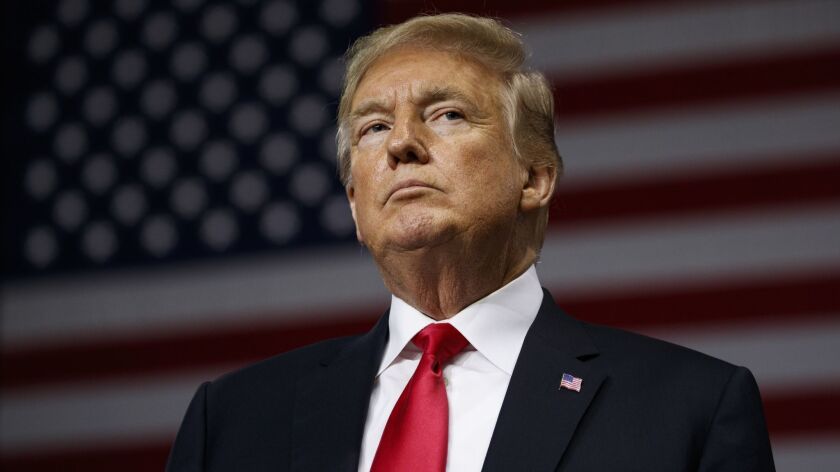 Reporting from Washington —
President Trump called on Atty. Gen. Jeff Sessions to "stop this Rigged Witch Hunt right now," opening the president to further complaints that he is trying to obstruct the investigation into Russia's election interference and his campaign's possible complicity.
Trump is already reportedly under investigation for potential obstruction of the Russia probe led by special counsel Robert S. Mueller III. His tweet early Wednesday was the president's most explicit statement to date seemingly aimed at getting his attorney general, the nation's top law enforcement officer, to end the probe.
The tweet, along with several others on Wednesday morning, reflected the president's accelerated attacks on the investigation, which he claims is tainted by bias. They coincided with the second day of the trial of Paul Manafort, Trump's former campaign chairman, on 18 charges of tax evasion, bank fraud and conspiracy.
"This is a terrible situation and Attorney General Jeff Sessions should stop this Rigged Witch Hunt right now, before it continues to stain our country any further. Bob Mueller is totally conflicted, and his 17 Angry Democrats that are doing his dirty work are a disgrace to USA!" Trump wrote.
Manafort's trial continued in Alexandria, Va., with testimony from several more witnesses for the prosecution, including a political consultant who worked with him in Ukraine for the pro-Russia government at the time; an FBI agent who helped search his condo last year; and an employee from a high-end menswear store who said Manafort would pay for custom suits with wire transfers from overseas accounts.
Prosecutors have accused Manafort of using more than 30 such accounts in three foreign countries — Cyprus, the Seychelles, and St. Vincent and the Grenadines — to avoid paying U.S. taxes on $15 million of income.
The president suggested in a tweet that Manafort was being treated worse than Al Capone, the notorious Prohibition-era Chicago gangster who was also prosecuted for tax evasion. "Where is the Russian Collusion?" Trump added.
Trump's tweets prompted Rep. Adam B. Schiff of Burbank, the top Democrat on the House Intelligence Committee, to accuse the president of obstruction "hiding in plain sight."
"The President of the United States just called on his Attorney General to put an end to an investigation in which the President, his family and campaign may be implicated," Schiff tweeted. "This is an attempt to obstruct justice hiding in plain sight. America must never accept it."
The Justice Department says a president cannot face criminal charges while in office. But depending on what Mueller uncovers, including on obstruction, Congress could decide to pursue impeachment. President Clinton was impeached by the U.S. House for perjury and obstruction in 1998, a time when Congress likewise was under Republicans' control, though the Senate voted for acquittal.
Follow the latest news of the Trump administration on Essential Washington »
Contrary to Trump's tweet, Sessions doesn't have power to stop the investigation because he recused himself from the Russia investigation more than a year ago. Deputy Atty. Gen. Rod J. Rosenstein became responsible for the probe, appointed Mueller and supervises his work.
"It's a tweet that's just blowing in the wind, because Sessions has already recused himself from the Russia investigation," said John Yoo, a UC Berkeley law professor who served in President George W. Bush's administration.
Even so, the episode once again forced the White House and Trump's allies to defend a presidential tweet aimed at undermining the investigation.
Although the White House and the Justice Department previously have said that Trump's tweets are official presidential statements, his lawyer Rudolph W. Giuliani responded to the latest one as he has before, by brushing off suggestions that Trump's tweets could be used as evidence of obstruction.
"The president was expressing his opinion on his favored medium for asserting his 1st Amendment right of free speech," Giuliani said in an interview. "He said 'should,' not 'must,' and no presidential order was issued or will be."
Giuliani said he spoke with Trump to make sure that the president wasn't actually issuing an order. "I talked to him about it to make sure he was on the same page as we are," Giuliani said, and the president indicated he was not ordering Sessions to act.
Giuliani told CBS' "Face the Nation" on Sunday that all of Trump's tweets "don't amount to anything." He added, "Obstruction by tweet is not something I think works real well. Generally obstruction is secret, it's clandestine, it's corrupt."
For months, Trump's lawyers also have argued that it's impossible for the president to obstruct justice because his constitutional authority extends over the Justice Department. That allows him to direct officials where to focus their resources or to fire them, as Trump did in removing James B. Comey as FBI director last year. That firing led to Mueller's appointment as special counsel.
Wednesday's tweet was a reminder of Trump's unabated anger at Sessions for recusing himself from overseeing the Russia investigation. He did so on March 2, 2017, as members of both parties and legal experts contended that he should have.
At the time, Sessions pointed to Justice Department regulations to explain that, as one of Trump's earliest and most active supporters, he shouldn't participate in the investigation of the Trump campaign. He announced the decision after controversy over his own undisclosed contacts during the campaign and the post-election transition with the Russian ambassador at the time, Sergey Kislyak.
Two months ago, Trump tweeted that he should have chosen an attorney general who didn't need to recuse himself. "I wish I did!" he wrote.
Joseph diGenova, a former U.S. attorney who was nearly hired to represent Trump, said the president has been "completely disgusted" with Sessions.
"He doesn't like weak people," DiGenova said in an interview with The Times. "And he thinks Jeff Sessions is extremely weak and not a competent leader."
In his latest tweets, Trump also quoted criticism of the investigation from Alan Dershowitz, a Harvard Law School professor who frequently defends him on television. In an interview, Dershowitz also cast doubt on whether Trump's tweets can be seen as an act of obstruction.
"You cannot obstruct justice by openly exercising your 1st Amendment rights and openly criticizing a prosecution, whether you're right or wrong," he said. "Obstruction of justice is generally committed behind the scenes, so I think both sides are a little overwrought here."
Dershowitz also acknowledged that Trump was mistaken in suggesting that Sessions can end the investigation. "You can't be both recused and making decisions about the investigation," he said.
Stephen Vladeck, a University of Texas law professor, said Trump would need to take different steps to halt the probe. He could give the order to Rosenstein and fire him if he does not comply, Vladeck said, or Trump could try to replace Sessions with someone who does not have a conflict of interest, allowing that person to order Rosenstein to shutter Mueller's investigation.
Manafort is the first person to face trial on charges stemming from the special counsel's work. Prosecutors say he evaded taxes on income earned while working as a political consultant in Ukraine, and then relied on bank fraud to sustain his expensive lifestyle after the autocrat he worked for fled to Russia in 2014.
FBI Special Agent Matthew Mikuska described on Wednesday the early morning search of Manafort's condo in July 2017. Mikuska said agents arrived at Manafort's door at 6 a.m. and knocked three times. Hearing no answer, he said, they opened the door with a key, finding Manafort and his wife inside.
Agents seized numerous documents during the search, including a 2016 loan application from Manafort to the Banc of California, invoices for home renovation work, and wire transfers originating in Cyprus to Manafort's companies.
Maximillian Katzman, 29, manager of a luxury menswear boutique in Manhattan, testified that Manafort was one of the store's top five clients, and the only one who paid his bills through international wire transfers.
Katzman was the first of six witnesses who testified about Manafort's luxury lifestyle funded through offshore accounts. Stephen Jacobsen said he was paid at least $3 million for home improvement projects on Manafort's various homes, and Ronald Wall testified that Manafort was a "very good customer" at the House of Bijan clothing store.
The trial appeared to be running ahead of schedule. Prosecutors said they might be able to rest their case next week.
Bierman reported from Washington, and Megerian and Fawcett reported from Alexandria, Va.
noah.bierman@latimes.com | Twitter: @noahbierman
---
UPDATES:
4 p.m.: This article was updated with more testimony against Manafort.
2:45 p.m.: This article was updated with additional testimony from Manafort's trial.
1:35 p.m.: This article was updated with additional context, developments from the Manafort trial and quotes from Yoo and diGenova.
This article was originally published at 10:20 a.m.
---
Life is stressful. Our weekly mental wellness newsletter can help.
You may occasionally receive promotional content from the Los Angeles Times.