When men with power go too far: After years of whispers, women speak out about harassment in California's Capitol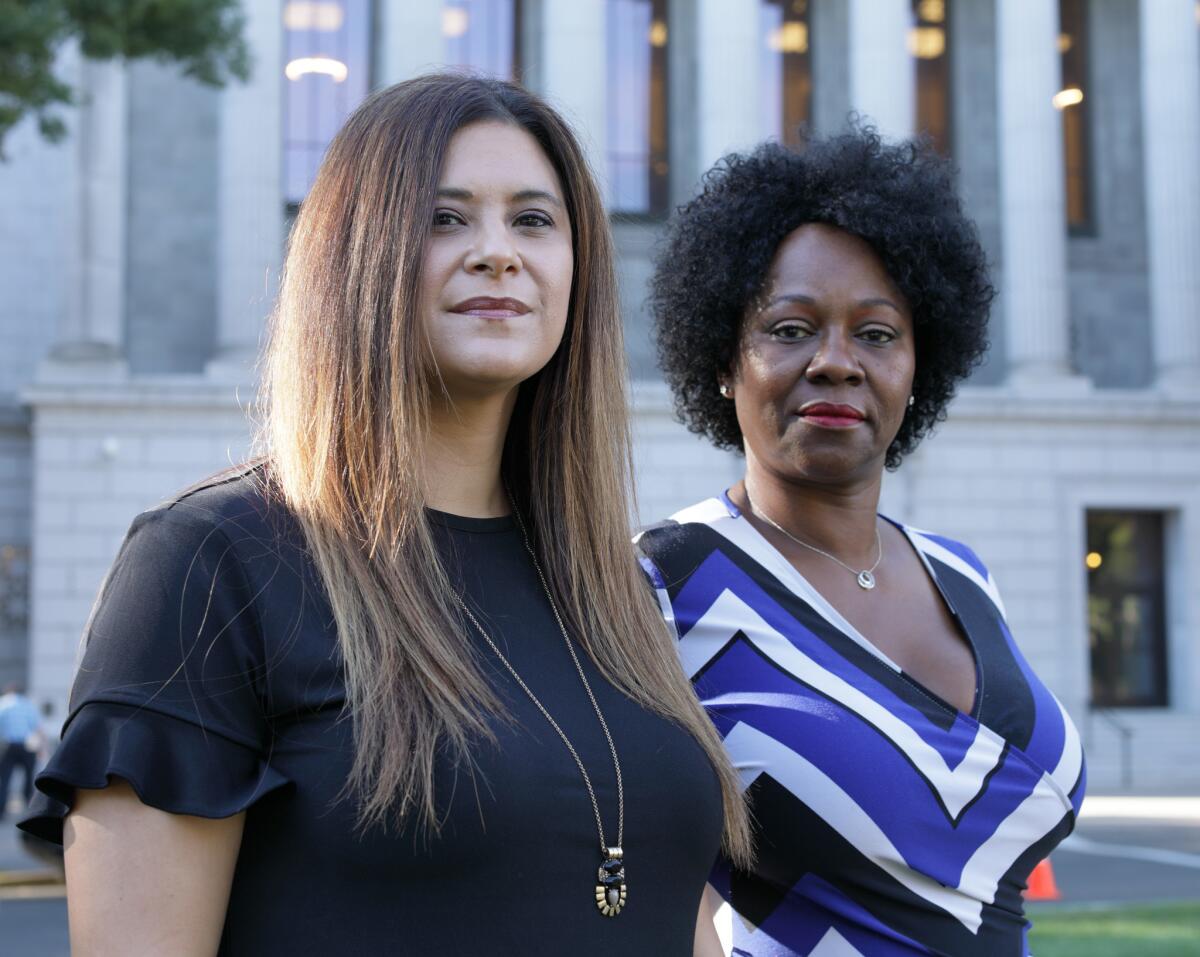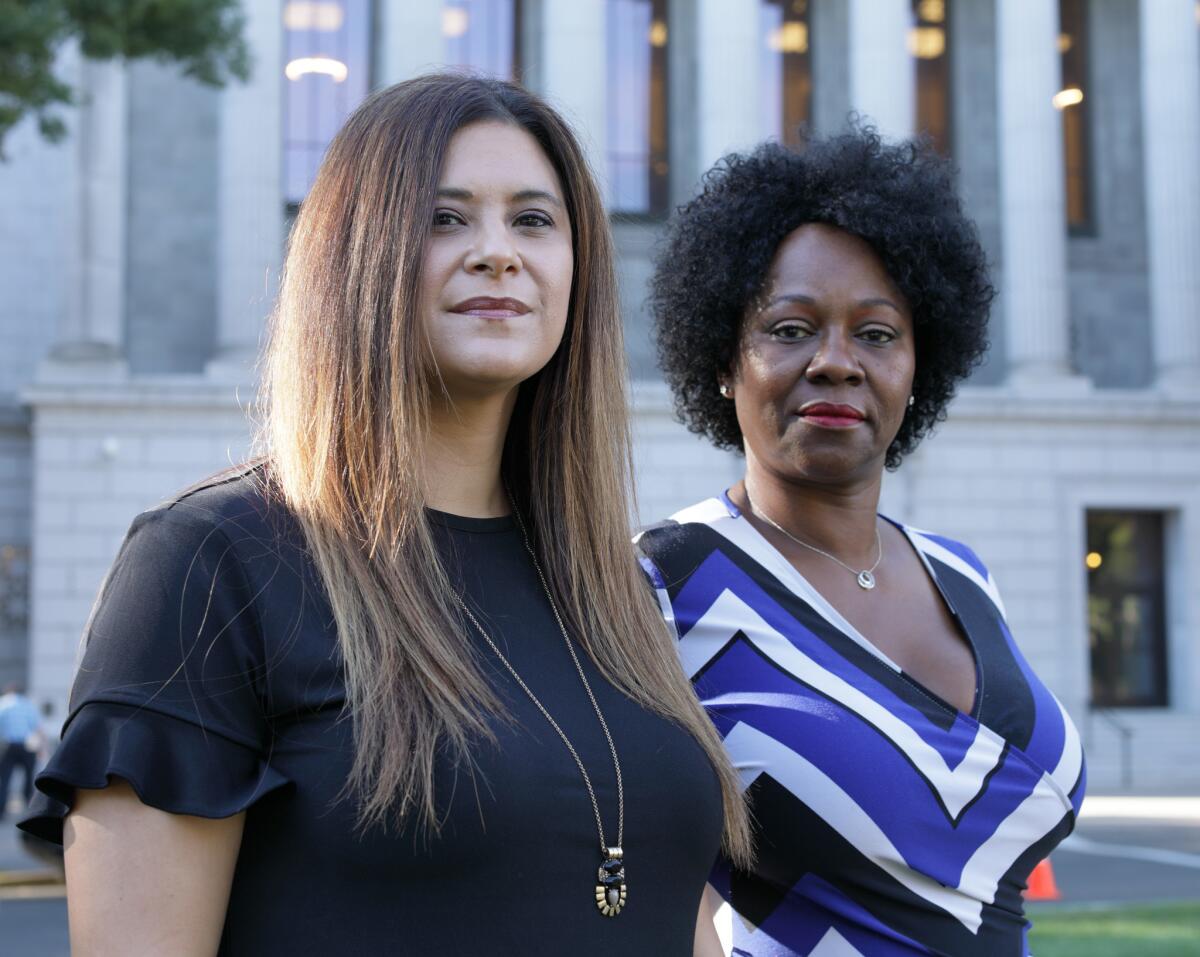 It started with a dinner invitation from a former assemblyman more than twice her age. He had offered his services as a mentor, but his hand reaching for her knee under the table revealed other intentions. Then came the late-night phone calls and unexpected appearances at events she had to attend for her job in the Capitol.
Fresh out of college, Amy Brown did what she thought women were supposed to do in these situations — she reported him. The former assemblyman accused her of slander, an experience that left her so humiliated that she left Sacramento for a new job in San Jose.
"I immediately got the hell out of town," Brown said. "I felt like the people — the person — I was relying on for advancement in my career was preying on me."
Stories like these have taken many forms through the years. Sometimes it's a professional meeting that turned inappropriately sexual, or it's a groping hand on a backside. In one case, a woman said a lawmaker masturbated in front of her in a bar bathroom.
No matter the details, each story involves a man with power — the kind of power bestowed by voters, an influential lobbying client or a supply of campaign cash. And instead of wielding that power to shape politics or public policy, the man used it to proposition women or to touch them inappropriately.
Men in politics who engage in this type of behavior might say "this is absolutely consensual, without realizing there is a power hierarchy that is absolutely unequal, and they should not participate in that," Assemblywoman Laura Friedman (D-Glendale) said.
California Assemblyman Raul Bocanegra was disciplined after woman claimed he groped her »
One woman, Elise Flynn Gyore, has shared with The Times her story about Raul Bocanegra, now a Democratic Assemblyman from Pacoima. She said that eight years ago, when Bocanegra was a legislative chief of staff, he groped her, an incident that resulted in a formal probe. Bocanegra apologized Friday when asked about the 2009 investigation.
But most women telling their stories aren't naming the men involved. The goal, they said, is to focus the dialogue on uprooting the Capitol's enduring culture of sexism and on the stricter policies they believe are necessary to deter transgressors.
When Brown left Sacramento, she changed more than her job — she wore different clothing and attempted to "create an image of myself that didn't attract the wrong kind of attention," she said.
She eventually mustered the courage to return to Sacramento to work as a lobbyist, but she found the culture hadn't changed.
"I still had legislators say, 'You want my vote? You know how to get it,'" she said. However, she found a new way to deal with it.
When a male lobbyist sparring with Brown on legislation about a decade ago told her in front of the state Senate chamber to "shut your mouth and open your legs because that's what you do best," she unleashed "every derivation of the F-bomb I could think of — loudly."
It was "a way to protect myself," Brown said.
Her choice of verbal armor is one way women cope with daily life in the Capitol, a workplace often described as a fishbowl where sexually charged gossip flows freely and relationships are key to success.
"It's a career based on networking — not just what you know, but who you know," said Sabrina Demayo Lockhart, a former legislative staff member who now works as the communications director for an oil and gas association. "Speaking up could make it more difficult, if not impossible, to advance your own career."
The inescapable reality is that the business of making state laws is centered in one building. If a woman wants to work in that business, the Capitol is all but unavoidable.
In her own words: Women of California politics tell their stories of sexual harassment and unwanted touching »
When faced with misconduct, Lockhart said, there's a choice to make: "Is this level of harassment worth risking how I put a roof over my head and food on my table?"
Women described to The Times how men forced that choice onto them, over and over again.
As Jena Price was starting her career as a lobbyist about five years ago, she reached out to a lawmaker to discuss a policy issue. He suggested meeting over a beer.
"It became fairly apparent that he had no desire to talk with me about this legislation or any legislation whatsoever," she said.
Price texted a friend to extract her from the meeting to avoid angering a lawmaker who could advance or hinder her cause.
"I did not leave immediately because of that fear of losing access," she said. "And as a lobbyist, my job is entirely about access."
It didn't matter in the end.
"Once it was apparent to this legislator that I was not going to act on any of these advances, he ceased all communications with me," Price said.
Sometimes, men took advantage of their ability to physically overpower women. Pamela Lopez, a lobbyist, said that in 2016, a lawmaker sidled up behind her as she walked into a single bathroom at a bar, rushing her inside and locking the door. He then masturbated in front of her.
It's not just lobbyists and staff members who have had these experiences. Female lawmakers said their power to vote on legislation hasn't insulated them from harassment — or worse.
Two weeks after Assemblywoman Cristina Garcia (D-Bell Gardens) was sworn into office in 2012, she was invited to a bar to meet some lobbyists. One grabbed her backside, she said. A male senator cautioned against speaking out because the lobbyist was too influential.
"The message is that a male, irrespective of if they're elected or not, has more power than a woman who's elected," Garcia said. "From the beginning, you're being told, 'This is your place.'"
Tina McKinnor discovered that working for a female lawmaker sometimes involved shielding her boss from sexual advances. During dinner at a restaurant, a "very powerful elected official" walked up behind her boss, Assemblywoman Autumn Burke (D-Marina del Rey), and started rubbing her shoulders.
"And when I say rub your shoulders, you would have thought he was her husband," said McKinnor, now the California Democratic Party's operations director. McKinnor stared at him until he stopped, and avoiding the man became part of her job as chief of staff.
"Afterwards, when we saw the guy, we just went the other way," she said. "And as a staffer, it hurts that's the staffing that you had to do."
Burke, who signed the open letter, declined to comment about her experiences.
For some women, the stories have been stacking up for years.
"There are so many instances that, unfortunately, it's background noise," said Natalie LeBlanc, a partner with a national political consulting firm. "It all blends together."
There was the time a man shoved his hand down her pants at a fundraiser in Los Angeles. And the meeting in which a potential client stared down her dress and ran his hand down her leg. And the political event where a male consultant pushed her against the wall in a hotel elevator and invited her back to his room.
"It's great that people are starting to report on it," LeBlanc said. "But it's been happening for so long that it's impossible to document it all."
Cynthia Bryant remembered a lobbyist who would kiss her on the head while she worked for the Department of Finance.
"It's disgusting. It feels kind of gross," Bryant said. "You roll your eyes and cringe inside, and then you laugh it off and say, 'That's OK.'"
Now the executive director for the California Republican Party, Bryant said her "thinking has completely changed" after the Weinstein scandal.
"Six months ago I would have said it's just the way things are, you just have to deal with it," she said. "Today, I wouldn't say it. I would fight for the person. I would stand up for them. I would tell them to report it."
Dolan reported from Los Angeles. Times staff writer Dakota Smith in Los Angeles contributed to this report.
Twitter: @chrismegerian
Twitter: @melmason
Twitter: @jackdolanLAT
ALSO
Female lawmakers, staffers and lobbyists speak out on 'pervasive' harassment in California's Capitol
Graphic allegations about California legislator show there are few protections for female lobbyists in the Capitol
California Assembly to hold public hearings to address sexual harassment
California Senate hires lawyers and a consultant to examine sexual harassment allegations
Sexual harassment becomes focus in Sacramento
Coverage of California politics
---
UPDATES:
10:40 a.m.: This article was updated to reflect that Burke declined to comment on her experiences in general, not the specific incident.
This article was originally published at 3 a.m.
Get our Essential Politics newsletter
The latest news, analysis and insights from our politics team.
You may occasionally receive promotional content from the Los Angeles Times.