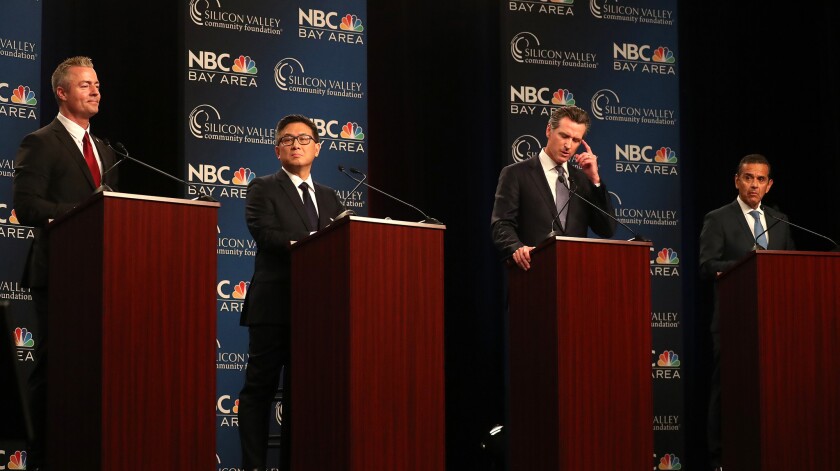 Sacramento Bureau Chief
Californians may only now be realizing there's an election for governor in four weeks, but the men and women seeking the job have been on the campaign trail for a long time.
They've worked hard at perfecting their moves. And they weren't about to try something new in the most high-profile and perhaps final debate of the 2018 primary season on Tuesday in San Jose.
The 90-minute event, sandwiched between NBA playoff games on other channels, featured the six leading contenders to replace Gov. Jerry Brown arranged on a stage without regard to political party or ideology. The front-runner was shuffled off to the side while a right-wing Republican stood behind a lectern in the middle, and the resulting visual felt like the perfect symbol of the June 5 ballot. There, voters will find a multi-party mashup that allows them to choose anyone they want.
High-stakes California governor's race debate gets testy as personal and political attacks fly »
Four Democrats and two Republicans fielded questions including how to solve California's crisis of homelessness, their views on healthcare and dealing with the high cost of a college education. They were quizzed about the role that character plays in elected office. They were asked to name a sacrifice they had made in their lives. And yes, they were asked about California's future in the era of President Trump.
No single candidate received more attention than Lt. Gov. Gavin Newsom, by all accounts the front-runner and the person who's been in the race the longest. The other candidates put the 50-year old Democrat through his paces time and again. Fellow Democrat and state Treasurer John Chiang suggested Newsom, when he was mayor of San Francisco, was to blame for the deportation of a young immigrant child. Former Los Angeles Mayor Antonio Villaraigosa suggested Newsom might be focused too much on "talking and tweeting about Trump."
Republicans John Cox and Travis Allen went after Newsom on a personal level. "If you can't trust Gavin with his best friend's wife, how can you trust him with your state?" Allen said to some audible groans in the audience, a reference to Newsom's affair in 2007 with a staff member.
Newsom had clearly prepped for the attacks. "I apologized for it. I was wrong," he said about the relationship with his former campaign manager's wife. "And I've learned an enormous amount from it and I'm a much better person as a consequence." In less than 60 seconds, the topic was gone and the debate moved on.
It also then allowed a quick mea culpa from Villaraigosa, whose own marital infidelity had similarly been called out by Allen, an assemblyman. "I lost my marriage, I lost my family for a time," Villaraigosa said. "I took responsibility for it."
It was not to be the only time on Tuesday that the two former mayors, fierce rivals who could very well end up on the November ballot together, chose to speak from the same page of the political playbook. Twice in the event — during discussions on housing (both men want 3.5 million new units statewide by 2025) and early childhood education — Villaraigosa and Newsom offered complementary if not identical positions on major issues facing the next governor.
How one Trump tweet could change the course of California's 2018 elections »
If Villaraigosa needs help getting past one of the Republicans on June 5, he didn't seem prepared to take the votes he needs from Newsom by using an attack launched while on the debate stage. In fact, just as the debate ended, a new campaign finance report showed that an independent political action committee backing Villaraigosa has just spent nearly $500,000 in an effort against Cox. The outside money could be the "bad cop" to the former mayor's "good cop" appeal to Democrats, independents and even disaffected Republicans.
The debate did little to move the needle for Chiang, a Los Angeles Democrat who's been elected to statewide office three times — twice as controller and in 2014 as treasurer, compiling a resume deep on state government finances. Lagging in most public polls, he tried to criticize Newsom and Villaraigosa at several points on Tuesday night. When neither man took the bait, the exchanges fizzled and the show moved on.
Eastin, the former state schools chief, seemed at ease under the television lights even as she badly trails her opponents in money and public support. She seemed most energized embracing a liberal set of issues reminiscent of the insurgent 2016 presidential campaign of Vermont Sen. Bernie Sanders. She urged higher taxes on commercial property and new taxes on oil production. She quoted the Book of Leviticus in welcoming immigrants. She urged a return to California's heyday in the mid-20th century of "tuition-free education."
And Eastin scolded, albeit gently, the culture of sexual misconduct. She said the state's politics is missing "a sense of self-control that makes certain you are focused on the issues at hand and not how much fun you can have."
For fans of political pyrotechnics, the debate's real fireworks display was between the two Republicans, Allen and Cox, each desperate to gain the upper hand with the state's Republican base. While now only 25% of the registered electorate, a large field of Democrats and left-leaning independent candidates could make even a plurality of GOP votes enough to earn the second spot on the Nov. 6 ballot.
On Republican efforts to qualify an initiative to repeal the state's new gas tax — something both men worked on — Cox said Allen "stole the money" for the initiative "for his own campaign for governor." Allen dismissed Cox as his "angry opponent from Chicago," a nod to the San Diego businessman's long residence in Illinois.
Cox repeatedly talked about "all the politicians" on the stage as he sought to portray himself as an outsider, never acknowledging that he ran for office four times while living in Illinois. He also briefly sought the presidency in the 2008 race. Neither he nor Allen convinced enough delegates at last weekend's convention of California Republicans to win the state party's official endorsement. Cox, though, has finished second in a pair of recent statewide polls — slightly ahead of Villaraigosa.
And everyone at the San Jose debate, moderated by Chuck Todd of NBC's "Meet the Press" and broadcast statewide, knew that an urgent question is whether the race for governor will make history in moving two Democrats forward or revert back to the traditional Republican vs. Democrat model. Those same recent polls show a sizable number of undecided voters, who soon must make a choice about which candidates should go head to head in offering a path forward for California's next chapter.
You can't blame the candidates for liking an old-fashioned partisan battle. Asked what he hoped voters would do, Newsom flashed a big smile and said he wasn't ashamed to admit it.
"I think a Republican would be ideal in the general election," he said to laughter in the auditorium. "Either one of these will do."
Follow @johnmyers on Twitter, sign up for our daily Essential Politics newsletter and listen to the weekly California Politics Podcast
ALSO:
---