California Legislature discloses seven sexual misconduct investigations from 1990s and 2000s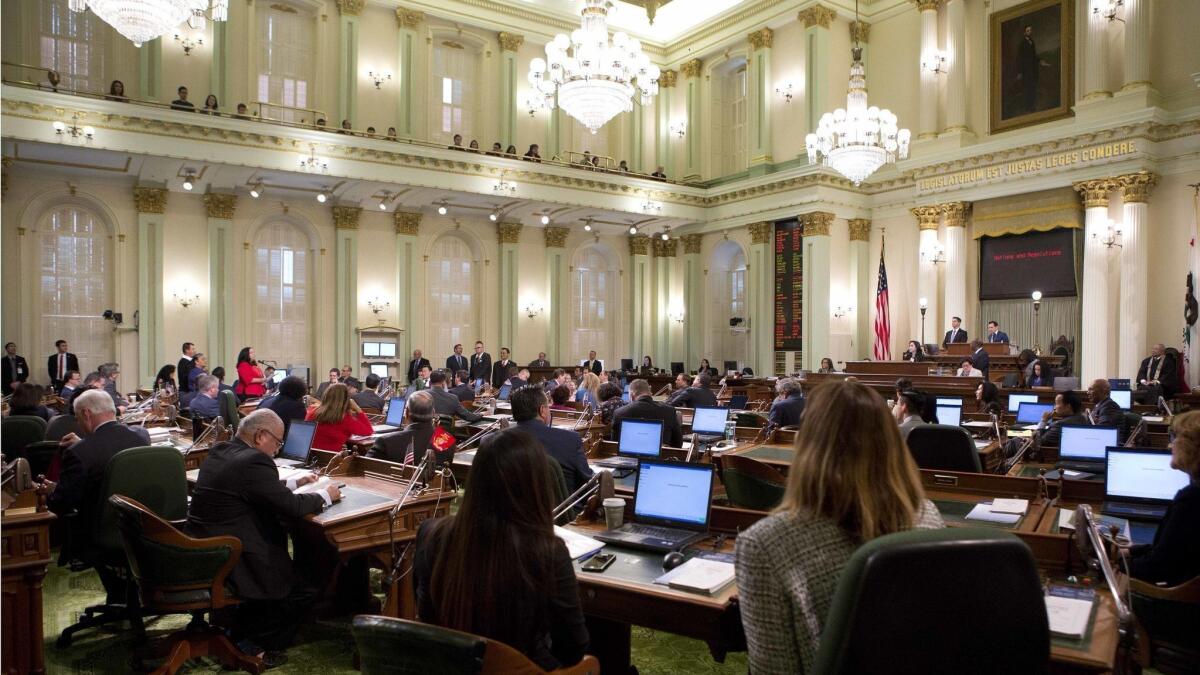 Reporting from Sacramento —
Newly released records from the California Legislature show seven sexual misconduct investigations prior to 2006 that resulted in some sort of reprimand.
The documents were released Thursday after a request made by the Los Angeles Times in mid-February, part of an ongoing examination of what women have called a "pervasive" culture of sexual harassment in the legislative workplace. Officials say the records, which detail complaints ranging from lewd remarks to unwelcome physical contact, are the final documents meeting their strict criteria for public disclosure.
Identical letters to The Times from Senate Secretary Daniel Alvarez and Assembly Chief Administrative Officer Debra Gravert said the information released included "all such records dated earlier than 2006 that are responsive to your request."
Sign up for the Essential Politics newsletter »
The Senate records pertained to a total of four complaints of staffers engaging in inappropriate workplace behavior in 1992, 1993, 1994 and 1996. Officials also provided a copy of the 1998 settlement regarding a complaint against former Sen. Richard Polanco of Los Angeles. That case first surfaced in 2001 when the Democrat abruptly canceled his plans to run for a Los Angeles City Council seat. It involved a former staff member who said she was retaliated against for rejecting his romantic advances.
The Senate ultimately paid a $102,500 settlement to the staff member. Polanco, a leading voice in Latino politics in the 1980s and '90s, served in both houses during a 16-year career in the Legislature. No other lawmakers were named in the records.
Documents show three separate staff-level allegations against one Senate aide between 1992 and 1994. The aide, David Commons, was ultimately fired after what one reprimand letter called his "unwelcome physical gestures toward female employees of the Senate." Commons died in 2000.
In the Assembly, officials released documents related to complaints against two staff members. In 2002 a staff member complained about a male colleague for sending an email with "strong sexual innuendo." In 2005 there was a complaint made against Josephine Figueroa, who served as chief of staff to former Bay Area Assemblyman Gene Mullin, for "inquiries into personal aspects" of a subordinate staff member's life. Neither investigation resulted in anyone being fired.
That there were only a few substantiated complaints in a period spanning more than two decades might be explained, in part, by years of reluctance on the part of many women to come forward. That has changed in the wake of the #MeToo movement sparked last year by dozens of allegations against former Hollywood producer Harvey Weinstein.
The newly released information is the second batch of documents turned over to The Times detailing specific allegations of inappropriate behavior in the state Capitol. In early February, officials released information on 18 alleged sexual harassment incidents — naming five legislators and 12 senior staff members, with one staff member accused in two separate incidents.
In total, the documents offer the most comprehensive look to date of the last 25 years of the legislative work environment. The information was previously shielded from public view by a 1975 law that gives the Legislature greater discretion over its own records than state agencies and local governments across California. Both houses again invoked that law in Thursday's letters to The Times, saying the records were technically "exempt from production" but nonetheless being released.
After resignations last year by two members of the Assembly accused of sexual misconduct — Democrats Raul Bocanegra of Pacoima and Matt Dababneh of Woodland Hills — lawmakers were reluctant to release records related to cases in which allegations had been corroborated.
Requests last fall by The Times for documents were answered only with summary data of recent complaints, 31 legislative investigations since 2006. In December, attorneys for The Times told legislative officials that the newspaper might a pursue a legal challenge to the Legislature's refusal to disclose information. In early January, leaders of both the Senate and Assembly changed course.
Documents released on 18 cases of serious sexual harassment charges in the Legislature »
Even so, the resulting disclosure has been limited. Legislative leaders decided in January to only release records pertaining to accusations against "high-level" staff members — even though sexual harassment, by the Legislature's own definition, is not limited to persons in a position of power but can happen in any workplace setting. As such, the new documents may again only be a subset of those that exist from the last two decades.
In recent legislative hearings on sexual harassment, top staff members have said records are only kept for a few years — a minimum of six years in the Assembly. That may explain why so few documents were made public, though some of the cases dated much further.
There are efforts underway to formalize the Legislature's release of substantiated sexual misconduct cases. Last month, legislative officials said they will "proactively" release documents related to current and future investigations once they are completed. Lawmakers are also in the process of reviewing all internal operations when it comes to sexual harassment, and a Bay Area lawmaker has introduced a bill to make disclosure required under state law.
Follow @johnmyers on Twitter, sign up for our daily Essential Politics newsletter and listen to the weekly California Politics Podcast
Get our Essential Politics newsletter
The latest news, analysis and insights from our politics team.
You may occasionally receive promotional content from the Los Angeles Times.