Analysis: California's major political parties feared the top-two primary but emerged as powerful as before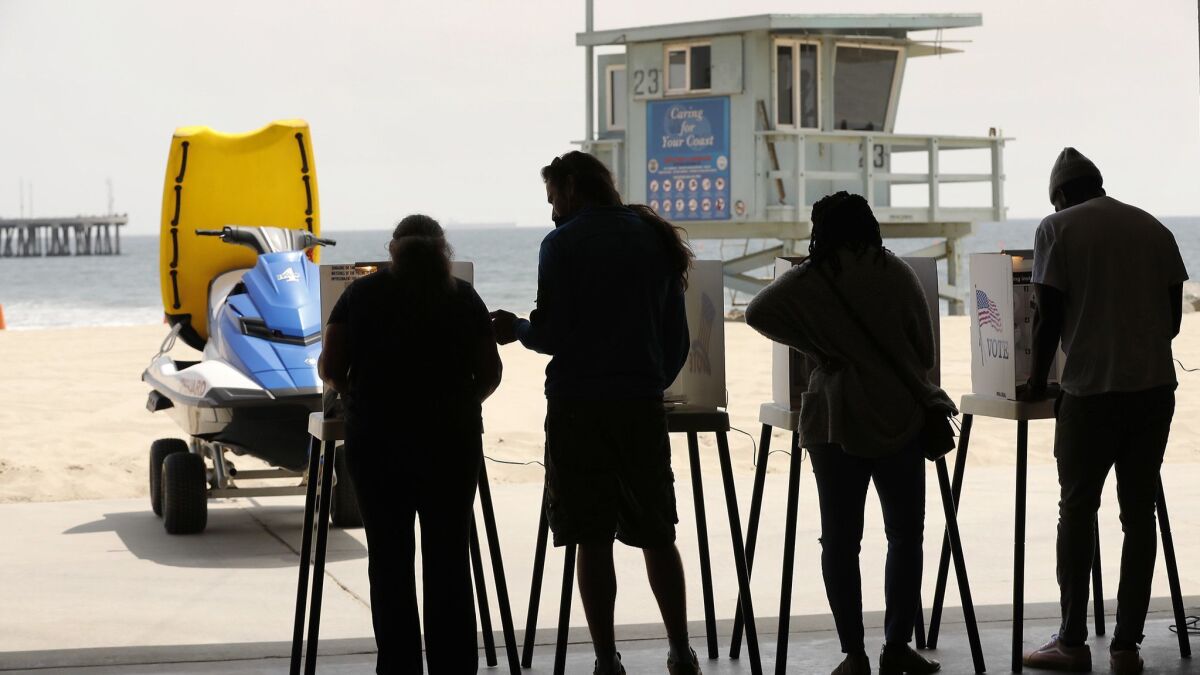 California's most wide-open primary in two decades ended Tuesday with contests — including for governor and the U.S. House — that seemed focused, even fixated at times, on the race for second place.
The rules of the top-two primary — in which a cluster of candidates gets whittled down to two finalists — seemed almost to eclipse everything else about the campaigns being waged this year.
Gamesmanship was everywhere. Could a feared opponent be shut out of a spot on the fall ballot? Might a political party's leaders convince some hopefuls in crowded races to step aside and thus avoid splitting the vote?
In the end — either because of those efforts or in spite of them — the playing field looked very much like a traditional primary. In unofficial returns, only two statewide races will see a same-party showdown in November. And in both cases — huge outside money in the overlooked race for lieutenant governor and the lack of any Republican presence in the U.S. Senate contest — there were other factors at play. Set those aside and what becomes clear is that in the overwhelming majority of California's races, the two-party system seems to have survived.
That kind of predictability has implications far beyond California. With seven U.S. House seats occupied by Republicans in districts that voted for Hillary Clinton in 2016, the state could have a crucial role in which party controls the House — and whether President Trump faces additional scrutiny from Democrats, should they take control.
Tuesday's results could have stacked the deck for either major party in these congressional races. Instead, the fight will move on to November.
The candidates who succeeded Tuesday were largely staunch defenders of either liberal or conservative principles — moderation was not the big winner in California on election night.
And yet backers of the top-two primary, who in 2010 took a wrecking ball to the idea that spots on the November ballot should be reserved by political party, seemed to envision consensus-building candidates who could bridge the partisan divide.
"This primary would certainly cast some doubt on that idea," said Eric McGhee, a researcher at the nonpartisan Public Policy Institute of California.
No candidate needed those moderate-minded voters more than Antonio Villaraigosa. The former Los Angeles mayor labored mightily but unsuccessfully to find some sort of coalition in the governor's race that would get him into a one-on-one showdown with Lt. Gov. Gavin Newsom.
But party labels survived. And a $22.7-million boost for Villaraigosa from an independent political action committee couldn't match the power of two tweets from Trump in endorsing Republican John Cox. That may have helped wavering GOP voters stick with the San Diego businessman rather than split their votes among other candidates — the kind of split that could have allowed Villaraigosa to leapfrog into second place.
"This is why parties are useful," McGhee said. "Parties and their leaders provide information for voters, a shortcut that allows them to simplify their decision."
Evidence of a party's imprint in a crowded field of candidates — in this case, its absence — also was clear in the U.S. Senate race. The silence of GOP leaders gave the party's voters no clear sign on what to do with a long list of unknown prospects. That may help explain why, in early returns, there were almost 200,000 fewer votes cast in the race than in the contest for governor. Two Democrats, Sen. Dianne Feinstein and state Sen. Kevin de León, will now face off against each other in November as a result.
It's Newsom vs. Cox in November as Villaraigosa tumbles in governor's race »
Republican voters may lament being shut out of the Senate race, as they were in 2016, but it's a casualty the party seemed willing to accept. Other tasks, including a protection of vulnerable congressional districts, seemed more pressing. Here again, the top-two primary failed to produce real surprises. That may explain why, in an election season where their place in California's pecking order fell below that of unaffiliated voters, GOP leaders celebrated their relatively strong showing Tuesday.
Not that the primary results suggest the road ahead is easy. Cox begins the final round in the race for governor as a decided underdog, probably at the level of Neel Kashkari, the GOP challenger in 2014 to Gov. Jerry Brown. Even then, Kashkari offered a pragmatic Republican stance on issues like poverty and education. (He lost to Brown, 60% to 40%.) By contrast, Cox has suggested that little, if any, daylight exists between himself and Trump on hot-button issues such as illegal immigration.
If Democrats dominate in November, the 2018 primary will have done little to change the perception that California is solidly blue on the political map. Grumblings about the rules of the top-two system will probably fade, at least until 2020 rolls around. And ultimately, the major political parties will be faced with the same dilemma that kept them from trying to scrap the rules in 2018: If they want voters to revamp the rules, what are they willing to give in return?
After all, a recent USC Dornsife/Los Angeles Times poll found strong support for a system that allows more than just the narrow choices that were once offered by traditional primaries. A ballot full of names may be confusing, but the idea of fewer choices could be seen by Californians as a non-starter.
Follow @johnmyers on Twitter, sign up for our daily Essential Politics newsletter and listen to the weekly California Politics Podcast
---
UPDATES:
2:45 p.m.: This article was updated with additional context.
1:15 p.m.: This article was updated with additional details from late election returns.
This article was originally published at 3 a.m.
---
Life is stressful. Our weekly mental wellness newsletter can help.
You may occasionally receive promotional content from the Los Angeles Times.