Democrats seem poised to avoid getting shut out of key California House races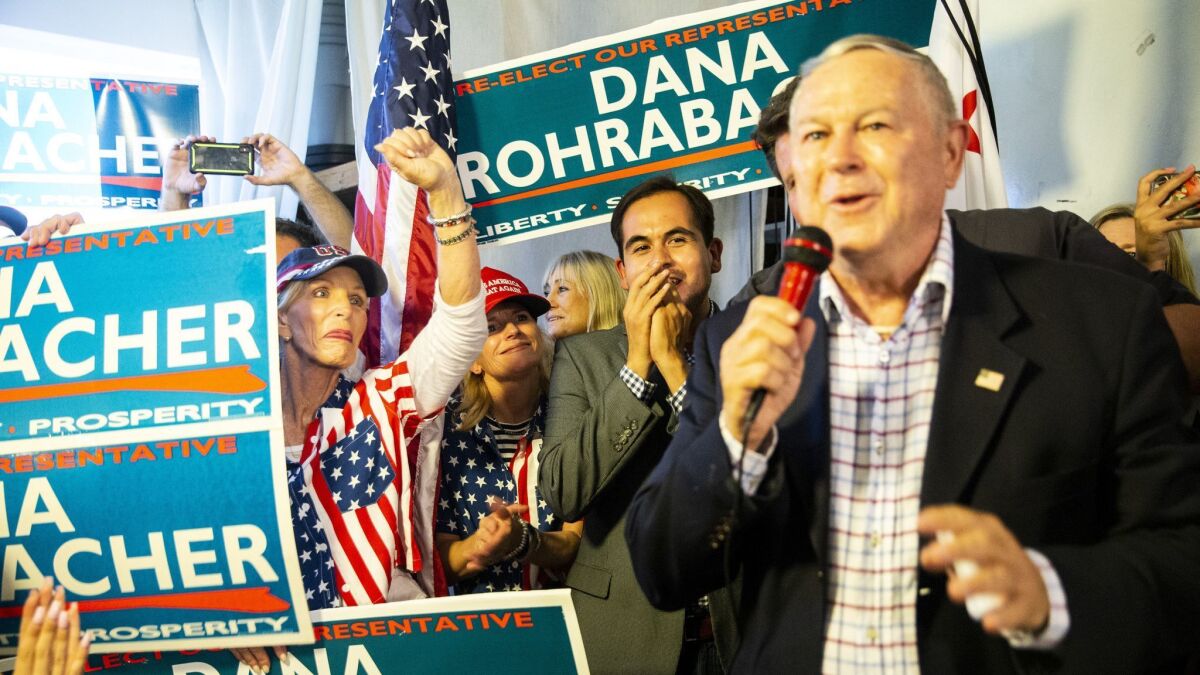 Democrats in California appeared poised Tuesday night to avoid getting shut out of key congressional races for the November election, the most pressing risk they faced as they seek to retake control of the House.
With most precincts reporting, Democrats seemed to have captured second place in the contests where the threat was most acute — the races to replace Republican Reps. Ed Royce of Fullerton and Darrell Issa of Vista, who are retiring, and to challenge Rep. Dana Rohrabacher of Costa Mesa.
However, with a large number of mail ballots still to be counted, it could be days before results are certain.
The party's wide, boisterous field of candidates could have locked them out of multiple races due to the state's unique primary, which advances the two candidates with the most votes regardless of party.
The prospect of voters only having a choice between two Republicans in crucial races in November had forced Democratic groups to spend more than $7 million in the closing weeks of the campaign to avert disaster.
Democrats have targeted 10 GOP-held districts here, including seven won by Democrat Hillary Clinton in the 2016 presidential election. California presents the party with the opportunity to pick up as many seats as all seven other states with Tuesday primaries combined.
Live coverage of California primary »
The party had been preparing for the possibility of getting shut out of one or two California races. That would leave them to compete in at least five GOP-held districts where Clinton won in 2016. Two of those districts in the Central Valley have proved hard for Democratic House candidates to penetrate. If they had been shut out of more than a couple of districts in the primary, Democrats would have had to scramble to focus on opportunities elsewhere in the country to flip the 23 seats they need to retake the House.
That risk was particularly present in Orange County, the former bastion of conservatism that has been experiencing a demographic makeover and in 2016 voted for a Democrat for president for the first time in 80 years.
In the 48th Congressional District, for example, eight Democrats, all of them first-time candidates, were on the ballot against Rohrabacher. His eroding support among local GOP activists and the addition of well-known Republican Scott Baugh to the fray left Democrats most concerned about splitting the vote there.
At his campaign headquarters Tuesday night, Rohrabacher declared victory and called his lead a "victory for America" before supporters joined him in singing "God Bless America."
State and national leaders divided their support between two top-polling candidates, with the California Democratic Party endorsing stem cell scientist Hans Keirstead and national Democrats behind real estate investor Harley Rouda.
Watch these House races in California's June 5 primary »
Despite that, Democratic voters in Rohrabacher's district seemed united on one front.
"My primary goal is getting Dana out," said Patti Rummel, a 56-year-old homemaker from Huntington Beach who voted for Rouda. But if Keirstead or any other Democrat made it through, she added, she would support that candidate.
Eric Nummedal, 25, of Costa Mesa, voted for Keirstead, a fellow scientist. But he was at a loss as to what he would do if Democrats were locked out of the race completely.
As Tuesday's vote neared, the Democratic Congressional Campaign Committee handed out fliers in the district warning voters not to waste their votes on three other Democrats who dropped out but remained on the ballot. They also spent more than $1.6 million attacking Baugh and, in a twist, even dropped six figures to boost a little-known Republican.
The committee employed similar tactics in the state's two open seats, Royce's 39th District and Issa's 49th District. Both Republicans announced months ago they would retire after this year. In the contest to replace Royce, the Democratic committee backed lottery winner and Navy veteran Gil Cisneros, whose sparring with fellow Democrat Andy Thorburn became so caustic that it prompted California's state party chair to broker a truce.
In Issa's district, $2.3 million spent by abortion rights group Emily's List to support Democrat Sara Jacobs complicated Democrats' efforts to unite voters and winnow the field. So did the seemingly unlimited coffers of Jacobs and Paul Kerr, both multimillionaires who struggled in early polling but blanketed the district with TV ads bashing President Trump and touting their biographies.
In both districts, an inexperienced bench of Democratic candidates faced Republican candidates who are current or former elected officials with far more political experience and name recognition.
At an election night celebration at a Buena Park country club, supporters of former Republican state Assemblywoman Young Kim chatted as drums pounded and traditional Korean dancers performed. Kim, who has the backing of Royce to replace him, was declared the top vote-getter in the 39th District.
"Because Royce trusts her, we can trust her too," said Chelsea Han, 54, who runs a custom furniture business in Pomona.
The national Democrats' hyper-focus on their top-two primary problems has meant less attention paid to promoting female candidates in what's shaping up to be a banner year for women in politics. It has also meant party leaders have less bandwidth to fret over what kind of Democrat may make it through in these districts, and whether they're best-positioned to seize swing districts where incumbents often still have major advantages.
For example, Katie Porter, a law professor who was locked in an acrimonious fight with fellow Democrat and law professor Dave Min, has aligned herself with Sen. Elizabeth Warren (D-Mass.) and other progressive elements of her party. If she wins, Democrats will have to rely on a surge in progressive turnout in November to defeat GOP Rep. Mimi Walters, who easily won first place in the primary Tuesday night.
How California's primary could stop Democrats from retaking the U.S. House »
For the most part, though, Republicans in the state are on the defense. None of the Democrats being targeted by the Republicans have attracted challengers with serious fundraising.
Republican voter registration has cratered in the state, officially reaching third-party status below Democrats and unaffiliated voters shortly before primary day.
Several of the GOP incumbents fending off serious challengers have had lackluster fundraising. Rohrabacher, Rep. Tom McClintock in Northern California, Rep. Duncan Hunter in inland San Diego County and Rep. Steve Knight in the Antelope Valley have all been outraised by their opponents at various points in the election cycle. While they have been able to mostly keep their powder dry as Democrats battle each other for a shot at the general election, they will need to vastly improve their cash strategy to be competitive.
"The Democrats think there's no stopping them this time," Walters warned at the state GOP convention in May. "They're not just coming for any one of us. They're coming for all of us."
But, she added, things won't be quite so easy for them. She and others have pinned their hopes on an unpopular state gas tax, which will likely be the subject of a repeal effort on the November ballot, and an improving economy that national Republicans are hoping to tie to the recent tax cuts.
Times staff writer Christina Bellantoni contributed to this report from Los Angeles, and staff writer Anh Do and special correspondent Daniel Langhorne contributed from Orange County.
Your guide to the June 5 primary »
For more on California politics, follow @cmaiduc.
---
UPDATES:
12:55 a.m. This article was updated with new details and analysis.
12:13 a.m. This article was updated with additional analysis of results.
8:42 p.m. This article was updated with some early results.
This article was originally published at 12 a.m.
Get our Essential Politics newsletter
The latest news, analysis and insights from our politics team.
You may occasionally receive promotional content from the Los Angeles Times.