Two California Republicans, poles apart on Trump's immigration stance, have their jobs on the line in midterm vote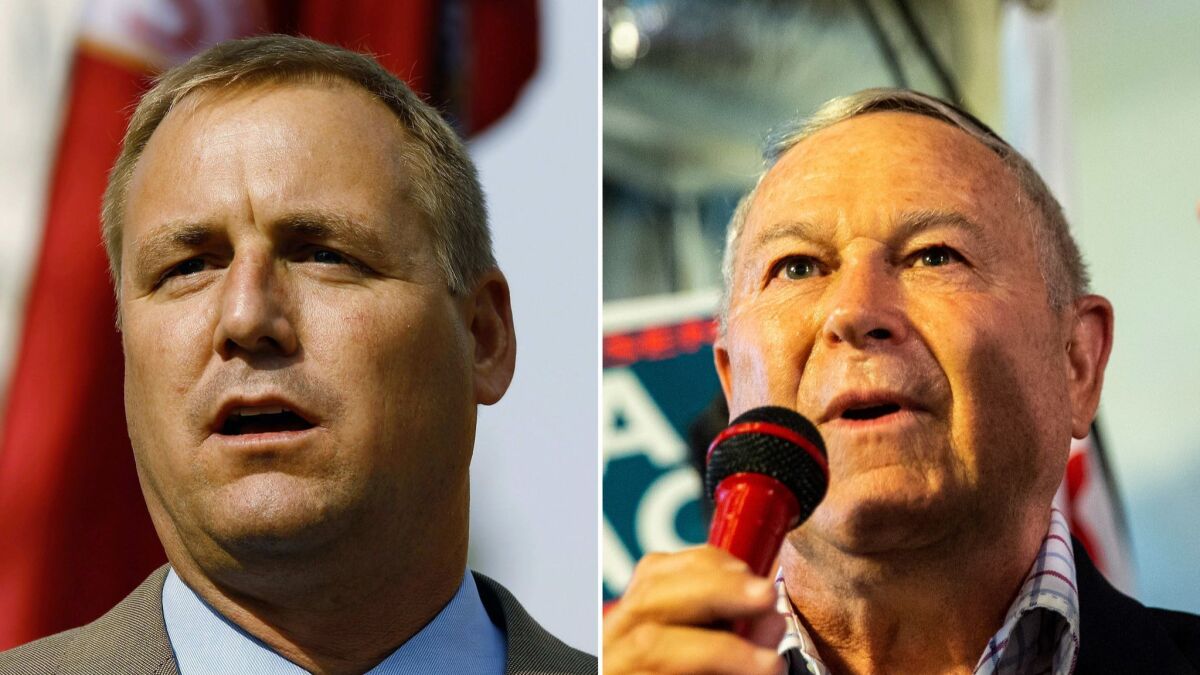 At a recent backyard meet-and-greet, Rep. Dana Rohrabacher pivoted from a campaign pledge that was eliciting silence — "new-generation nuclear energy" — to one sure to rile the Huntington Beach crowd.
"We went surfing down at Brookhurst, and Newport the day before," the Republican congressman said, pointing out his teenage son and daughter. "What a wonderful place to live. We should all be grateful to God that we have this quality of life.
"But the quality of life will not survive if we have open borders and millions of …" Applause drowned out the rest.
More than 300 miles north, in Modesto, another Republican congressman's relationship with California's growing Latino population is more welcoming, even personal. Rep. Jeff Denham often speaks of his father-in-law, a Mexican immigrant who became a citizen. He talks about a young relative who benefited from an Obama-era program that allowed people brought to the United States illegally as children to study and work.
"I am not going to take a back seat on any issue that is critical for my community, especially one that is as personal as this one," he said at a debate last month, pledging to work toward immigration reform.
The contrasting views reflect the long-running tension over immigration in California, which has wrestled with the highly charged issue from practically the moment the state was founded. The debate could help decide two hotly contested congressional races — Rohrabacher's in Orange County and Denham's in the Central Valley — that both parties see as key to control of the House.
DECISION CALIFORNIA: Full coverage of 2018 elections »
One wing of the Republican Party — saying that former Gov. Pete Wilson hobbled the GOP with his policies targeting illegal immigrants — subsequently softened the tone. But the hard-liners never went away and have been thrilled to see President Trump take up the issue with renewed vigor — and a much harsher tone than Wilson ever used in the 1990s.
With the president at full roar, lawmakers such as Rohrabacher and Denham can't avoid the question: Are they with him or not?
Rohrabacher steadfastly stands with Trump. The top of his campaign website is a video of him railing against California's sanctuary law, calling it "an invitation for criminals from all over the world to come here." He talked about a "massive flow of illegal immigrants" changing "our quality of life."
Unlike Denham, he doesn't have to answer to a sizable Latino community — his district is 18% Latino, 56% white — or constituents' fear of a labor shortage. He has suggested that prisoners could pick California's crops instead of foreign-born workers.
Rohrabacher is tapping into a nebulous fear of outsiders — in an area teeming with walled and gated communities — that has been at the heart of politics in coastal Orange County for decades, cementing an almost unbreakable Republican hold of the area.
"I want to see the border locked down and all the illegal aliens, get them out," said Rabin Rajkumar, 54, a medical supply salesman on disability, watching the waves by the Huntington Beach Pier with his dog one afternoon.
Rajkumar, who supports Rohrabacher, said his father immigrated legally from Trinidad and served 10 years in the Army to get his citizenship.
"People should come to our door and knock, apply for a visa," Rajkumar said.
Adam Probolsky, a longtime political consultant based in Newport Beach, said he isn't surprised Rohrabacher is still making the issue central to his campaign when talking to his base, but doubts he'd put out a television commercial with him at the border talking about the wall.
The family separations, he said, have made it riskier for Republicans to openly back Trump's immigration policies.
"In a time machine going back three months, it was a really clear-cut issue and much easier to use," Probolsky said.
Rohrabacher has handily won 15 elections in the 48th Congressional District, stretching from Laguna Niguel up the coast through Newport Beach to Seal Beach, with parts of Fountain Valley and Westminster. But the race this year between him and his well-financed challenger, Democratic real estate investor Harley Rouda, is widely seen as a tossup, in part due to Rohrabacher's affinity for Russia and its strongman president, Vladimir Putin.
The district has significantly more Republicans than Democrats. In 2012, voters backed Mitt Romney over President Obama, 55% to 43%. But like other conservative districts with higher levels of education, voters did not take to Trump, who lost in the region in 2016 to Hillary Clinton by a percentage point.
This fear of a Democratic tipping point hasn't toned down the 71-year-old Costa Mesa congressman even as GOP candidates and incumbents in neighboring districts take more moderate paths. In Fullerton, Young Kim is a South Korean immigrant whose views on immigration are similar to Denham's. To Rohrabacher's south, Diane Harkey is running as a "tax fighter" who says children brought here illegally should be allowed to stay with visas. Rep. Mimi Walters, to the east, is largely doing the same.
Republicans in the Central Valley, however, often have to tread a tricky suburban-rural divide on the issue.
Their base voters want to hear the full-throated "build that wall" rhetoric of Trump. But farmers — like those in Denham's district where agriculture is central to the economy — want to ensure their crops get picked. The problem from a political perspective is that fiery anti-immigration rhetoric could provoke a high Latino and Democratic turnout on election day, sinking the GOP in many places.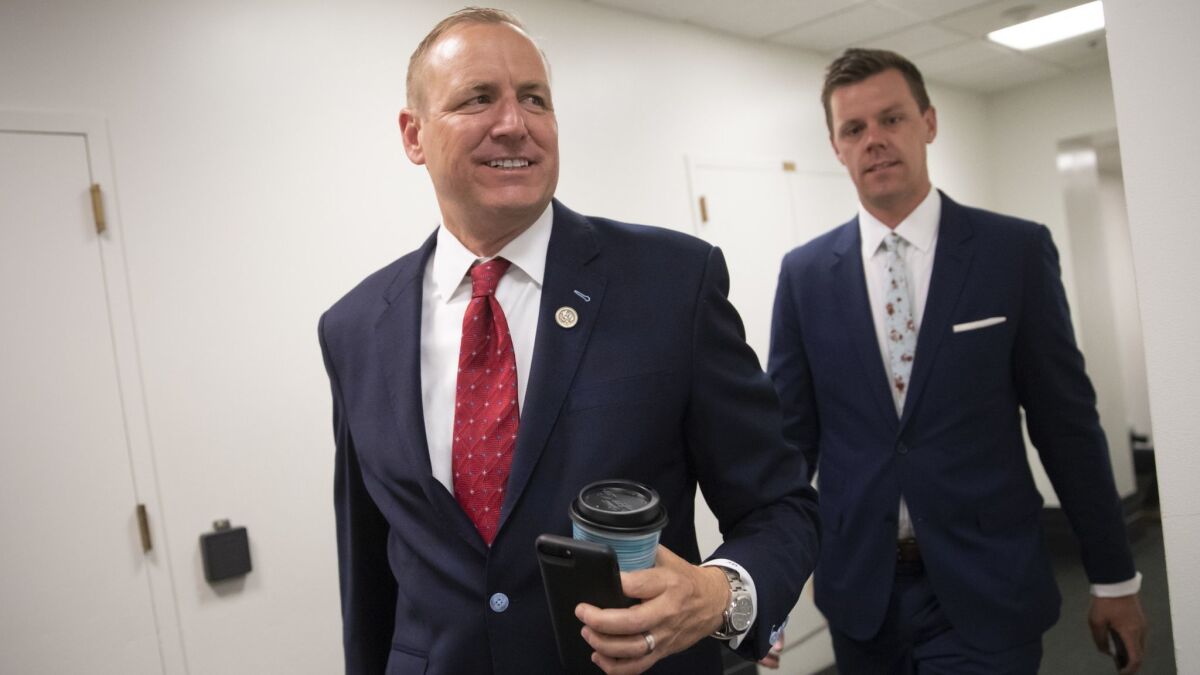 "Farmers believe any crackdown on immigration will cause an immediate and painful problem for their ag businesses to find labor," said Ted Howze, a large-animal veterinarian who ran against Denham in the primary after campaigning for him in the past. "They are in every elected official's ears that this would be a problem."
Immigrant rights activists have already been targeting the events, homes and district offices of Republicans in competitive races across the state. In August, students interrupted a low-key appearance by House Majority Leader Kevin McCarthy in Sacramento, condemning the family separations and shouting "Where's your heart?"
Since 2012, Denham has represented the 10th Congressional District, where his constituents are more than 40% Latino and Democrats outnumber Republicans. He was reelected with a narrow 3-percentage-point advantage over his Democratic opponent in 2016, and his race this year against former venture capitalist Josh Harder is considered a tossup.
Marco Moreno, a former secretary and treasurer for the Latino Community Roundtable of Stanislaus County, says he remembers hearing the personal stories of Denham's Latina wife and her father in the congressman's campaign ads over the years.
The central message of those ads, he said, has been the same: "He is very sensitive to immigration issues since he learned from his own family how difficult it is to deal with immigration agencies to get citizenship. Even before Trump — way before Trump — Denham has stated the same political position on immigration."
In Congress, Denham authored legislation to help immigrants in the military get citizenship and broke with his party's leadership to try to salvage some form of the Obama program for illegal immigrant children. He penned an op-ed in support of the effort.
In July, the 51-year-old congressman criticized the separations of nearly 3,000 families at the border and pressed the government on its reunification process. He was turned away when he knocked on the door to get a tour of a detention facility holding immigrant children in a San Francisco suburb.
Asked on CNN if he got answers, he proclaimed, "Zero!"
But Denham has voted in favor of legislation to fund a border wall, make steep cuts to legal immigration and give federal officials more power to penalize and deport suspected gang members and immigrants with certain criminal convictions who illegally reenter the country. He opposes city and state sanctuary laws.
In a Spanish-language ad released last week, national Democrats accused Denham of acting pro-immigrant to Latinos at home while supporting Trump's anti-immigrant agenda in Washington.
On a September morning at a Starbucks in Denham's hometown of Turlock, Karen Cuaresma, 52, worked on her book about a "changing America."
Cuaresma, a Vermont native who has lived in Turlock since 1998, said she, like Denham, wasn't in favor of the family separations. But she said he needed to take a stricter stance on immigration enforcement.
"I don't think the middle of the road is going to work," she said, looking over her laptop and yellow legal pads of notes. "The Republicans I know are for stricter laws. If he wants their vote, he will have to crack down on immigrants if they are here illegally. It's like any other law, like anyone doing anything illegally."
Several tables away, Rosie Schlenker, a 46-year-old Republican turned independent, said she had voted for Denham three times but doubted she would again. Although she believes in the need to tighten immigration into the country, she said, the Trump administration was going too far and Denham doesn't seem to have a steady position.
Videos of immigrant children being reunited with their parents, including one of an 8-year-old boy who didn't recognize his mother, left her rattled.
"That still bothers me," said Schlenker, a Turlock resident. "The fact that there are still children separated from their families today, and that the children who have been reunited have been traumatized."
Back in Huntington Beach, Arturo Sanchez, 82, also did not like the separations or the harsh rhetoric about undocumented immigrants.
He escaped Castro's Cuba in 1964 by forging a visa to get to Mexico, before legally entering the United States as an exile.
"This is a very complex problem," he said. "People from Mexico need work. That's why they come here — to get a new life."
But like most Cuban exiles of his generation, he is a die-hard Republican and otherwise supports Trump. And for this alone, he plans to vote for Rohrabacher in November.
joe.mozingo@latimes.com | Twitter: @joemozingo
jazmine.ulloa@latimes.com | Twitter: @jazmineulloa
Life is stressful. Our weekly mental wellness newsletter can help.
You may occasionally receive promotional content from the Los Angeles Times.