California escalates fight with Trump administration over clean vehicle rules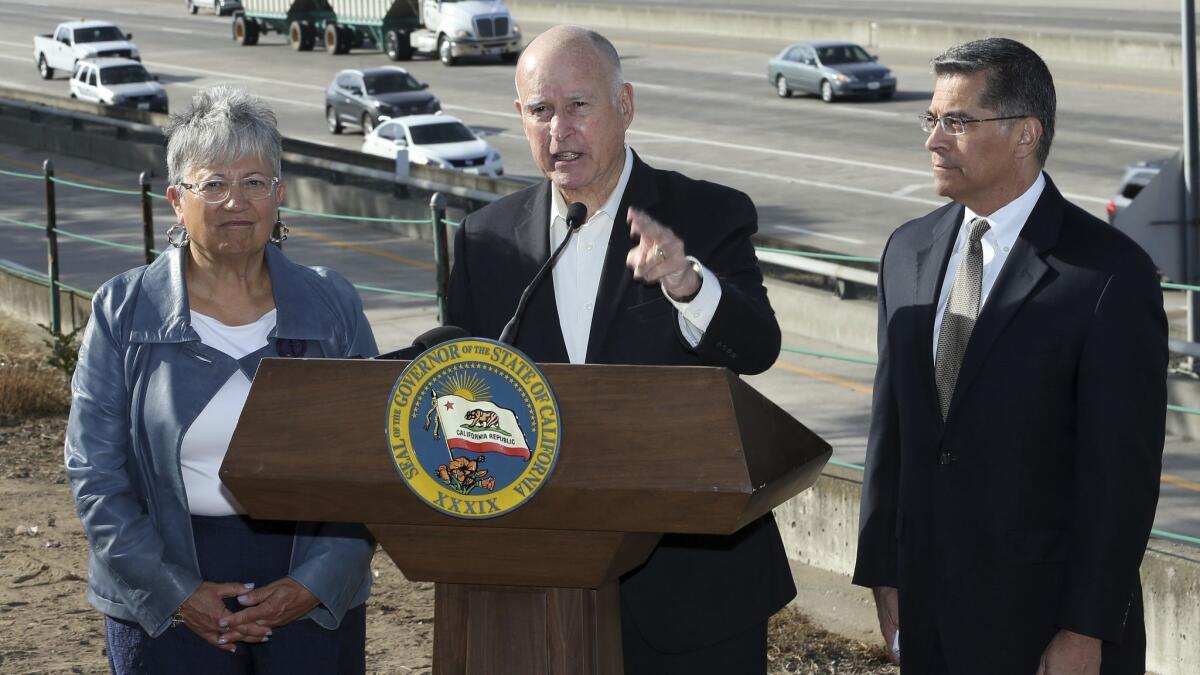 Reporting from Sacramento —
California officials upped the ante Friday in their fight with President Trump over vehicle fuel economy standards, urging the administration to withdraw its proposal to weaken federal rules and eliminate the state's ability to set its own greenhouse gas emission guidelines.
"This is high-stakes poker that's being played by the federal government," said California Atty. Gen. Xavier Beccera, alongside Gov. Jerry Brown and California Air Resources Board Chairwoman Mary Nichols, at a news conference overlooking Interstate 5 in Sacramento. "It's not just the issue of climate change that's in the balance. It's also the health of the American people."
Becerra and 20 other state attorneys general across the country filed formal written comments in a letter Friday to the U.S. Environmental Protection Agency and National Highway Traffic Safety Administration. The letter was in response to the federal government's August proposal to freeze federal vehicle mileage targets and end California's autonomy to implement more stringent rules.
California vows to fight Trump EPA's move to freeze fuel economy rules »
The letter contends that the Trump administration's plan "presents a significant threat to the health and safety of our citizens and our environment," and is illegal under the federal Clean Air Act. Rather than change the proposal, the coalition of states is asking the administration to scrap it entirely.
Current Obama-era federal fuel economy standards call for the nation's cars and trucks to average more than 50 miles per gallon by 2025. California also has authority to require automakers to sell a specified number of electric vehicles, a crucial step in the state's efforts to meet its goals to reduce greenhouse gas emissions by 40% below 1990 levels by 2030.
The Trump administration plan would instead freeze vehicle mileage targets in 2020 for six years at around 37 miles per gallon and revoke California's ability to set its own vehicle emissions standards, which 13 other states now follow.
Environmental Protection Agency officials have conceded the proposal would lead to fewer emissions reductions, but argue that it would not improve vehicle and highway safety. The agency has also said California's decades-long authority to implement emissions rules stronger than those set by the federal government isn't justified because greenhouse gases and climate change don't affect the state differently than anywhere else in the country.
"It is my hope that we can continue to work together and reach one national standard that will get more Americans into newer, cleaner and safer vehicles," Acting EPA Administrator Andrew Wheeler said in a statement responding to California's letter.
But state officials, who had been in discussions with Trump administration officials before the proposal was issued in August, said there was no point in making a counteroffer.
"Since our starting point is that the existing rule should stand, and theirs is to insist on zero progress, there is no room for a counterproposal and we will not be presenting one," Nichols said.
The state's actions Friday reflect a continued hard line against Trump's efforts to weaken the fuel economy rules and do away with California's autonomy under the Clean Air Act.
The administration's proposal, officials contend, goes against the worldwide trend of requiring cleaner-running vehicles to combat climate change. Automakers had asked Trump to relax the Obama-era fuel standards, but also don't want to have a divided market in the United States. Industry lobbying groups have asked both sides to negotiate.
Becerra said he expected automakers ultimately to side with California.
"I think the auto industry is recognizing that their future is not with Donald Trump," he said. "The future is in taking an approach that solves the issue of climate change now."
Brown cast Trump's actions on fuel economy rules as part of a larger effort to attack global action to prevent climate change and nuclear proliferation. He cited Trump's decision to withdraw from the worldwide Paris climate accords and his plans to unravel nuclear arms treaties as well.
"This man is a one-man demolition derby," Brown said of Trump. "He's destroying the Paris agreement. He's destroying the nuclear safeguards agreement. And now he's destroying standards on vehicle emissions. It's crazy. It will not stand."
Coverage of California politics »
Twitter: @dillonliam
Get our Essential Politics newsletter
The latest news, analysis and insights from our politics team.
You may occasionally receive promotional content from the Los Angeles Times.