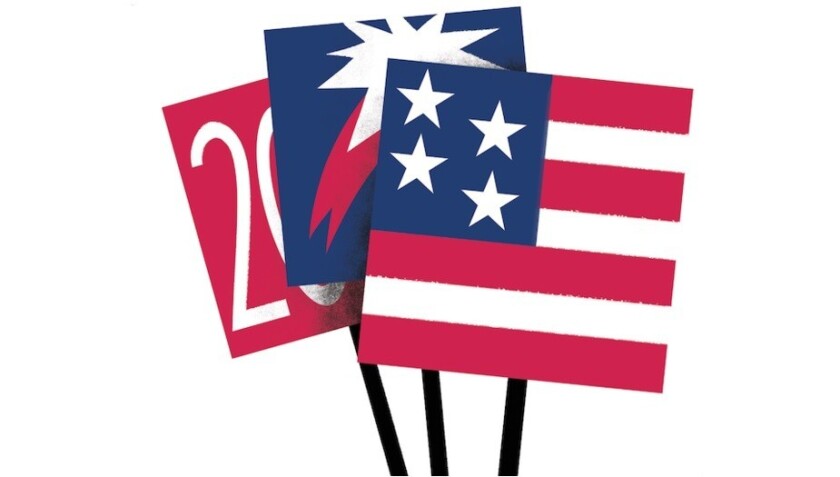 Donald Trump's nearly 7,000-word immigration speech spoke more to the Republican nominee's base than the general election voters he needs to capture to defeat Hillary Clinton on Nov. 8. In what was his most substantive speech on the topic to date, Trump backed away from mass deportations, but kept up with his hard-line proposals on the wall and other matters.
I'm Christina Bellantoni, and this is Essential Politics, following a day when we all burned the candle at both ends.
As Trump captured national attention in primetime, with his top surrogates and vice presidential running mate at his side, California's Legislature wrapped up a momentous two-year session by coming to an agreement on how to spend money from the state's cap-and-trade system and going into the night with several major issues still on the table.
We captured it all on our Essential Politics news feed in real time, and some of the top headlines are below.
A 10-POINT PLAN
Our team captured Trump's chaotic day from start to finish, as he and Mexican President Enrique Peña Nieto contradicted one another -- after the fact -- and as he went over his 10-step plan to be a law-and-order president who wouldn't tolerate immigration rule-breaking.
Kate Linthicum captured Mexico's reaction to Trump's visit from Mexico City.
The address also served as a sharp attack on Clinton, going after her on everything from her willingness to let Syrian refugees into the U.S. to the familiar critique of her lack of "stamina."
The Times annotated the speech and offered live coverage and analysis throughout.
We'll, of course, be tracking what's next. David Lauter will return Friday with his wrap of the week in national politics, and Essential Politics will return Tuesday morning after the Labor Day holiday.
In the meantime, get the latest from the campaign trail on Trail Guide and follow @latimespolitics. Check our daily USC Dornsife/Los Angeles Times tracking poll at the top of the politics page.
DEAL STRUCK ON CAP AND TRADE
It's been two years since lawmakers and Gov. Jerry Brown have been able to strike a deal on how to spend a significant portion of the money generated by the state's cap-and-trade auctions, the centerpiece of California's climate policy. But on Wednesday, a last-minute deal was struck and approved by lawmakers. Melanie Mason and Liam Dillon report on the $900-million spending plan, which includes money for clean car subsidies and urban parks.
LIGHTNING ROUND FROM SACRAMENTO
Sacramento bureau chief John Myers caps off his first session conclusion with The Times in a detailed piece outlining lawmakers' wins and losses over the last two years.
The state Senate on Wednesday sent a bill to the governor that would expand parental leave protection and benefits to 2.7 million residents at small businesses with more than 20 employees. The bill is the latest effort that seeks to address the challenges keeping many working families from taking time off from their jobs to care for newborns and newly adopted children.
Other actions included asking the governor to criminalize possession of the synthetic drug "spice," setting new processing standards for medical marijuana and making denim California's official fabric. (Seriously.)
State lawmakers also OKd up to $250 million in financial guarantees in case the city of Los Angeles goes over budget in its proposal to host the 2024 Summer Olympic Games and Paralympic Games.
Several measures died, from legalizing Internet poker, to a plan to overhaul the Public Utilities Commission, paying workers double for pulling Thanksgiving Day duty to banning ex-parte communications with Coastal Commission members. Dropped from consideration was a bill that would have allowed landlords renting apartments in California to bar their tenants from smoking medical marijuana in their residences.
In the last few hours before the end of session, lawmakers passed a measure to advance the California bullet train project.
The traditional penny toss was outlawed, but legislators managed to pass the time by tweeting a lot.
Finally, might this have been the last end-of-session marathon in Sacramento where bills are written in the dead of night? It might be, depending on what voters do on Nov. 8.
'MY FAVORITE JOB I'VE EVER HAD'
Roger Hernández bid farewell to his job as an assemblyman on Wednesday under the glare of a summer of controversy.
Myers reports that the lawmaker, whose last few months were marked with a domestic violence restraining order and being stripped of his committees, sat quietly at his desk for much of the day. In a brief farewell speech, he thanked his fellow lawmakers for their work.
"I leave this floor with great joy and some sadness because I love this job," Hernández told legislators. "This is my favorite job I've ever had."
For the other 13 Assembly members and six state senators, Wednesday likely marked their last day arguing on the floors of their respective chambers. Sophia Bollag reports that in between voting on bills, lawmakers cried, sang, recited limericks and confessed crushes in their farewell speeches for their colleagues whose terms are up.
WHY THIS DEMOCRAT IS TARGETING REPUBLICANS
Orange County Rep. Loretta Sanchez is reaching out to California voters who may be turned off by having to choose between two Democrats in California's U.S. Senate race.
Phil Willon reports that Sanchez in recent weeks has popped up on a conservative talk radio show in San Diego to tout her record against "Islamic extremists" and also bragged about landing endorsements from two prominent Southern California Republicans. It may be a political strategy of necessity. Her rival, Atty. Gen. Kamala Harris, leads in the polls and has the backing of President Obama and other top Democratic leaders.
Given that Californians have an open Senate seat to fill for the first time in more than two and a half decades, we want you to weigh in. What questions do you have for Harris and Sanchez? Tweet your ideas to @latpoliticsCA and we'll select some of the best ones to include in our candidate questionnaire.
OBAMA RIPS CLIMATE CRITICS
President Obama stopped in at the annual Lake Tahoe environmental summit Wednesday afternoon and used the opportunity to rip into climate change deniers. The president didn't call out any Republicans, or Trump, by name. But he made it clear who he was talking about. Obama was joined by Gov. Brown, California Sens. Barbara Boxer and Dianne Feinstein and Senate Minority Leader Harry Reid of Nevada. All praised government-supported efforts to restore Lake Tahoe's renowned water clarity, but warned that other environmental impacts caused in part by the changing climate still threaten the lake.
(Boxer, by the way, is expected to make a big announcement tomorrow about her post-retirement plans. They involve UC Berkeley.)
TODAY'S ESSENTIALS
-- The former budget director to two California governors was appointed Wednesday by Obama to a special panel to help resolve the fiscal crisis in Puerto Rico.
-- What do you think of Clinton? We want to hear from you.
-- Who will win the November election? Give our Electoral College map a spin.
LOGISTICS
Miss yesterday's newsletter? Here you go. Did someone forward you this? Sign up here to get Essential Politics in your inbox daily. And keep an eye on our politics page throughout the day for the latest and greatest. And are you following us on Twitter at @latimespolitics? Please send thoughts, concerns and news tips to politics@latimes.com.
---