Newsletter: Essential Politics: When a president's physical becomes big news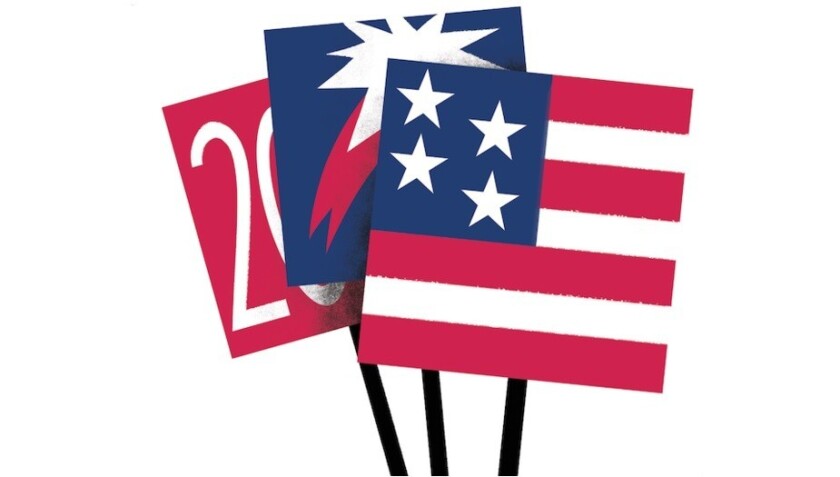 Even in an era when the discourse surrounding the presidency has been remarkable, this sentence in the White House press briefing room stands out.
"There's no indication whatsoever that he has any cognitive issues."
That was the assessment of Rear Adm. Ronny Jackson, the chief White House doctor, in discussing the health of President Trump.
'FIT FOR DUTY'
Jackson fielded questions in a lengthy session with reporters on Tuesday on the well-being of the 71-year old president.
The doctor said Trump is on the borderline of being obese and should lose as many as 15 pounds but still characterized his overall health as excellent. The report showed Trump as standing 6-feet-3 inches and weighing 239 pounds. His medications include aspirin and Crestor, a cholesterol-lowering medication for his heart, as well as Propecia to mitigate hair loss.
And the admiral criticized what he called the current "tabloid psychiatry" about the president's mental state.
"He's very sharp," said Jackson. "He's very articulate when he speaks to me."
By the way, here's the cognitive test administered to Trump. How would you do on it?
'SEETHING' OVER IMMIGRATION COMMENTS
The president's secretary of homeland defense took the full brunt of Democratic anger on Tuesday about Trump's reported comment from last week about "shithole countries."
"The conversation was very impassioned," Homeland Security Secretary Kirstjen Nielsen said in testimony to the Senate Judiciary Committee. "I don't dispute that the president was using tough language. Others in the room were also using tough language."
But her response drew a sharp rebuke from New Jersey Sen. Cory Booker.
"Why is this so important? Why is this so disturbing? " Booker sternly said to Nielsen. "Why am I frankly seething with anger?"
"When the commander in chief speaks or refuses to speak, those words don't dissipate like mist in the air. They fester. They become poison," he said. "They give licenses to bigotry and hate in our country."
Republicans were also fearful that progress on immigration issues was completely wiped out by the Trump comments. "Tuesday we had a president I was proud to golf with and call my friend," said South Carolina Sen. Lindsey Graham, referring to last week's bipartisan immigration meeting that won praise for its openness. "I don't know where that guy went. I want him back."
Meanwhile, the Trump administration on Tuesday released a report attempting to link terrorism with migration, arguing that it was evidence of the need to dramatically reshape the nation's immigration system.
And on the topic of Dreamers, brought to the country illegally by parents and family members, a new slimmed-down bill is being backed by several members of the California delegation. More than 30 California Dreamers are in Washington this week pushing Congress to find a fix to the impasse over the Deferred Action for Childhood Arrivals program, DACA.
DACA FIGHT GOES TO THE SUPREMES
The Justice Department said Tuesday it will ask the Supreme Court to overturn a federal judge's ruling that prevents Trump from ending DACA, which currently offers protections from deportation for about 700,000 people.
But the administration is not asking for the ruling of a San Francisco judge to be put on hold while the Supreme Court considers what to do. The effect will be to allow the DACA program to continue while the litigation proceeds.
NATIONAL POLITICS LIGHTNING ROUND
-- Steve Bannon, the former White House strategist who had an acrimonious falling out with President Trump, went behind closed doors with the House Intelligence Committee on Tuesday, but Republicans and Democrats didn't get the answers they wanted.
-- Trump campaigned as an anti-establishment figure and promised to govern free of the "shackles" of the Republican Party leadership. Yet a year into his presidency, Trump has outsourced his agenda to GOP leaders in Congress.
-- A bill to continue the National Security Agency's surveillance programs for five more years advanced Tuesday in the Senate, overcoming objections that it does not do enough to protect Americans' civil liberties.
-- The administration said Tuesday it had cut in half the size of a scheduled annual payment to the United Nations relief agency that serves millions of Palestinian refugees across the Middle East.
-- An attempt to oust President Trump's hotel business from managing a luxury hotel in Panama has turned bitter, with accusations of financial misconduct.
-- The Consumer Financial Protection Bureau is reconsidering a key rule enacted last year that would have protected consumers against harmful payday lenders.
-- A group of 22 Democratic state attorneys general, including those from California and New York, filed a lawsuit Tuesday seeking to block the Federal Communications Commission's repeal of tough net neutrality rules for online traffic.
-- The number of Americans without health insurance rose 1.3% in Trump's first year as president -- a small increase, but the first since 2009, according to new data from Gallup's widely followed annual survey of insurance coverage.
STRAWS ON REQUEST IN CALIFORNIA?
As it so often happens, a California state legislator decided that alarming data from scientists requires action. This time, it's the fate of the ubiquitous plastic straw.
Amid reports by environmental groups that up to 500 million plastic beverage straws are used every day and end up in waterways or landfills, Assemblyman Ian Calderon (D-Whittier) says it's time to take action. He said on Tuesday that he'll introduce a bill to prohibit California restaurants from providing a plastic straw unless a customer requests one.
"This is a measured approach that helps change behavior," he wrote on Twitter.
TODAY'S ESSENTIALS
-- A Los Angeles County sheriff's deputy has been charged with operating a large-scale drug trafficking operation in which he boasted that he hired other law enforcement officers to provide security to dealers and could assault people for his clients, according to court records.
-- California Atty. Gen. Xavier Becerra and his counterparts in more than a dozen states want Congress to make it easier for banks to work with marijuana companies, saying the cannabis industry's current reliance on cash is a public safety threat.
-- The Golden State's pot sellers want respect: Less "Cheech and Chong" more three-piece suits.
-- The cost of building 119 miles of high-speed rail in the Central Valley has jumped to $10.6 billion, rail agency officials said Tuesday.
-- Los Angeles officials are proposing to use trailers for temporary housing for dozens of the city's homeless on a downtown city-owned parking lot.
-- A provision of the new federal tax law will benefit independent contractors like Uber drivers and others in the sharing economy.
-- Some Democrats in the Legislature are raising questions about Sen. Tony Mendoza's actions during his leave of absence.
-- Gubernatorial candidate John Chiang's Twitter account tweeted then deleted a snarky comment about fellow Democrat and front-runner Gavin Newsom.
-- The Obama Foundation reported 31 new donors who have contributed $1 million or more to the former president's future center in Chicago. Many come from the entertainment industry.
LOGISTICS
Essential Politics is published Monday, Wednesday and Friday.
You can keep up with breaking news on our politics page throughout the day. And are you following us on Twitter at @latimespolitics?
Miss the holiday edition of the newsletter on Tuesday? Here you go.
Please send thoughts, concerns and news tips to politics@latimes.com.
Did someone forward you this? Sign up here to get Essential Politics in your inbox.
Follow me on Twitter at @johnmyers and listen to the weekly California Politics Podcast
---
Get our Essential Politics newsletter
The latest news, analysis and insights from our politics teams from Sacramento to D.C.
You may occasionally receive promotional content from the Los Angeles Times.