Newsletter: 'Dreamers' get new hope as Trump administration forced to allow DACA renewals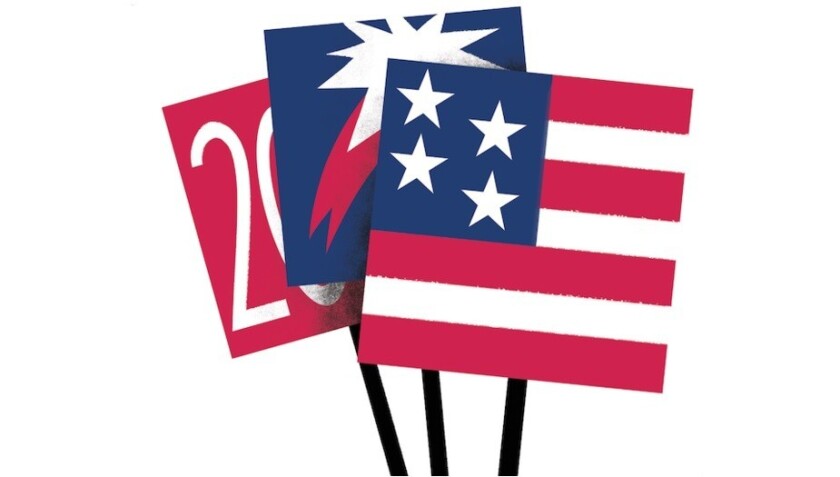 While political debate over the long weekend centered on whether the president is a racist, several major storylines played out and Hawaiians were startled by a false alarm warning of an incoming missile.
The biggest news was the Trump administration saying it would allow the hundreds of thousands of "Dreamers" who came to the country illegally as children to submit renewal applications for the Deferred Action for Childhood Arrivals program. The move, done because of a court order, came as a standoff with Congress intensified over the program's future.
Nearly a week after horrific mudslides hit California's Central Coast and killed at least 20 people, President Trump sent his condolences to those affected in his first public statement on the disaster.
And late last week the Wall Street Journal reported that Trump's personal lawyer brokered a $130,000 payment to a porn actress to stop her from publicly discussing an alleged sexual encounter.
With Congress still working out major issues, the one-year anniversary of Trump's inauguration approaching and his first State of the Union address already drawing protest from Democrats, the weeks ahead are going to set the tone for his second year in office.
THEY WANT TO BE CALIFORNIA'S NEXT GOVERNOR, AND NOW THEY ARE MAKING THEIR CASE
In the first major debate of the 2018 governor's race, front-runner Lt. Gov. Gavin Newsom had a bull's-eye on his back. Newsom took the brunt of the blows from his rivals on the stage at USC in what turned out to be a raucous event filled with sharp political blows and a lively audience. Six of the major candidates took part in the face-off, held at the Empowerment Congress Summit on Saturday morning at the University of Southern California.
Watch a replay.
Newsom also took some heat a day later in Los Angeles during a town hall. A group of Trump-supporting protesters crashed the event, banging on the doors to get inside until police were called in to break it up.
In other news in the race, Antonio Villaraigosa supporters launched an independent expenditure committee, Treasurer John Chiang took down a Newsom attack website as part of a campaign reboot and Newsom called on Trump to resign after reports of the president making a vulgar remark about certain countries.
It's become a drumbeat for Villaraigosa: Newsom is an elitist, he says, over and over. In his latest salvo, the former L.A. mayor called on Newsom to drop a State Lands Commission lawsuit challenging the right of San Francisco voters to set height limits on new buildings along the city's scenic waterfront. As Michael Finnegan explains, the Newsom campaign lashed back.
A NEW TONE FROM FEINSTEIN
Sen. Dianne Feinstein has long relied on a reputation for compromise she developed in city politics, but she has been going after Trump more often since state Senate leader Kevin de León decided to run against her.
Deemed "sneaky" by Trump, Feinstein apologized for not telling the GOP before she released Russia testimony.
SOAP OPERA ACTOR ALSO DID PROVOCATIVE FILMS
Congressional candidate and prominent Trump supporter Antonio Sabato Jr. is best known for his roles as a soap opera hunk. But some conservatives in his Ventura County district are more concerned about some of the more risqué chapters in his acting career. Seema Mehta has the details.
RETIREMENTS SEND A SIGNAL IN CALIFORNIA
Rep. Darrell Issa (R-Vista) will not run for a 10th term representing the 49th Congressional District. He's the second California Republican to say he won't seek reelection, following fellow Orange County Rep. Ed Royce of Fullerton, who announced last week as well.
But the wording of the Issa announcement prompted speculation that he might consider running for a colleague's seat, namely the nearby 50th District, which is represented by Rep. Duncan Hunter (R-Alpine). Hunter is under investigation by the FBI for misusing campaign funds, but he has made clear he plans to run for reelection.
Several Republicans already have said they'll run for Issa's seat, including Board of Equalization chair Diane Harkey, GOP Assemblyman Rocky Chavez and Josh Schoonover, who initially wanted to challenge Hunter but switched districts.
Royce's announcement prompted an O.C. edition of musical chairs. With a flurry of GOP entrants into that race, Jay Chen became the latest Democrat hoping to replace Royce.
The two surprise retirement announcements prompted Reps. Dana Rohrabacher and Ken Calvert, both Republicans, to say they are definitely running for re-election.
Four Democrats running against Rohrabacher debated each other in Huntington Beach over the weekend, and there was plenty of apprehension from the audience about winnowing down the field of candidates.
A reminder we'll keep track of the intrigue in the moment via our Essential Politics news feed on California politics.
LOTS OF CASH TO TOP OFF CALIFORNIA'S RAINY-DAY FUND
If there's a title that could be given to Gov. Jerry Brown's new state budget, it might be this: Don't spend all the extra cash.
The $190.3-billion spending plan he sent to the Legislature last week would completely fill the state's "rainy day" cash reserve fund. We've got a quick overview of what else it would do.
BIDEN TAKES ON TRUMP
Before the "shithole" dustup, former Vice President Joe Biden had a stern warning for Trump.
Speaking to Times columnist Patt Morrison at our Ideas Exchange event last week, Biden said the president doesn't seem to understand his words have enormous impact and are, frankly, "dangerous," especially when it comes to foreign policy.
"Grow up," Biden said.
Evoking the civil rights movement, he also suggested millennials have no idea what it means to live through difficult times.
Christine Mai-Duc has the top "Bidenisms" from the evening, and Colleen Shalby asked the former vice president for his message to Californians in Trump's America.
WILL TRUMP TALK IN THE RUSSIA INVESTIGATION?
Despite assurances from Trump's lawyers that the Russia investigation would be wrapping up soon, there's no sign that special counsel Robert S. Mueller III is ready to wind things down. The president is also backing down from his previous promises to speak with Mueller, telling reporters last week "it seems unlikely that you'd even have an interview" because there's been "no collusion."
What would it be like if Trump sat down with Mueller for an interview? Chris Megerian spoke with lawyers who have questioned the president during depositions through the years. They said he could be charming and focused but also arrogant and dishonest, with a reluctance to prepare — all characteristics that could prove challenging in an interview unlike any other Trump has faced before.
More developments could be on the horizon in the congressional probes of Russian interference with the 2016 presidential campaign. Stephen K. Bannon, the former White House strategist, is scheduled to testify behind closed doors to the House Intelligence Committee Tuesday, just two weeks after his relationship with the president frayed over his comments to Michael Wolff about a "treasonous" meeting with Russians at Trump Tower. Hope Hicks, the White House communications director, and Corey Lewandowski, Trump's former campaign manager, also are expected to testify in the near future.
Meanwhile, the partisan rift on the House Intelligence Committee continues to widen. Rep. Adam Schiff, a Burbank Democrat and the top member of his party on the panel, told reporters that Republicans are preventing a more thorough investigation.
NATIONAL POLITICS LIGHTNING ROUND
-- Martin Luther King III called out Trump on the immigration slur: 'We got to find a way to work on this man's heart."
-- Trump's "shithole" remark was the latest in a long string of racial provocations since he launched his campaign for president in 2015.
-- Trump is transforming the GOP against legal immigration. Will Congress follow?
-- Former Arizona Sheriff Joe Arpaio is back. So too are Latino voters who helped oust him.
-- Chelsea Manning is running for U.S. Senate in Maryland.
Get the latest about what's happening in the nation's capital on Essential Washington.
NO EXPANSION OF RENT CONTROL
Legislation that could have led to the expansion of rent control across the state died in an Assembly committee last week after hours of public testimony from landlords and tenants.
Democrats on the committee who didn't vote for the bill said they were worried that more rent control could lead to less home construction, Liam Dillon reports. But that's not the end of the story. Tenant activists are working on a November ballot measure that would do the same thing as the failed legislation.
THE EFFORT TO HELP CALIFORNIANS DODGE THE FEDERAL TAX PLAN FACES QUESTIONS
New legislation from De León to help Californians avoid the effects of the federal tax overhaul will primarily help a subset of higher-earning residents.
Those Californians are the ones who paid more than $10,000 in state and local taxes, and De León wants to let them donate to a new state-run nonprofit to reduce their tax payments. But he hasn't figured out how generous he wants to make the state tax credit.
SKELTON ON BROWN'S STATE BUDGET
Brown's plan to create a statewide community college that offers only online courses seems headed for a bruising legislative brawl, George Skelton wrote in his Monday column.
Brown wants to provide an affordable, easily accessible way for working adults to improve their job skills and financial futures by going online at home to take classes. The concept is generally applauded, Skelton writes, but the way the governor wants to run the online system worries some educators.
But Brown's goal with the final budget he sent the Legislature is to leave state government in sound financial shape for his successor — and to protect his rear, Skelton wrote Thursday. He isn't embarking on any major new projects, and instead he's polishing up existing ones, in some cases endeavoring to assure they're sustainable, Skelton writes.
"I don't want to get caught in the jaws of the persistent fiscal instability of the state of California," Brown once told reporters. "One thing we know is when governors leave town with big deficits, they're more scorned than praised."
BROWN AND PROP. 13: NOT ON THE AGENDA FOR 2018
No California law enacted by voters has ever had as much of an effect as Proposition 13, the 1978 tax-cutting initiative. But is it overdue for a tuneup?
If so, it's not going to be done by Brown. In his Sunday column, John Myers writes how the governor laid out the unintended consequences of Proposition 13 last week. But Brown also made it clear that he's not prepared to take a look at the law that was written during his first term in office four decades ago.
TODAY'S ESSENTIALS
-- Atty. Gen. Xavier Becerra told Fox News that Trump has been racist "in every respect."
-- In a phone call, Brown told Interior Secretary Ryan Zinke that California should be exempt from the Trump administration's plans to expand offshore drilling.
-- Is the legal threshold for sexual harassment cases too high? California lawmakers explored the standard and pondered if it should be changed.
LOGISTICS
Essential Politics is published Monday, Wednesday and Friday.
You can keep up with breaking news on our politics page throughout the day for the latest and greatest. And are you following us on Twitter at @latimespolitics?
Miss Friday's newsletter? Here you go.
Please send thoughts, concerns and news tips to politics@latimes.com.
Did someone forward you this? Sign up here to get Essential Politics in your inbox.
---
Get our Essential Politics newsletter
The latest news, analysis and insights from our politics teams from Sacramento to D.C.
You may occasionally receive promotional content from the Los Angeles Times.