Nancy Pelosi says she hasn't experienced sexual harassment in Washington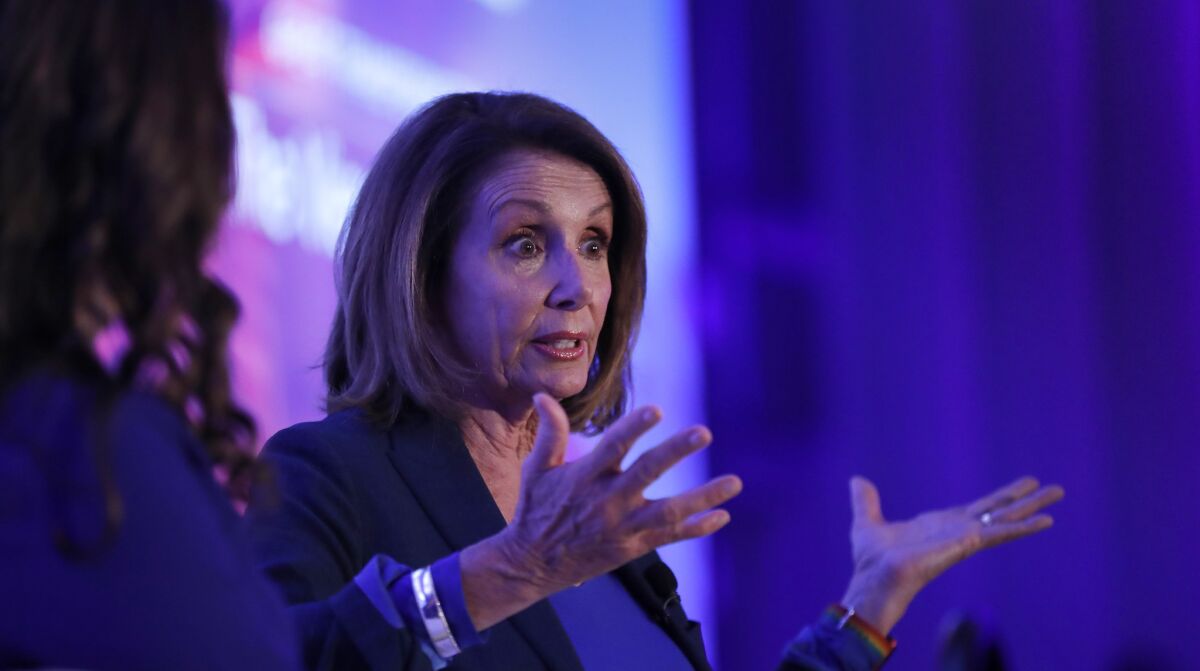 House Minority Leader Nancy Pelosi, who has served for three decades on Capitol Hill, said she had not seen or experienced the kind of behavior that sparked the vast #MeToo campaign for victims of sexual harassment and assault.
The San Francisco Democrat made the comments during a wide-ranging interview at a Los Angeles Times and Berggruen Institute event in downtown Los Angeles Wednesday.
More than 140 women in California's Capitol — including legislators, Capitol staff, political consultants, lobbyists and the congresswoman's own daughter Christine Pelosi — signed a letter on Tuesday calling out a "pervasive" culture of sexual harassment and mistreatment there.
"I don't have that experience in Washington, D.C. I just don't," Pelosi said when asked if the nation's Capitol had the same problem. "I have not seen that."
She said that there should be "zero tolerance" when it comes to disrespect for women and thanked those who have shared their stories.
"Your courage gives comfort to other women," she said.
The discussion also touched on Pelosi's future in the party's leadership, the division within the Democratic Party and the Democratic showdown between state Senate leader Kevin de León and veteran U.S. Sen. Dianne Feinstein.
Pelosi, who beat back a challenge by Ohio Rep. Tim Ryan to win another term as minority leader last December, is looking to lead her party out of the wilderness in the 2018 midterm elections.
Meanwhile, the party's more liberal base is growing increasingly bold and testing its strength. Progressive activism fueled a nearly successful effort by progressive Kimberly Ellis to lead the state party, as well as the acrimonious push for a single-payer healthcare bill in Sacramento this year.
On Wednesday, Pelosi pushed back on the idea that the party is not united.
"It has its diversity, and that is what its beauty is, but these are not big differences within the party," she said.
Pelosi tried to stay out of the emerging fight between De León and Feinstein, but did tell the crowd she thinks Feinstein's seniority in Washington is a valuable asset.
"People running against each other for office, that is a democracy," she said.
"I do think that it is important to note how powerful Dianne Feinstein is in Washington, D.C., and how important that is to the state of California…. Another case can be made as to whether that is valuable or not, and that is what the discussion is about."
Pelosi says she's "very confident" her party will win back a majority of the seats in Congress during the midterm elections, citing the new wave of activism in the party created by President Trump's election.
Democrats have ambitious plans to take back the House that depend in large part on defeating Republicans in California districts that former presidential candidate Hillary Clinton won last year.
The Democratic Party's strategy has involved tarring the Republican House members who voted to repeal President Obama's signature healthcare legislation.
With the Senate potentially moving toward a bipartisan deal to fix parts of the law, Pelosi said she's not worried the deal could blunt the party's campaign against vulnerable Republicans like Rep. Darrell Issa of Vista.
"We don't have to hold the healthcare of the American people hostage to point out why [Darrell Issa] shouldn't be in Congress," Pelosi said.
Watch the full conversation »Pelosi, who previously said she had considered retiring if Clinton had won the 2016 presidential election, seems to be reinvigorated by her role as a foil to Trump. But she is navigating a changing political landscape at home, too.
Last month, more than four dozen immigration activists upset with Democrats for negotiating with Trump drowned out Pelosi at a San Francisco news conference, shouting, "We are not your bargaining chip."
Whittier Rep. Linda Sanchez, a new addition to House Democrats' leadership team, recently said Pelosi and other longtime leaders need to make way for a new generation.
Pelosi said Wednesday that new leaders are emerging in California's Democratic delegation, name-dropping East Bay Rep. Eric Swalwell and Los Angeles Rep. Adam Schiff.
Asked about Sanchez's comments, she said while she does not have "100% of the people" in her caucus in her "fan club" she does have an "overwhelming majority" of support among Democrats.
"I don't want to be dismissive of this, but I'm not worried about it," she said.
The Times also asked for Pelosi's insight for women starting out in politics. She said she has run into plenty of naysayers over the years, but hasn't let other people's doubt stop her. Her advice for those at the beginning of their career is simple.
"Know your purpose," she said in an interview Wednesday night before the Summit event. "Whether it's education, the environment, equal rights, women's health — whatever it is. Master your subject. Have a plan on how you will implement your ideas and you will attract support."
When she decided to run for a leadership position in Congress, Pelosi said a man questioned her move.
"As if a woman had to be told she could run," she recalled. "We just laughed and said 'poor babies.'"
Pelosi also made headlines Friday in an appearance on ABC's "The View," saying she needs to keep her leadership position so there is a "top" woman at the table when decisions are made. She noted she was interrupted by Cabinet officials during her consequential White House dinner with Trump and Senate Minority Leader Charles E. Schumer (D-N.Y.).
"I was the only woman at the table, and that's why I have to stay there, to be one of the top women, top people, at the table," she said.
Watch the full conversation at latimes.com/PelosiEvent.
javier.panzar@latimes.com | Twitter: @jpanzar
colleen.shalby@latimes.com | Twitter: @cshalby
ALSO:
Pelosi, in Los Angeles visit, calls on Congress to pass Dream Act
It's time for Nancy Pelosi and other longtime Democratic leaders to leave, California Rep. Linda Sanchez says
Get our Essential Politics newsletter
The latest news, analysis and insights from our politics team.
You may occasionally receive promotional content from the Los Angeles Times.