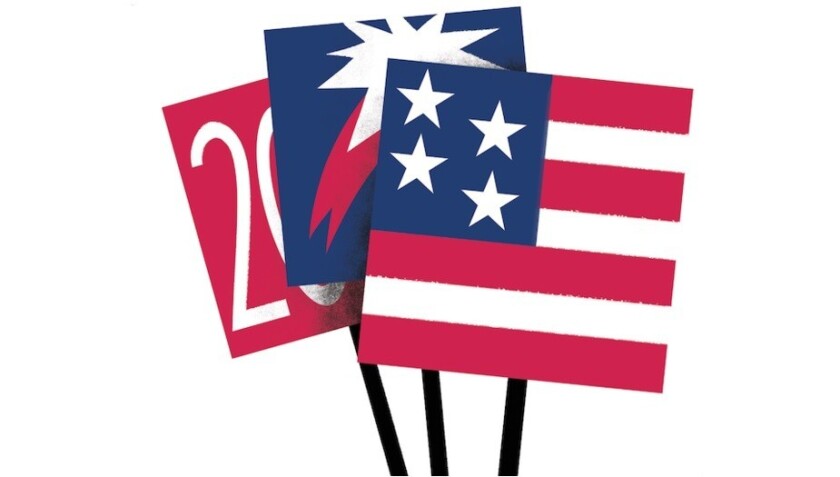 For a Democratic politician who's bristled in years past that he didn't do enough to help low-income families, Gov. Jerry Brown is now on a streak of signing bills that he says will help "ordinary Californians."
Good morning from the the state capital. I'm Sacramento Bureau Chief John Myers, and in one week Brown has boosted both the statewide minimum wage and the subsidized pay for workers who temporarily leave their jobs to help their families.
"We're living in a world that, we all know, is growing in inequality," he said at a state Capitol news conference on Monday.
EXPANDING PAID FAMILY LEAVE
Brown's comments came as he signed into a law an expansion of California's long-standing paid family leave program. As Patrick McGreevy writes, the law will increase the size of the subsidy workers get when they temporarily leave their jobs to care for a new child or ailing family member.
Like his decision last week to embrace a minimum wage boost, there's a delay to the law kicking in: The expanded paid family leave begins in 2018.
"California's probably doing more, in the aggregate, than any other state," Brown said at the bill signing.
'LAME' IDEAS OF TED CRUZ, SAYS BROWN
As a longtime statehouse reporter, I decided I just couldn't pass up the chance to see if the governor would also weigh in on the presidential race, especially as issues of income inequality are squarely in the spotlight of the battle between Hillary Clinton and Sen. Bernie Sanders.
Brown smartly sidestepped that one, making it clear that he's relishing his status as a party elder Democratic superdelegate.
"I'm not in any hurry," he said.
And then there was Sen. Ted Cruz, whose home state of Texas is often matched up in national debates against California when it comes to jobs, regulation and the role of government.
Gov. Brown hardly missed a beat.
"I've not given a lot of thought to Sen. Cruz," said Brown as he slowly wound his way to the priceless quote. "But I marvel at the fact that he got out of Harvard and has so many lame ideas."
The Democratic-leaning crowd, on hand to see the bill signing, thundered its applause.
T.C. IN THE O.C.
Cruz, of course, was in California campaigning at the same time Brown threw that punch. The senator turned his attention to the Golden State and its chance to boost his effort at wresting the GOP nomination away from Donald Trump.
"For the first time in decades, the people of California will be in a position to decide the Republican nomination for president," he told Seema Mehta.
Cruz also picked up two new California GOP endorsements on Monday: state Board of Equalization member Diane Harkey and Assemblyman Travis Allen (R-Huntington Beach).
BIG APPLE: T-MINUS 7
Meantime, the all-important New York primary is now one week away. Donald Trump tried to up his hometown cred on Monday by donating $100,000 to the National September 11 Memorial & Museum. As David Ng reports, Trump also used it as an opportunity to take another swipe at Cruz's "New York values" comment earlier in the campaign season.
Keep an eye on our Trail Guide coverage and follow @latimespolitics for the latest in the presidential race.
And a reminder that we've got a nifty tool to allow you to track the delegate race in real time.
SHOULD DETAILS OF OFFICER MISCONDUCT BE MADE PUBLIC?
This morning, one of the Legislature's most sweeping bills for 2016 on policing will get its first review by lawmakers at a committee hearing.
State Sen. Mark Leno (D-San Francisco) wants to loosen California's laws blocking public access to details about police misconduct as a way to boost community trust. His effort already has received intense push-back from law enforcement and even some of his Democratic colleagues, both angling to add new restrictions to the release of officer information.
Liam Dillon found that in many other statehouses across the country, the trend has been to add measures to protect officer privacy.
For the latest on the bill and other happenings in Sacramento and around the state, check out our Essential Politics news feed.
BREAK'S OVER ON CAPITOL HILL
Members of the U.S. House return to the Capitol today for the first votes since late March. Sarah Wire looked at how the California delegation spent the time away from Washington, from Harry Potter World to visits to the dog park, and a little work in between.
MONEY RACE CONTINUES ON THE CENTRAL COAST
The race to replace retiring Rep. Lois Capps (D-Santa Barbara) continues to draw the attention of donors. Democratic Santa Barbara County Supervisor Salud Carbajal, who has been backed by Capps, announced a large fundraising haul Monday: $313,000 raised in the first quarter of 2016. The campaign says it has so far raised $1.75 million since the race started last year and is sitting on more than $1 million in cash on hand, Javier Panzar reports.
There are nine candidates in the race, and Carbajal has started flexing his money muscles to make sure he gets out of the top two June primary: His campaign rolled out the first TV ads in the race Friday.
TODAY'S ESSENTIALS
— U.S. Department of Housing and Urban Development Secretary Julian Castro will address nearly 350 Sacramento regional business, civic, and elected officials Tuesday at a Capitol Hill lunch hosted by Rep. Doris Matsui (D-Sacramento). The group is in Washington for the Sacramento Metro Chamber's annual Capitol-to-Capitol program.
— After a lawsuit involving Grindr, some residents and politicians in the mecca of gay culture and the home of the Sunset Strip counterculture are wondering if West Hollywood City Hall's famously cheeky attitude about sex needs to be checked a little.
LOGISTICS
Miss yesterday's newsletter? Here you go. Did someone forward you this? Sign up here to get Essential Politics in your inbox daily. And keep an eye on our politics page throughout the day for the latest and greatest. And are you following us on Twitter at @latimespolitics and @LATpoliticsCA?
Follow @johnmyers on Twitter and listen to the weekly California Politics Podcast.
Please send thoughts, concerns and news tips to politics@latimes.com.
---