Trump signs immigration order sharply different from what he said he planned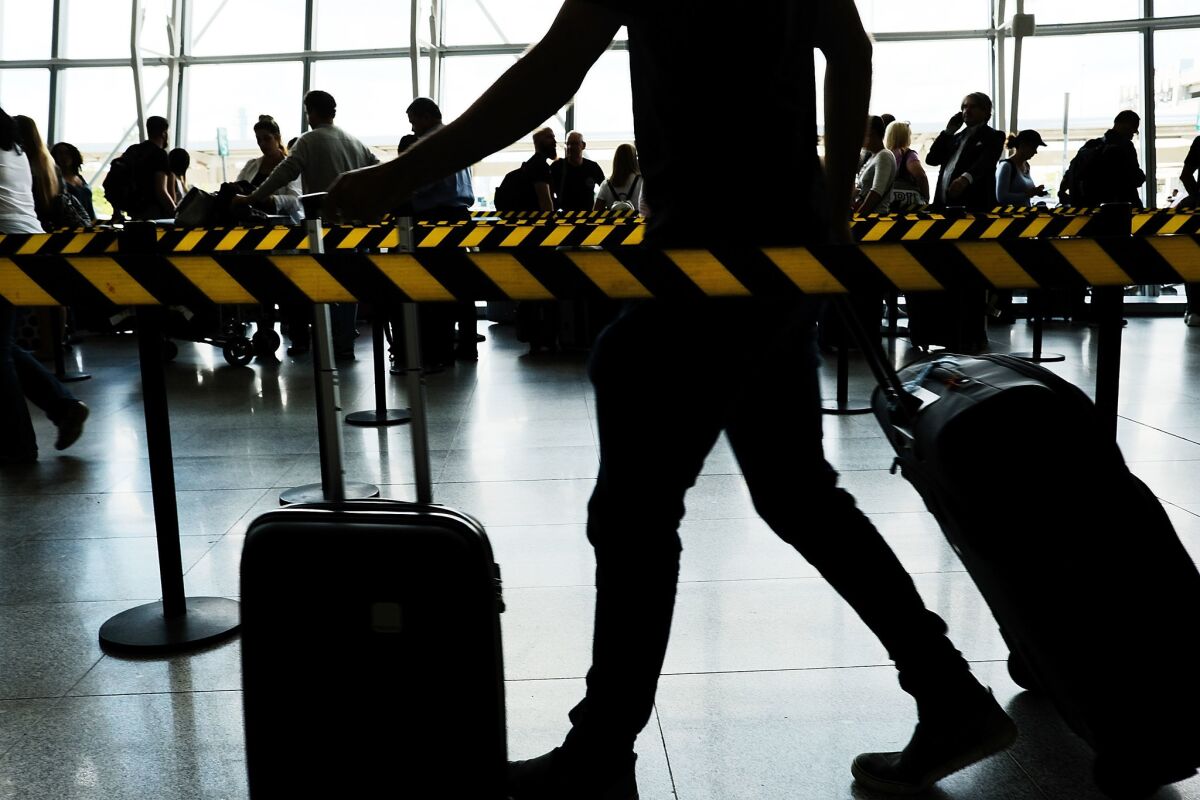 WASHINGTON —
President Trump on Wednesday signed a proclamation on immigration that will restrict some people from entering the country over the next 60 days, but does not shut off applications for permanent residence as he had publicly declared just one day earlier.
The order, which Trump signed Wednesday afternoon, will block some new entrants who do not already have visas or other travel documents. But it includes broad exemptions for several categories of foreign workers and employers, from investors to healthcare professionals, as well as their spouses and children.
Also exempt are any children or spouses of U.S. citizens; any children or spouses of U.S. military; most temporary visitors and potential refugees and asylum seekers.
The order does not change the status of immigrants already in the U.S.
The proclamation caps two days of confusion over immigration policy that began with a tweet from Trump on Monday night saying that he planned to sign an order to "temporarily suspend immigration into the United States!"
That blindsided officials at the Department of Homeland Security, which oversees immigration, as well as others in the administration.
Amid worries about shortages of hospital space, doctors and equipment, Mexico braces for a major surge in coronavirus deaths.
On Tuesday, at his daily White House briefing, Trump offered a different version than the sealing-off of the United States that his tweet had suggested, saying that his proposed action, which he inaccurately described as an executive order, would "apply to individuals seeking a permanent residency. In other words, those receiving green cards."
On Wednesday, Trump announced that the new order had been signed, but did not detail its contents.
"I just signed an order temporarily suspending immigration into the United States," Trump said. "Americans of all backgrounds will be first in line for jobs as our economy reopens, and crucially it also also preserves healthcare resources for our patients."
The order takes effect at midnight Thursday and will be reviewed after 30 days, according to the text of the proclamation.
"Amending it or extending it, that we can do at the appropriate time," Trump added, "but it's now signed."
The proclamation justifies the new restrictions by saying that immigrant workers can't be limited to only particular economic sectors with labor needs. Thus, "there is no way to protect already disadvantaged and unemployed Americans from the threat of competition for scarce jobs," it declares.
Eugene's Gulf Coast Cuisine in Houston begins serving customers again on May 1. Houston restaurants were allowed to reopen at 25% capacity.
(Brett Coomer / Houston Chronicle)
Protesters trying to enter the Michigan House of Representative chamber face off with Michigan State Police officers at the Capitol in Lansing.
(Jeff Kowalsky / AFP/Getty Images )
Armed protesters on the steps of the Michigan State Capitol in Lansing.
(Jeff Kowalsky / AFP/Getty Images )
Demonstrators at the Michigan Capitol in Lansing.
(Jeff Kowalsky / AFP/Getty Images)
Denise Gavitt, left, and Lauren Matheson attend to clients at Gavitt's Beehive Salon in Edmond, Okla., the first day hair salons have been allowed to reopen.
(Sue Ogrocki / Associated Press)
Waitress Fatima Hernandez, center, talks with Lulu Salcido, right, and Hamid Farzam at El Tiempo Cantina Friday, May 1, 2020, in Houston. The restaurant reopened their dining room for table service, with limited capacity.
(David J. Phillip / Associated Press)
Dan Krisman, left, and Mark Bartlett eat lunch on the patio of Roasters in Atlanta. Roasters is open for dine-in service with social distancing.
(Getty Images)
Wickenburg, Ariz., police officers inform Debra Thompson, owner of the Horseshoe Cafe, that she is violating the state's stay-at-home order by allowing guests to dine in on May 1.
(Christian Petersen / Getty Images)
A restaurant in Franklin, Tenn., reopens on Monday.
(Jason Kempin / Getty Images)
People demonstrate against stay-at-home orders in Denver on Sunday.
(Jason Connolly / AFP-Getty Images)
Natascha Updegrove, a stylist at Three-13 Salon, Spa and Boutique, cuts Karon Gilmore's hair on the first day that Georgia reopened salons, spas, gyms and bowling alleys.
(Jenny Jarvie / Los Angeles Times)
An employee wearing gloves and a mask greets patrons at a restaurant in Franklin, Tenn., on Monday.
(Jason Kempin / Getty Images)
Zenas Stalworth works out at a gym in Lilburn, Ga., on Friday. He was one of just two people in the gym.
(Tami Chappell / AFP-Getty Images )
Bartender Jake Glazier serves customers at a roadside bar in Atlanta.
(Chandan Khanna / AFP-Getty Images)
Carter Vu is back in business at his Atlanta salon.
(Michael Mathes / AFP-Getty Images )
Protesters in Madison, Wis.
(Kamil Krzaczynski / AFP-Getty Images)
Surin Nguyen works on the nails of a customer at a reopened salon in Atlanta.
(Tami Chappell / AFP-Getty Images)
A salon in Marietta, Ga.
(Ron Harris / Associated Press)
Reopening day at a Marietta, Ga., salon.
(Ron Harris / Associated Press)
In Wisconsin, protesters opposed to the coronavirus shutdown demonstrate outside the Capitol in Madison.
(Kamil Krzaczynski / AFP-Getty Images )
A flight from Atlanta to Baltimore.
(Rob Carr / Getty Images)
"Existing immigrant visa processing protections," the proclamation said, "are inadequate for recovery from the COVID-19 outbreak."
It's unclear how much Trump's new order will change, at least in the short term. With the virus seeping across the world, immigration to the United States, one of the countries hardest hit by the pandemic, has ground to a near halt. The State Department, which processes applications outside of the country, as well as U.S. Citizenship and Immigration Services, which processes applications inside the country, have both largely suspended their services.
And as Trump pointed out in a tweet on Wednesday morning, "even without this order," administration officials have already closed U.S. borders to most entries.
In normal times, restrictions such as the ones Trump imposed would affect a large number of people — perhaps more than 350,000 if the ban remained in place for a full year, some analysts said. More than 1 million foreign nationals obtained lawful permanent residence last fiscal year. Of those, about 55% were already in the United States and about 45% entered as new arrivals, according to the Homeland Security Department's latest statistics.
A senior White House official acknowledged that because of the sharp reduction in travel and immigration already prompted by the coronavirus, it's impossible to know for certain how many people Trump's latest action would affect. But the official said that in a normal year, about 400,000 people would probably be barred by the changes if they lasted 12 months.
Trump grappling with how to rein in Iran's latest provocations.
The official said White House aides began discussing a potential action on immigration nearly two weeks ago and that Homeland Security officials submitted a draft to the White House last Thursday. The president had been briefed on the contents, the official said.
Although Trump has repeatedly criticized reporters for quoting anonymous administration officials, the White House aide spoke on condition of anonymity.
Trump senior advisor Stephen Miller, who helped draft the order, was asked about the inconsistency between Trump's earlier statements and the text of the order. He accused The Times of having "decided to take the dictionary and shred it for your personal and political reasons."
Research shows that immigrants typically don't compete with U.S.-born workers for jobs, or lower their wages. Most employment-based immigration to the U.S., including green cards, already requires a labor market test, said Sarah Pierce, a lawyer and policy analyst at the nonpartisan Migration Policy Institute, in order to "guarantee that there's no available U.S. national to take that position."
"It is very well established over a long period of time that immigration is integral to sustained economic progress," Pierce said.
Democratic lawmakers have accused Trump of using the pandemic as a front for a "power grab" to achieve his long-stated aim of dramatically reducing even legal immigration to the United States.
In a statement Wednesday night, House Judiciary Chairman Jerrold Nadler (D-N.Y.) and the chair of the immigration subcommittee, Rep. Zoe Lofgren (D-San Jose), said Trump's proclamation was "an illegal and shocking usurpation of power. Under our Constitution, Congress writes the laws, and the president must enforce them as written."
When the president feels a need to demonstrate action and rally support from his political base, he has frequently turned to immigration, a main staple of his 2016 campaign and his reelection bid in 2020. He has expressed frustration with polls showing the majority of Americans think he has done a bad job in handling the coronavirus outbreak.
The latest maps and charts on the spread of COVID-19 in California.
The lack of clarity, inter-agency coordination and comprehensive prior legal review that accompanied Wednesday's order is symptomatic of how Trump's White House has rolled out a number of policies.
As late as Wednesday afternoon, officials at U.S. Citizenship and Immigration Services still did not know what the president intended for the order, who it applied to, or how the agency would apply it.
The confusion surrounding the latest order targeting potential permanent residents may figure in the likely legal challenges to the measure.
U.S. law gives the president broad authority to restrict entries into the country under emergencies. In 2018, the Supreme Court upheld Trump's authority to impose a travel ban on a group of countries, most of which have Muslim majorities, that the administration said posed a terrorism risk.
The administration invoked similar authority in Wednesday's proclamation.
Hiroshi Motomura, an immigration law professor at UCLA School of Law, predicted that the administration would likely defend the current order using the same authority it cited for the travel ban to bar entry to the country in the name of security. Trump's public comments about jobs could weaken that case, he said.
"When the president is on the record as not mentioning national security in any traditional sense and not even really mentioning public health, but mentioning jobs," Motomura said, "that goes beyond what Congress intended."
Get our Essential Politics newsletter
The latest news, analysis and insights from our politics team.
You may occasionally receive promotional content from the Los Angeles Times.