Live
Trump and 'Morning Joe' trade insults on Twitter
Here's our look at the Trump administration and the rest of Washington
Meet some of the governors leading the charge against the Senate healthcare plan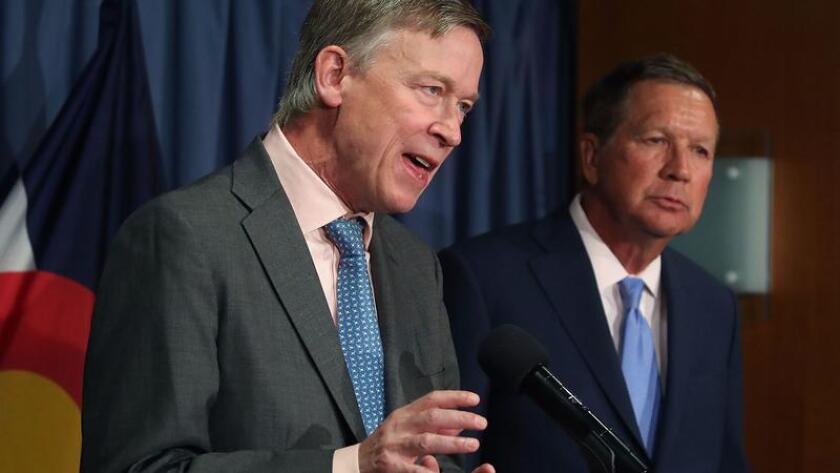 In today's political climate, it's rare to find bipartisanship. But as President Trump calls on Senate Republicans to pass a bill in the coming weeks that would overhaul the Affordable Care Act, governors from both sides of the aisle are unified in opposition.
The Senate GOP healthcare bill would cut Medicaid spending by $772 billion over the next decade, leaving millions of low-income people uninsured in states where Medicaid was expanded under the Affordable Care Act, commonly known as Obamacare.
The governors from states that took advantage of the Medicaid expansion have worked together in crafting letters, holding teleconferences with reporters and hosting private meetings with members of Congress. Some have called for no repeal, others a more measured approach. Who are they? Here's a look:
Trump's latest tweet in media war is a literal show of mock pugilism
President Trump on Sunday circulated a doctored video clip on Twitter that showed him physically attacking a crudely rendered stand-in for CNN, a post that drew rebukes from critics as an incitement to violence, but prompted renewed expressions of support from backers.
In doing so, Trump also ignored pleas to stop tweeting or at least take a more presidential tone -- from lawmakers in his own party -- after he took his war against news media to new heights last week with a coarse post on the appearance and intellect of cable television host Mika Brzezinski. On Saturday he also posted several anti-media messages as Americans began their Fourth of July celebration.
Sunday's tweet, which used an edited version of a years-old promotional video for professional wrestling, showed Trump, clad in a business suit and tie, administering a choreographed beat-down to a figure whose face was obscured by CNN's logo.
CNN, which has been a particular target of the president since the network was forced to retract a story relating to an element of the sprawling investigation into possible collusion with Russia by the Trump campaign, quickly condemned the tweet.
"It is a sad day when the President of the United States encourages violence against reporters," the network said in statement. It also tweeted a recent assertion by White House spokeswoman Sarah Huckabee Sanders that Trump had never engaged in such incitement.
As is often the case, the president's surrogates were left scrambling to explain or justify an inflammatory Twitter outburst. Homeland security advisor Thomas Bossert, who was shown the clip while appearing on ABC's "This Week," watched it stone-faced and then declared: "No one would perceive that as a threat. I hope they don't."
The night before, Trump had used a celebration of veterans at Washington's Kennedy Center to again denounce the news media. The president, who had briefly broken a weekend golf getaway to appear at the rally, pounded away at the theme that he is being treated unfairly.
"The fake media tried to stop us from going to the White House," he told the raucous crowd. "But I'm president, and they're not."