Does Anaheim consider Long Beach a legitimate rival for the Angels?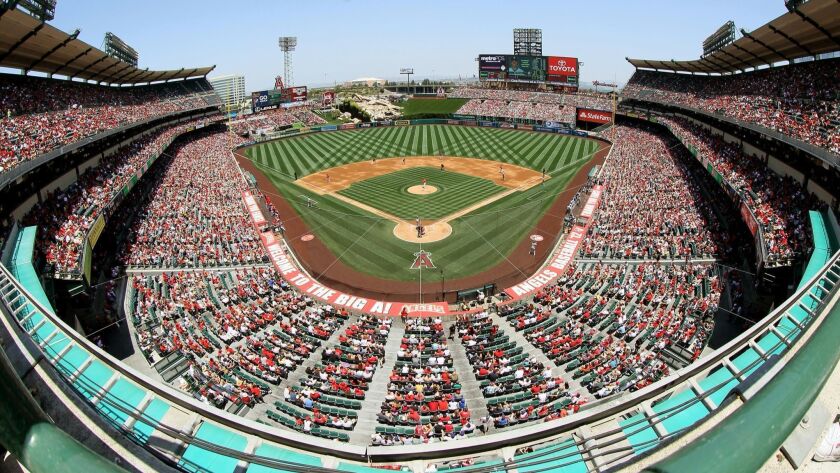 On the day after the city of Long Beach announced its pursuit of the Angels, Dan Cromwell emailed the city manager of Anaheim. Cromwell, an expert in commercial real estate and municipal financing, used as his subject line "The Long Beach distraction" and wrote that he did not consider Long Beach as a viable home for the team.
"Don't buy in," Cromwell wrote to Anaheim City Manager Chris Zapata.
What Cromwell believes is not necessarily relevant. But Zapata negotiates with the Angels on behalf of the city, and what he believes is critical as the city decides how much leverage it holds in those negotiations.
"Throw in the Coastal Commission," Zapata wrote back to Cromwell, "and I concur."
Kevin Lee, a spokesman for the city of Long Beach, declined comment on the emails. On Monday, in releasing more than 500 pages of documents related to a potential Angels deal, the city acknowledged that the Coastal Commission approval process for the proposed waterfront ballpark could delay construction by 12 to 18 months.
The emails surfaced Wednesday night, as about 150 Anaheim activists and residents rallied to urge the Anaheim City Council to share details of negotiations and ensure citizens — and not just the Angels — benefit from any stadium deal there.
In 2001, the developers of the L.A. Live entertainment district agreed to a community benefits agreement (CBA) that called for jobs at living wages, affordable housing and neighborhood parks. In January, an Anaheim official said the city envisioned an entertainment district surrounding Angel Stadium and the nearby Honda Center as "L.A. Live on steroids."
"If they want L.A. Live on steroids, how about we get a CBA on steroids?" said Andrew Hausermann, director of organizing for Orange County Communities Organized for Responsible Development. The organization obtained the emails between Cromwell and Zapata from the city of Anaheim.
The Angels have yet to begin serious negotiations with Anaheim, as the city first wants to complete an appraisal of the Angel Stadium property. The Angels hope to decide between Anaheim and Long Beach by the end of the year, and the team said it would be receptive to the community in either city.
"It is way too early to discuss details, but any final agreement would include community benefits and would be part of a public review and approval process," Angels spokeswoman Marie Garvey said Wednesday.
Sign up for our daily sports newsletter »
Jose Moreno, one of two Anaheim council members to attend the rally, said his constituents have made it clear they want the Angels to stay. Moreno does not believe the team should get "any public subsidy" to do so.
He also said he does not consider Long Beach a feasible option. The Angels could play in a new or renovated stadium in Anaheim, surrounded by land already zoned for development.
In Long Beach, city officials have received a study on ways to pay for a ballpark estimated to cost more than $1 billion.
"I don't see how the political leadership of Long Beach can ask residents to mortgage their children's futures for a billion-dollar stadium," Moreno said.
Follow Bill Shaikin on Twitter @BillShaikin
---
Get the latest on L.A.'s teams in the daily Sports Report newsletter.
You may occasionally receive promotional content from the Los Angeles Times.