Angels agree to sign former Mets standout Matt Harvey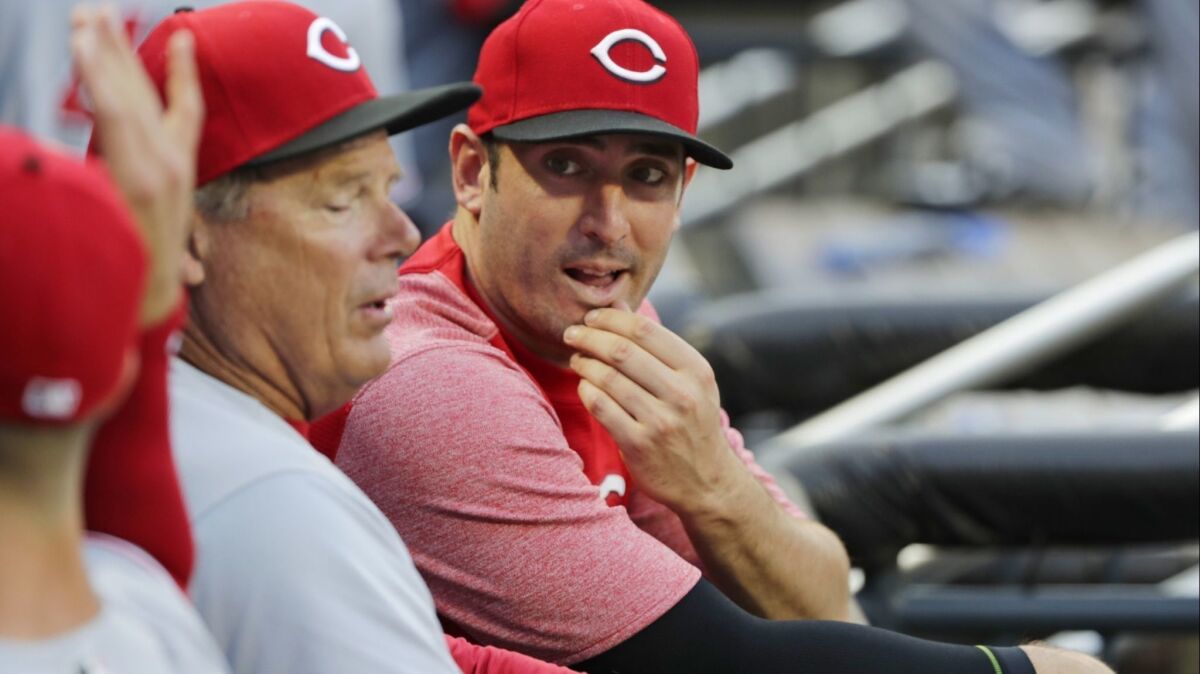 After a slew of failed attempts to woo a starting pitcher, Angels general manager Billy Eppler finally lured one. The Angels on Tuesday agreed to sign right-handed pitcher Matt Harvey to a one-year contract worth $11 million, plus incentives, according to a person familiar with the situation but not authorized to speak publicly.
Harvey's official welcome into the Angels' starting rotation is pending a physical examination.
Harvey's name isn't as flashy as it once was, but a trade from the New York Mets to the Cincinnati Reds in May sparked something akin to a career rejuvenation. Harvey, who will be 30 on opening day, finished 2018 with a 4.94 ERA in 32 games (28 starts) and an average fastball velocity that more closely resembled its vintage form. It was his first time pitching in 20 or more games since he posted a 2.71 ERA in 29 starts in 2015.
Still, Harvey enticed the Angels with his peripheral statistics.
Finally injury free for a full season in 2018, Harvey threw 155 innings and increased his strikeout rate by one batter, to 7.6 per nine innings. He cut his walks-per-nine innings rate in half to 2.1.
He also rediscovered a gear on his fastball when he joined the Reds' pitching staff, which welcomed him when the Mets designated him for assignment following a poor start to the season. He gained nearly 2 mph on the pitch in Cincinnati, giving him a final average velocity of 94.6 mph.
At its best in 2013, Harvey's fastball clocked in at 97 mph. That dormant velocity is what the Angels, under the guidance of new pitching coach Doug White, will try to draw out.
The Angels have tried on multiple occasions to land a free-agent starter this offseason. They made an offer to veteran left-hander J.A. Happ, who signed a two-year, $34-million contract with the New York Yankees for about $6 million more than the Angels offered, and also chased after Nathan Eovaldi and Patrick Corbin.
Harvey in spring training will join a group of starters currently composed of left-handers Andrew Heaney and Tyler Skaggs, and right-handers Jaime Barria, Felix Pena and Nick Tropeano.
Harvey might seem like a consolation prize, but this isn't the first time the Angels have dealt with him. The Angels selected Harvey, a Connecticut native, out of high school in the third round of the 2007 draft. But Harvey spurned a $1-million bonus in favor of attending the University of North Carolina.
The move eventually set Harvey on a quick trajectory. He was drafted by the Mets seventh overall in 2010, signed for a $2.5-million bonus and flourished upon making his major league debut two years later. Harvey had a 2.39 ERA and a 0.985 WHIP while striking out 9.9 batters per nine innings through his first 36 big league starts from 2012 to 2013.
But elbow ligament replacement surgery after the 2013 season, for which he received enough votes to finish fourth in National League Cy Young Award voting, caused him to miss all of 2014. He performed well in 2015, pitched 189 1/3 regular-season innings and led the Mets to the World Series, where they lost to the Kansas City Royals.
Harvey's career hit a downward spiral after that season. He became afflicted with thoracic outlet syndrome in 2016 and had to have surgery to relieve the discomfort in his right arm. Seeking to become a productive pitcher the following year, Harvey stumbled in different ways. He was suspended for violating team rules in May 2017, shortly after amassing a 5.14 ERA in his first six starts. Then he missed more than two months as he recovered from a stress fracture in his scapula, for which he underwent a surgical procedure.
It wasn't until the Mets gave up on Harvey, once labeled the "Dark Knight" in New York, that Harvey began to regain his prior form. He still struggled to miss bats — opponents batted .271 against him in 2018 — but he reduced line-drive contact from 26.7% with the Mets to 18.6% with the Reds.
Eppler is known for taking risks on fallen stars and taking fliers on potential. His latest successful reclamation projects include right-hander Pena, who morphed into a starting rotation candidate with his September performance last season; and reliever Hansel Robles, who flashed a high-90s fastball after being claimed off waivers mid-season.
Perhaps Harvey, who could earn an additional $3 million based on the number of games started next season, will become the next to land on Eppler's list.
Get the latest on L.A.'s teams in the daily Sports Report newsletter.
You may occasionally receive promotional content from the Los Angeles Times.