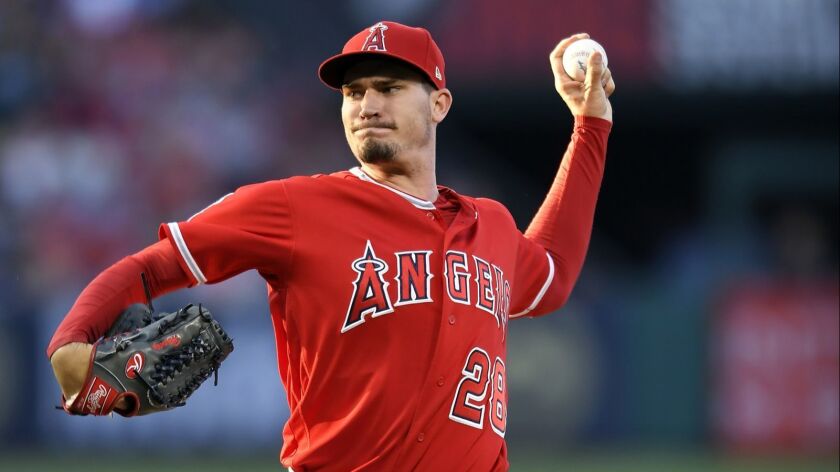 A savior, Andrew Heaney is not. No matter how effective the Angels left-hander is in his long-awaited return from an elbow injury, he knows it will take more than one pitcher to reverse the fortunes of a rotation that entered Saturday with the second-worst ERA (5.76) in baseball.
"I'm not saying I'm going to make any difference," said Heaney, who will start Sunday's series finale against the Texas Rangers, "but I think I'm ready to go, ready to get back out there and prove my worth on the field. I think that's what all players want, to show what they can do against the world's best."
Inflammation in his surgically repaired elbow limited Heaney to 1 2/3 innings this spring and relegated him to the injured list to start the season.
The mental toll of another physical setback sent Heaney, who missed most of 2016 and 2017 because of Tommy John surgery, into a bit of an emotional tailspin, the pitcher opening up about his struggles during a 20-minute, expletive-laced interview with reporters April 5.
"I'll wake up and say, 'My body is a piece of … '" Heaney said. "Like, it betrayed me. I hate myself. I hate my body. There are times that is genuinely going through my brain, but that is not … healthy."
Heaney spoke about the challenges of distinguishing between normal soreness and injury, the difficulty of pitching through minor aches and pains and his reluctance at times to be honest with the medical staff about how he's feeling.
Heaney is known for his authenticity, for his willingness to speak his mind, but the anguish in his comments caught some teammates off guard.
"First off, you want to know if he's OK, No. 1, as a person, not as a baseball player, because ultimately, we're only baseball players for a short amount of time," said fellow left-hander Tyler Skaggs, who missed all of 2015 and most of 2016 because of elbow surgery. "You need to know how he is personally, how he's doing, and I know he's fine and that he was just venting his frustration.
"I told him 'I'm always here for you.' We've been teammates for four years. He's pretty much my closest friend on the team, and I get it. We never want to be injured. It stinks that over the years he and I have both been bitten by the injury bug. I know exactly what he's going through. I feel his pain."
Heaney had only one regret about being "genuine and honest and sincere" with reporters. After reading his comments and talking to players who reached out to him, he wished he would have offered some solution.
"I know I'm working my ass off every single day; I don't just sit here and talk to you guys and complain about how life sucks and I don't get a fair shake," Heaney said. "When I read it, I thought, maybe it didn't quite exactly encompass how I'm feeling.
"Yes, I'm frustrated. Yes, I've had my fair share of things that haven't gone right, but a lot of other guys have had it worse than I have. It didn't come across that I'm doing something to make it better, to get better and to be better for it, and to figure out things for myself moving forward. That was the one regret I had."
Heaney, who will take the rotation spot of right-hander Matt Harvey, who was placed on the 10-day injured list Saturday because of an upper-back strain, hopes his actions over the next four months speak louder than any words.
A return to his form of last year, when he went 9-10 with a 4.15 ERA in 30 starts, striking out 180 and walking 45 in a career-high 180 innings, would be a huge boost for a sagging starting staff.
Sign up for our daily sports newsletter »
"He would have been our opening-day starter, and it's a tough blow when you're opening-day starter is not ready until the end of May," Skaggs said. "Just look what he did last year. He's a great pitcher."
Heaney completed a spring training-like throwing progression over the last month, his rehabilitation culminating with last Monday's 4-1/3-inning, two-hit, 10-strikeout start for triple-A Salt Lake against Las Vegas.
Next stop: a major league game.
"I've been feeling good physically and mechanically for a couple of weeks now — I feel dialed in," Heaney said. "I think I can get back to being the guy I was last year pretty quickly.
"Most good rotations feed off of each other. I'm going to go out there and do my best to do better than the guy before me and hope the guy after me does better than I do."
---